Harden's hammer on Draymond on repeat
James Harden's massive dunk on Draymond Green is so nasty it needs to be seen from all the angles.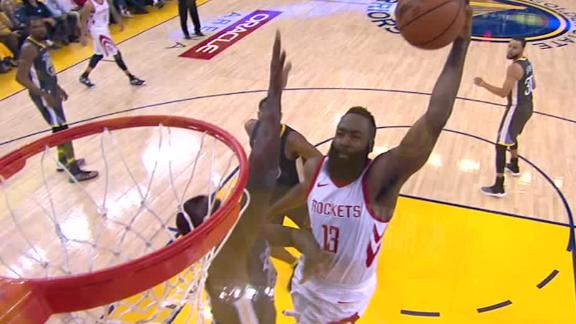 Harden's sweet pass sets up CP3
After a steal, James Harden breaks away to the basket and wraps a pass around a defender to Chris Paul for a layup.
Rockets upend Dubs at home
A hot start by the Warriors and an explosive third quarter from Steph Curry aren't enough, as the Rockets take a rare win at Oracle Arena.
Thompson off the mark on potential tying jumper
With time running out and down two, Klay Thompson can't connect on the short jumper and the Warriors foul with 0.5 seconds left.
Curry shines with another signature third quarter
Steph Curry drops 17 points in the third quarter, matching the Rockets by himself.
Harden credits Rockets' intensity for victory
James Harden says the key to winning Game 4 was "playing our ass off" and calls Chris Paul one of the best finishers in the league.
CP3: 'When its winning time, you gotta suck it up'
Chris Paul says he told his teammates to "fight back" after the Warriors' run.
Kerr: Warriors wanted timeout on late possession
Warriors coach Steve Kerr says his team "ran out of gas" in the 4th quarter and that Draymond Green tried to get a timeout in the finals seconds.
Curry knows Warriors can win in Houston
Steph Curry explains that the Warriors' mindset won't change now that Houston has regained home-court advantage.
Stephen A.: 'Houston refused to go away'
Stephen A. Smith breaks down the Rockets' performance, regaining home court advantage, and wondering if Golden State can answer back.
Curry can't score as time expires
With 0.5 seconds left, Steph Curry misses a game-tying 3-pointer, but it wouldn't of counted as it came after the buzzer.
Livingston rises up for thunderous dunk
Steph Curry passes the ball to Shaun Livingston, who drives for a left-handed dunk over Clint Capela.
Curry unleashes the shimmy after 3-pointer
Steph Curry saves a sloppy Warriors possession by knocking down a 3-pointer and then celebrates with a shimmy.
CP3 taunts Draymond
Chris Paul and Draymond Green exchange words in the third quarter and Paul proceeds to tell Green to "say it again."
Harden drops 24 points in the first half
James Harden puts up an impressive 24 points in the first half against the Warriors.
Harden throws down massive dunk over Green
James Harden glides to the basket and throws down a monster dunk over Draymond Green.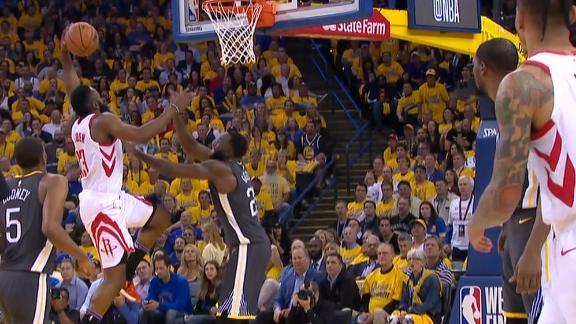 World Fame 100
ESPN The Magazine
Notable risers in World Fame 100
Odell Beckham Jr. and Caroline Wozniacki head the list of fast risers in this year's version of the World Fame 100.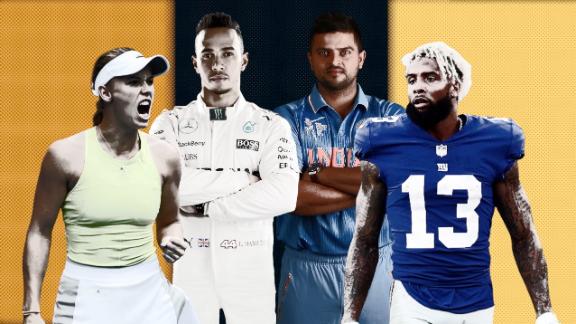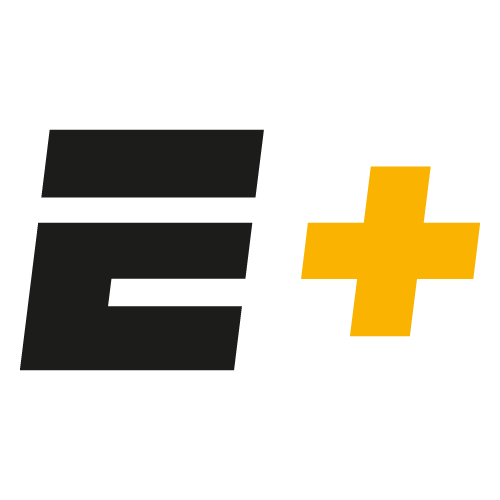 Wednesday's Featured E+ Game
Crawford homers off brother-in-law Cole
Brandon Crawford takes Gerrit Cole, the husband of his sister Amy, deep for a two-run homer and the family reaction is interesting.
Belichick 'not going to talk about the people' not at OTAs
Bill Belichick has no explanation for Tom Brady missing OTAs as he is focused on the players who did come.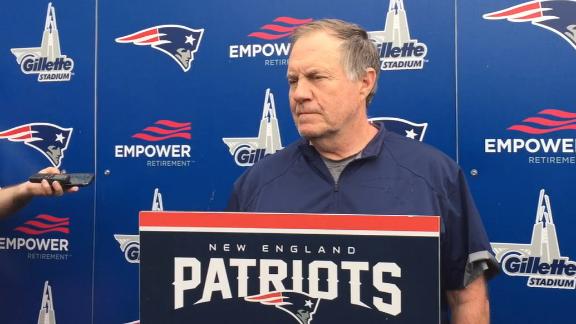 Cavs even series off LeBron's 44-point effort
LeBron James is perfect from the field in the first quarter and finishes with 44 points as the Cavs beat the Celtics 111-102.
LeBron leaps over 2 defenders to grab Love's full-court pass
Before Game 4, LeBron James describes how certain plays, like a Kevin Love long pass, create momentum. In the second quarter, James scores off one.
Stephen A.: LeBron is on 'Mount Rushmore of basketball'
Stephen A. Smith explains how LeBron James is able to continuously play at a high level in his 15th year in the league.
LeBron passes Kareem for most playoff FG ever
With a jump shot in the second quarter, LeBron James becomes the all-time leader in field goals made in the postseason.
Customize ESPN
On This Date: May 22, 1988
On May 22, 1988, Larry Bird led the Celtics past Dominique Wilkins and the Hawks to win Game 7 of the Eastern Conference semifinals.
Tragic end, new beginning
Jon Lowenstein/NOOR for ESPN

For Chicago White Sox grounds crew member Nevest Coleman, the journey from prison to exoneration is a story of time lost, new beginnings and a murder that remains a mystery.
Calderon's rumored wealth
Abbie Parr/Getty Images

An internet mix-up led to Jose Calderon briefly showing up on Google with a net worth of $2.2 billion, leading to endless jokes in Cleveland.
Lionel Messi is the quietest superstar
Erik Madigan Heck for ESPN

Lionel Messi only seems like the least interesting man in the world. Listen closely and his silence speaks louder than most athletes' shouts.