OBJ's big play puts him over 5,000 career receiving yards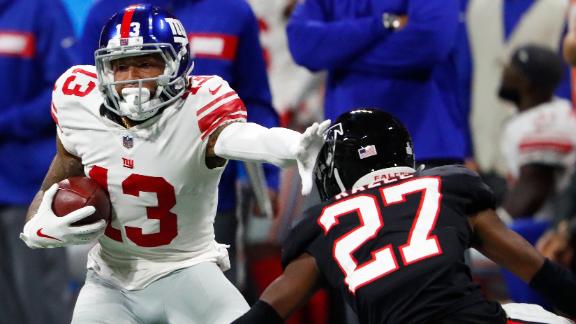 Barkley pushes pile into the end zone for TD
Saquon Barkley gets the handoff and muscles his way through a pile of defenders for the touchdown.
Coleman breaks loose for 30-yard TD
Tevin Coleman finds the hole and bursts 30 yards into the end zone to extend the Falcons' lead over the Giants.
Ryan airs it out to Hall for the TD
Matt Ryan skies a 47-yard pass deep downfield to Marvin Hall, who catches it in stride for the touchdown.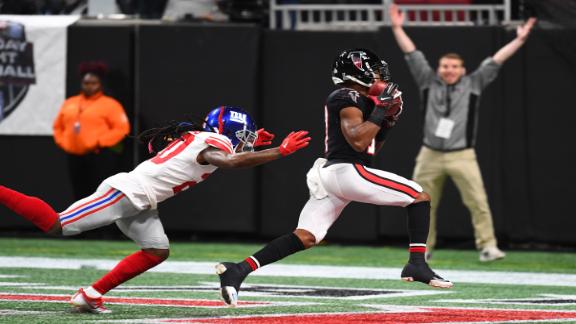 OBJ just keeps his feet inbounds for TD
Eli Manning lobs a pass to the back of the end zone to Odell Beckham Jr., who makes the catch and just keeps his feet inbounds for the score.
Eli's pass on 4th down falls incomplete
Eli Manning goes for it on 4th-and-goal and his pass gets tipped in the end zone and falls incomplete.
Eli's scramble for the end zone falls just short
Eli Manning has no options to pass, so he keeps it himself and tries to dives for the pylon but get pushed out at the 1-yard line.
Eli finds OBJ for 26 yards
Eli Manning tosses a short pass to Odell Beckham Jr., who speeds 26 yards downfield for a first down.
SVP speaks with Machado about his experience at Fenway Park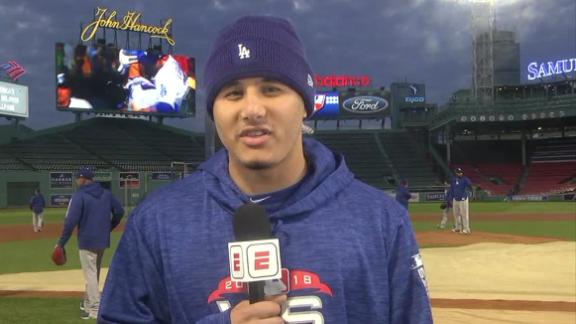 Customize ESPN

Sign up for FREE!
Ranking your NBA team's 2018-19 drama
Eric Heintz

Is there any Stranger Thing than what the Lakers did this summer? Is there anyone Leftover in Cleveland? Did we just turn all 30 NBA teams into TV dramas? Yes ... yes, we did.
Morry Gash/AP Photo

From Wisconsin RB Jonathan Taylor to Houston DT Ed Oliver and everyone in between (including some guy named Tua), these are the first half's best players.
Matt King/Getty Images

"I wasn't really focusing on Bolt too much. I was more worried about Ross McCormack and also Jordan Murray," defender Josh Symons told ESPN.