LeBron, Wade share hugs, swap jerseys as Lakers best Heat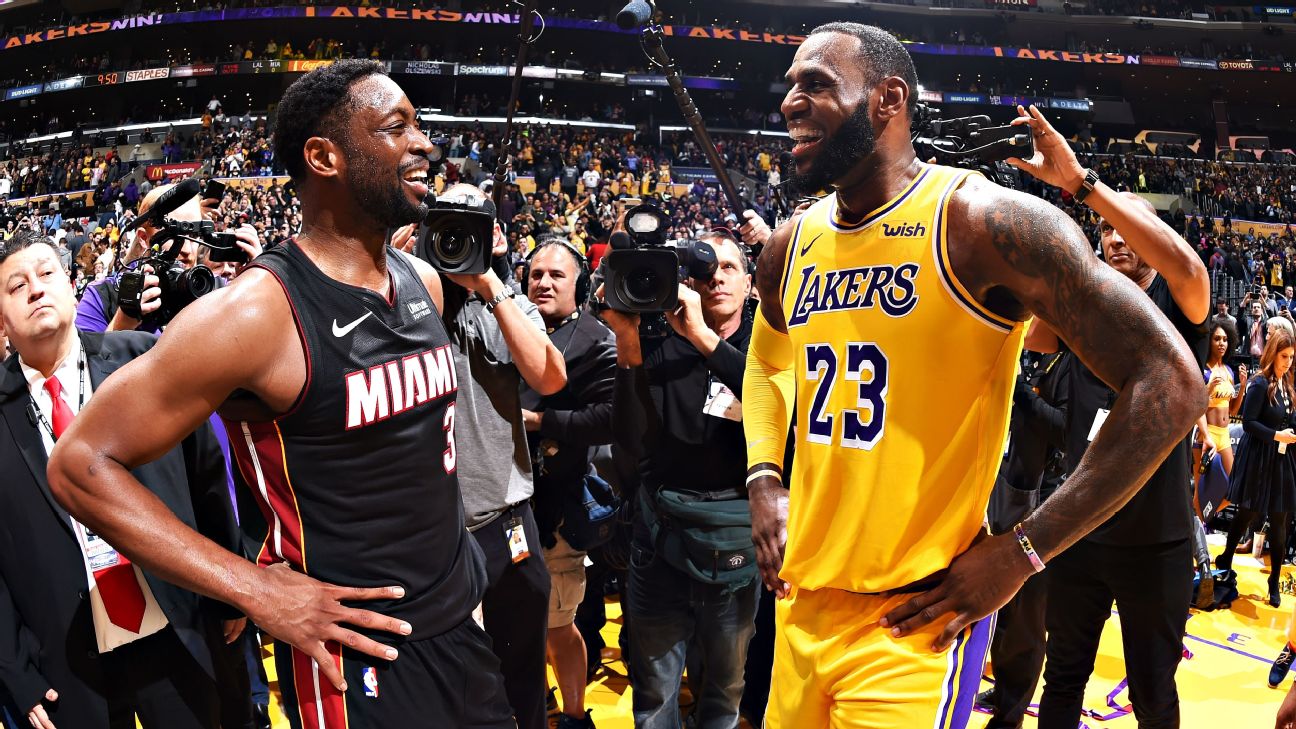 LeBron spins for one-handed jam plus the foul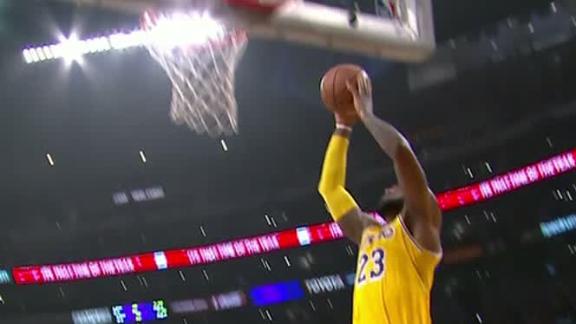 LeBron, D-Wade exchange praise after game
LeBron James and Dwyane Wade share the microphone and discuss what they mean to each other as competitors and friends.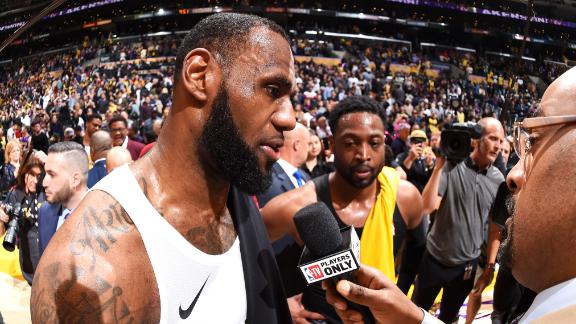 LeBron 'real emotional' after facing Wade for final time
LeBron James looks back on his career with Dwyane Wade and what they accomplished in Miami leading up to this final game.
LeBron tosses deep alley-oop to Lonzo
LeBron James steps over half court and lobs a perfect alley-oop to Lonzo Ball for a two-handed slam.
Spoelstra: LeBron is 'a Miami Heat player'
Erik Spoelstra is "honored and grateful" to having a role in "this generation of players" and talks about the evolution of LeBron James.
Wade 'thankful' for LeBron on and off the court
Dwyane Wade talks about his relationship with LeBron and how after the final buzzer sounded it was emotional knowing the two wouldn't face off again.
LeBron to Wade: 'It was either here or The Garden'
When talking to Dwyane Wade after their final matchup, LeBron James appears to say, "It was either here or The Garden. That's it."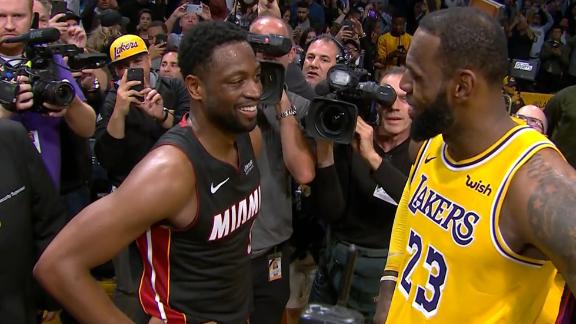 LeBron, Wade swap jerseys after final meeting
LeBron James and Dwyane Wade hug it out then swap jerseys after the Lakers beat the Heat in the friends' last matchup.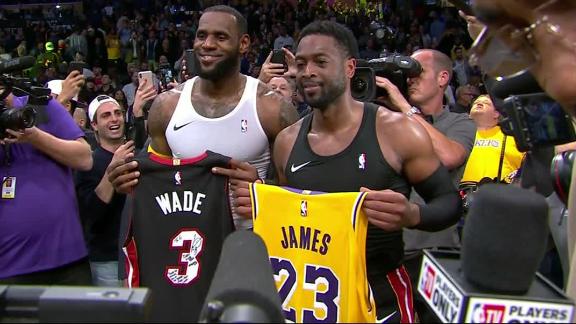 LeBron makes save off Olynyk's chest
LeBron James fires the ball off Kelly Olynyk's chest, sending him to the floor, to make a save.
Seahawks dominate Vikings, win fourth straight game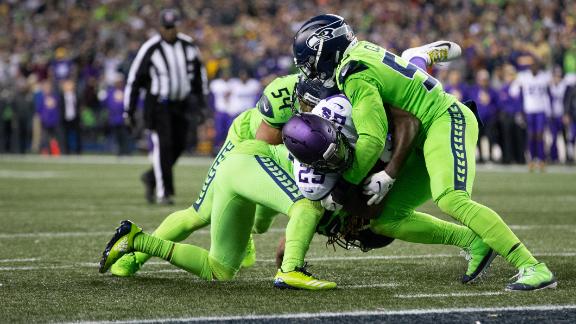 Coleman returns Cousins fumble for late Seattle TD
Kirk Cousins fumbles looking to throw and Justin Coleman takes it 29 yards for a Seahawks' touchdown.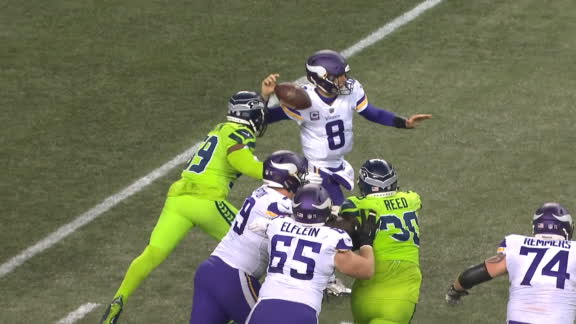 Wagner calls win 'something to build on'
Seahawks linebacker Bobby Wagner calls the matchup vs. the Vikings a "defensive battle" and was disappointed that Minnesota scored late.
Booger: Cousins 'came up small' on the big stage
Booger McFarland tells SVP the Kirk Cousins that Minnesota saw Monday night is very similar to the Cousins of his Washington days, coming up small when it matters most.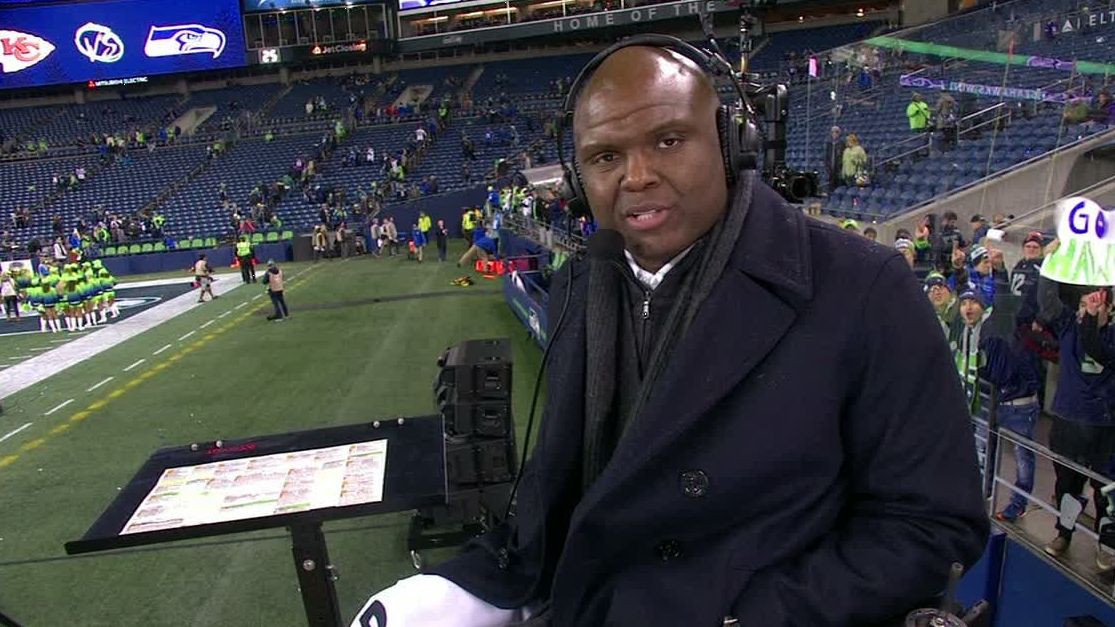 Wilson breaks off 40-yard run
Russell Wilson scrambles out of the pocket and takes off for a 40-yard gain.
Seahawks defense leads the way in win vs. Vikings
The Seahawks' defense bottles up Kirk Cousins and the Vikings' offense as they roll past Minnesota 21-7.
Wilson: Seahawks 'found a way' to win vs. Vikings
Russell Wilson recognizes that the offense wasn't great, but when they needed plays the Seahawks found a way to win.
Cousins reacts to Seattle's shift in defensive schemes
Kirk Cousins says that at times it was impossible to reach either Adam Thielen or Stefon Diggs who were double teamed.
Carroll: Seahawks 'fortunate' for good defense in win
Pete Carroll credits Seattle's defense for lifting the Seahawks to a win against the Vikings.
Zimmer admits Wilson wasn't 'real successful tonight passing'
Mike Zimmer knows the Vikings have to improve in the red zone, noting Monday night's inability to score from the 2-yard line, and talks about Russell Wilson's lack of passing yards.
Monday's Top Plays
LaVine throws down mammoth one-handed slam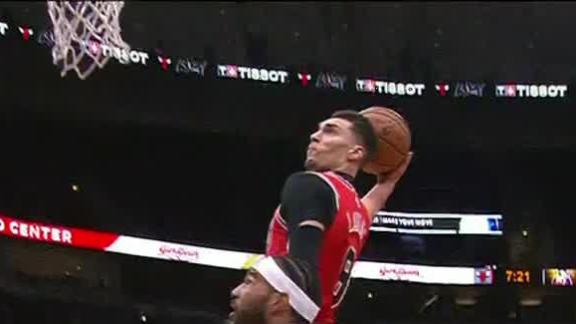 Sexton's no-look feed sets up Thompson slam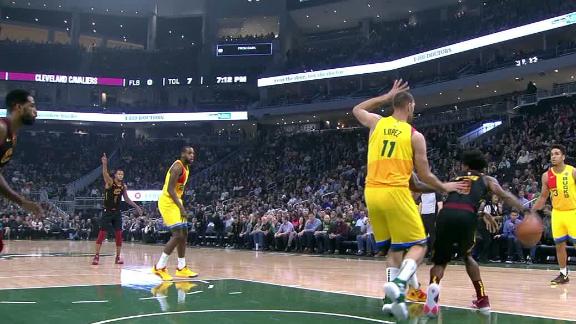 Mike Tyson
From Douglas to Holyfield
'42 to 1' premieres Tuesday 9 p.m. ET on ESPN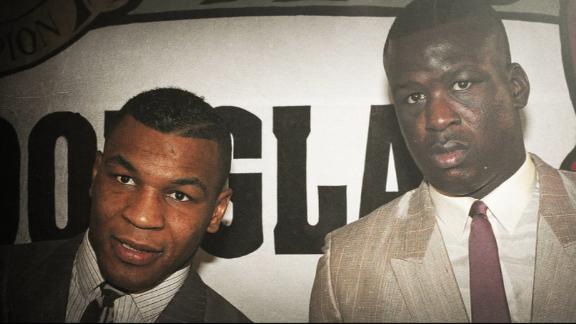 NFL
Customize ESPN
AP Photo/John Amis

Hitters 25 and under weren't just good in 2018. They were historic.
Best players in the world
Ryan Inzana

Our experts have voted on the best 100 players and managers in men's soccer for 2018. Here's the list.
Andrew Hancock for ESPN

Dallas Cowboys pass-rusher Randy Gregory bottomed out a year ago and sought help for depression, drugs and other issues. Today, he is playing football again, fighting to stay clean and help his team to the playoffs. It's December, and there's hope.