Russell Westbrook, Jamal Murray get into fourth-quarter scuffle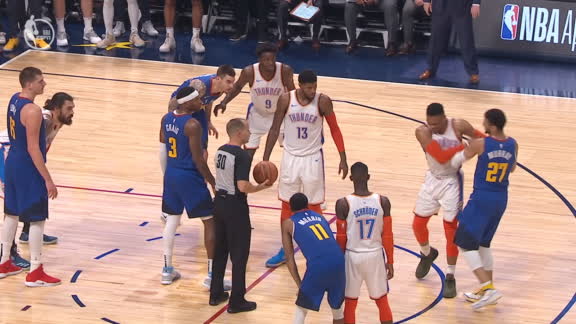 Kings troll Steph Curry, show moon landing during starting lineup intros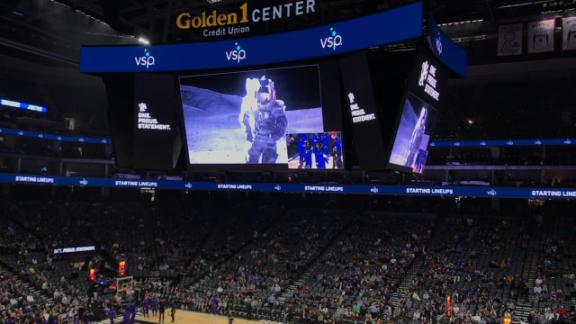 Joel Embiid goes off for 40 points and 21 boards against Pacers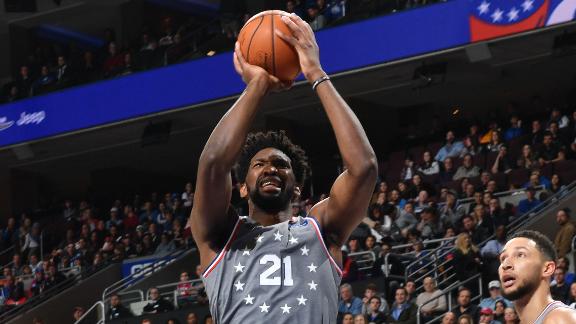 Young's 26 points lead Pacers past 76ers
Thaddeus Young finishes with 26 points and 10 rebounds as the Pacers capture a 113-101 road win vs. the 76ers.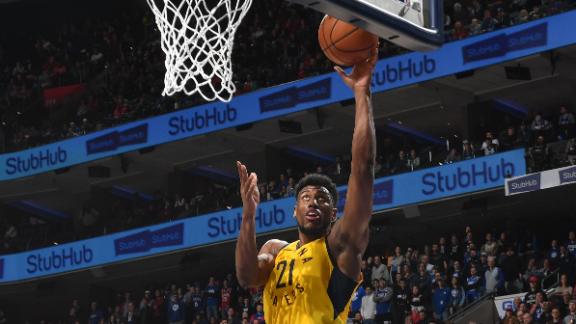 Embiid pushes through Turner and slams it down
Joel Embiid powers past Myles Turner on the baseline and throws down a one-handed dunk.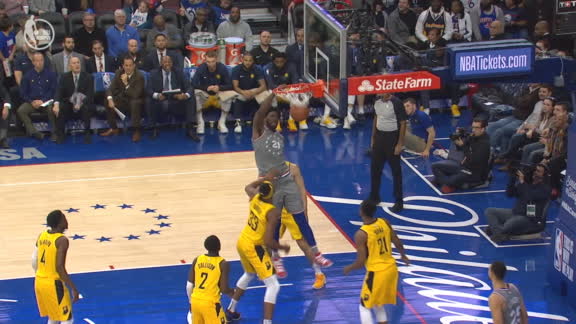 Brown on Embiid: 'I think he has got a lot on his shoulders'
76ers coach Brett Brown speaks to the media about what went wrong for Joel Embiid in the second half vs. the Pacers.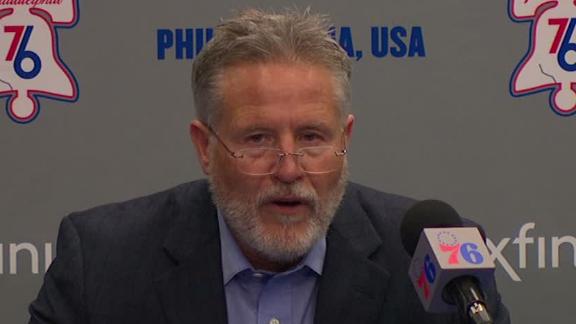 Oladipo crosses over and nails jumper off one foot
Victor Oladipo puts a move on Wilson Chandler and gets separation to drain a mid-range jumpshot.
Embiid racks up 28 in 1st half
Joel Embiid pours in 28 first-half points vs. the Pacers as the 76ers lead at halftime.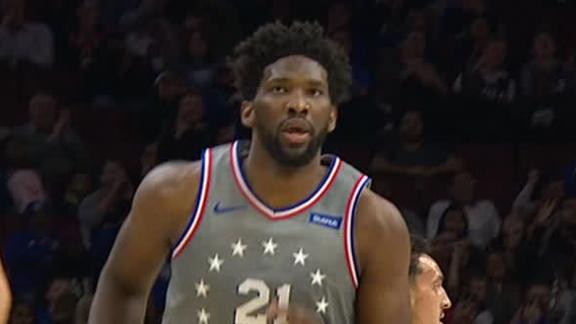 Collison shoves Simmons in 2nd quarter
After a Pacers bucket, Ben Simmons pushes away Darren Collison, who retaliates with a shove before halftime.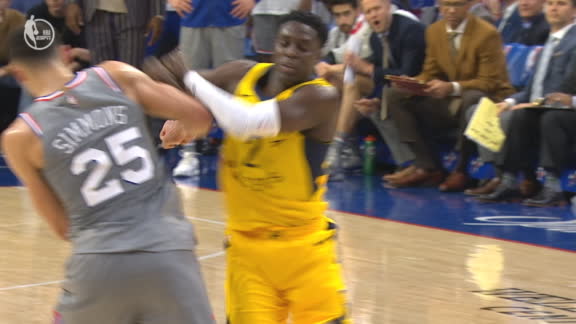 Embiid spins and scoops in layup for and-1
Joel Embiid gets a pass in the low post, spins around his defender and flips in a tough layup to complete the 3-point play at the line.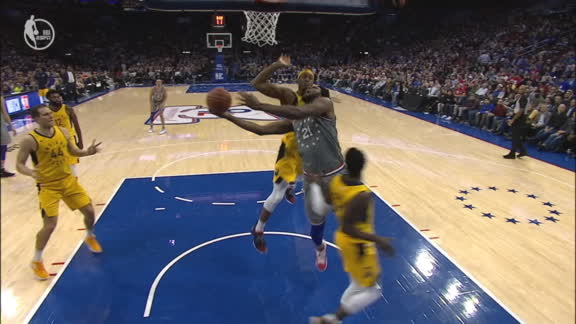 Oladipo makes fast-break layup
Victor Oladipo runs with Darren Collison off a steal and puts in a layup.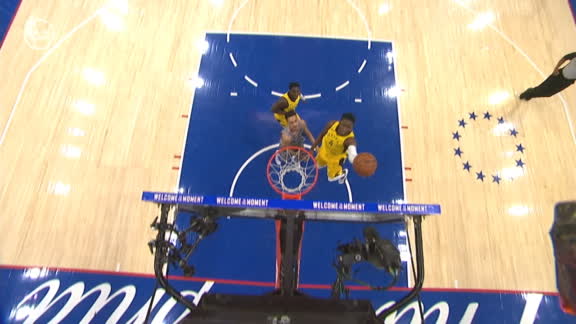 Simmons darts pass to Embiid for slam
Ben Simmons rebounds a missed 3-pointer and fires to a wide open Joel Embiid for a powerful one-handed dunk.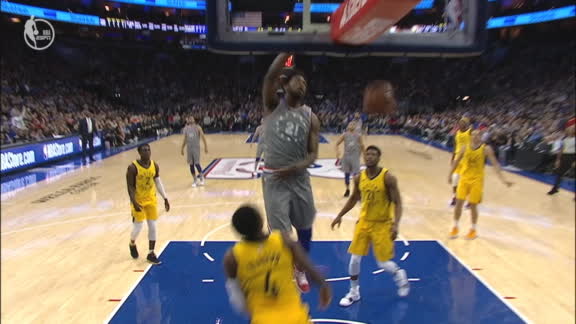 Redick off to hot start vs. Pacers
JJ Redick hits his first three shots, including a pullup jumper after dribbling around a Joel Embiid screen.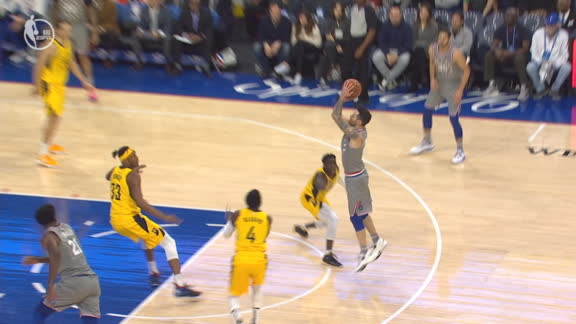 Analyzing Andrew Luck's play in Week 14 win over Texans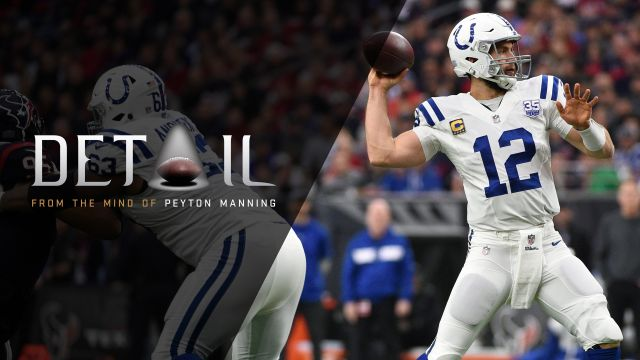 Customize ESPN
AP Photo/John Amis

Hitters 25 and under weren't just good in 2018. They were historic.
Best players in the world
Ryan Inzana

Our experts have voted on the best 100 players and managers in men's soccer for 2018. Here's the list.
Andrew Hancock for ESPN

Dallas Cowboys pass-rusher Randy Gregory bottomed out a year ago and sought help for depression, drugs and other issues. Today, he is playing football again, fighting to stay clean and help his team to the playoffs. It's December, and there's hope.