Rams triumph over Chiefs in an instant classic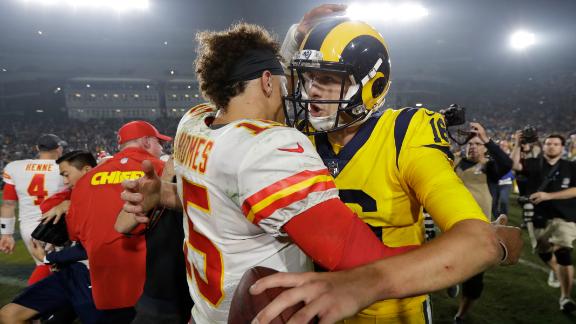 Mahomes throws for MNF-record 6 TDs in loss
Booger: 'This is the new NFL'
Booger McFarland talks about the high-scoring matchup between the Chiefs and the Rams on MNF and what putting 50 points on the board means to the "new NFL."
Goff and Everett connect on winning 40-yard TD
Houston to media: 'Don't put loss' on Mahomes
Justin Houston gets frustrated with the media for being critical of Patrick Mahomes and says it's a team effort and not just one guy's fault.
Joyner comes up with game-sealing INT
Patrick Mahomes tries to send a pass downfield, but goes right into the hands of Lamarcus Joyner for the interception as the Rams to go on to win.
Mahomes on loss: 'It sucks ... but we control our own destiny'
Patrick Mahomes express his thoughts on the Chiefs tough 54-51 loss to the Rams and details how his team can maintain atop the AFC.
McVay details Rams' game-winning drive vs. Chiefs
Sean McVay breaks down the Rams' game-winning drive and credits Jared Goff's "poise and confidence" in Los Angeles' 54-51 win over the Chiefs.
Goff calls 54-51 win over Chiefs 'unbelievable'
Jared Goff says he felt confident during the Rams' game-winning drive to win 54-51 in the highest scoring Monday Night Football game in history.
Hill uses quick first step to beat Shields for TD
Tyreek Hill blows past Sam Shields and gets open for a 25-yard touchdown pass from Patrick Mahomes.

Duke in Maui
No. 8 Auburn up next on Tuesday
Zion tells SVP he 'wanted to keep energy high' with mammoth dunk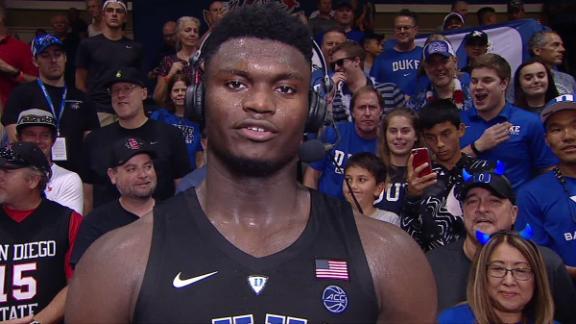 Week 11 recap
Customize ESPN

Sign up for FREE!
On This Date: Nov. 20, 2012
On November 20, 2012, Grinnell's Jack Taylor set an NCAA scoring record by scoring 138 points.
Famous college football prank
Stan Grossfeld/The Boston Globe via Getty Images

In 1982, during the middle of The Game between rivals Harvard and Yale, a third player entered the game when MIT students pulled the greatest prank in college football history.
ESPN Illustration

The UFC was created 25 years ago today. Our panel of ESPN MMA contributors rank the most important individuals in the promotion's history.
Brian Babineau/NBAE/Getty Images

From Sarunas Marciulionis to Manu Ginobili, from James Harden to Giannis Antetokounmpo, this is the inside story of how the Eurostep became the most devastating move in basketball.