Arcega-Whiteside's TD catch inches Stanford closer
Habibi-Likio dives through tackle for TD
Oregon RB Cyrus Habibi-Likio takes the handoff, dives past a tackle and into the end zone for a touchdown.
Ducks' defense comes up big on fourth down
Stanford attempts to convert on fourth down, but RB Cameron Scarlett gets stuffed by Oregon's defense as the Cardinal turn it over on downs.
Love just sneaks inside pylon for TD
Bryce Love rushes 22 yards and just gets inside the pylon for a Stanford TD and officials say play stands after review.
Alfieri gives Stanford life with scoop-and-score
A high snap goes over the head of Justin Herbert, allowing Stanford's Joey Alfieri to scoop up the ball and return it 80 yards for a touchdown.
Oregon takes control in the first half
The Oregon Ducks hold a 24-7 lead over Stanford at halftime after a strong offensive play from both Justin Herbert and CJ Verdell.
Verdell breaks free for 48-yard TD run
Oregon RB CJ Verdell finds the hole and speeds 48 yards into the end zone for the touchdown.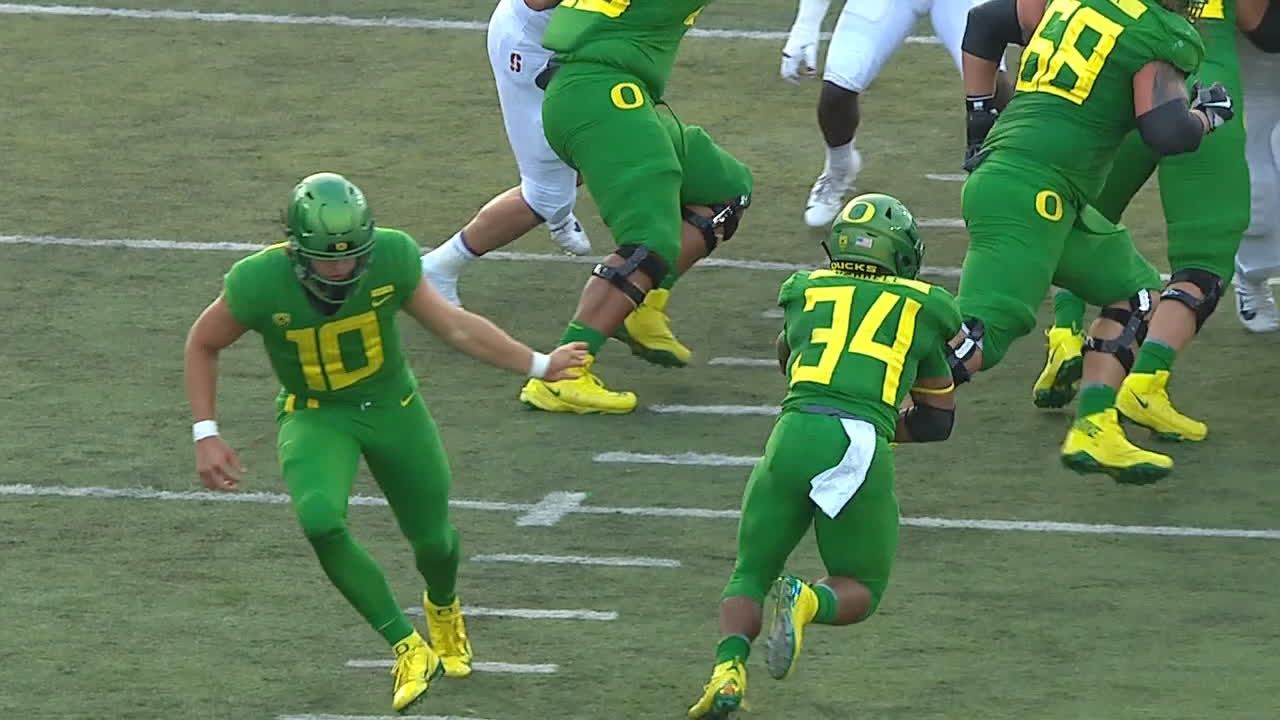 Arcega-Whiteside jumps to secure TD
Stanford QB K.J. Costello tosses a pass into the end zone to WR JJ Arcega-Whiteside, who leaps high to make the catch for the score.
Herbert connects with Breeland on short TD pass
Oregon QB Justin Herbert tosses a 7-yard pass into the end zone to TE Jacob Breeland, who makes the catch to extend the Ducks' lead.
Oregon strikes first on Brooks-James' TD
Oregon's Tony Brooks-James takes the handoff and rushes 7 yards into the end zone for a touchdown.
ODU's fourth quarter performance helps stun No. 13 Virginia Tech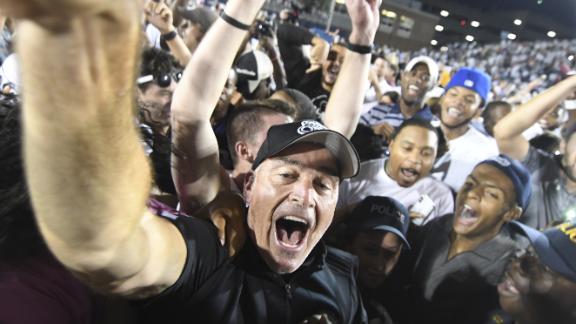 Old Dominion seals win on 40-yd TD run
Monarch RB Jeremy Cox breaks multiple tackles for a 40-yard run.
LaRussa lets one fly for 29-yd TD to take the lead again
Old Dominion QB Blake LaRussa threads the needle between two defenders to hit WR Jonathan Duhart for a 29-yard touchdown.
Old Dominion takes lead on 15-yard TD
Monarchs RB Jeremy Cox powers his way down field for a 15-yard touchdown to give Old Dominion the lead over the Hokies at 35-28.
Hokies QB Jackson sends pass down field for 72-yd TD
Virginia Tech QB Josh Jackson sends one deep to Damon Hazelton who reigns it in for 72-yard touchdown.
Hokies QB Jackson fires a dart to Savoy for 28-yd TD
Virginia Tech QB Josh Jackson lets one rip downfield to WR Sean Savoy for a 28-yard touchdown.
Virginia Tech RB Peoples finds a hole, runs for 87-yd TD
Hokies RB Steven Peoples takes off for the end zone after breaking a few tackles for an 87-yard touchdown.
Lamb scores winning TD as Oklahoma survives in OT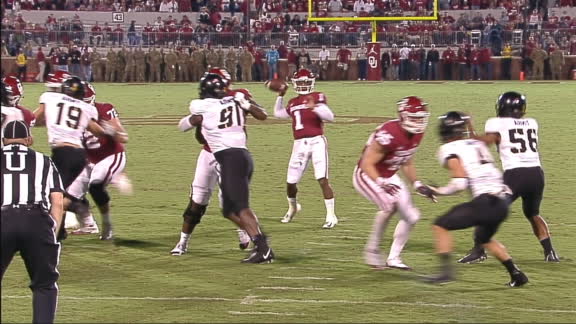 Wake Forest kicker inexplicably missing before field goal attempt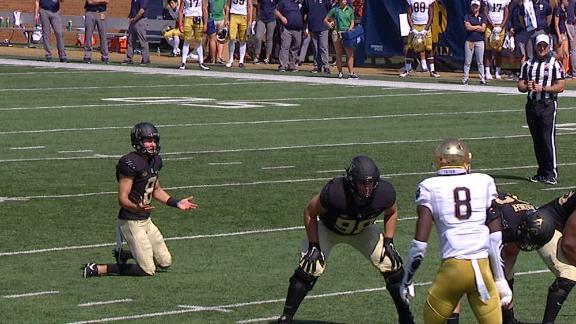 Johnson goes airborne to make diving-TD catch
Collin Johnson leaves his feet to make a circus catch in the end zone to give Texas a 17-16 lead over TCU.
Alabama makes easy work of Texas A&M
No. 1 Alabama gets five total scores from Tua Tagovailoa and runs past No. 22 Texas A&M 45-23.
Mississippi's Metcalf only needs one hand on 41-yard TD
Jordan Ta'amu lofts a deep pass to D.K. Metcalf, who uses one hand for an incredible 41-yard touchdown.
Peoples-Jones speeds, spins and dives for 60-yard punt return TD
Donovan Peoples-Jones breaks multiple tackles en route to a 60-yard punt return Wolverine touchdown.
Virginia QB hurdles defender
Virginia QB Bryce Perkins goes airborne to avoid Louisville defenders.
Yankees clinch playoffs with walk-off in 11th
Martinez ends his career with a base hit
In the last at-bat of his career, Victor Martinez goes out on a high note with hit No. 2,153.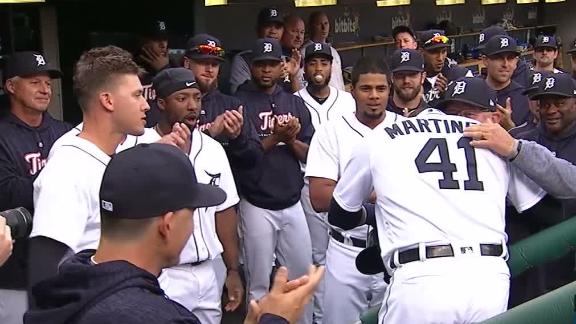 Customize ESPN

It's not too late to play!
On This Date: Sept. 22, 2007
Relive Mike Gundy's classic tongue-lashing a decade ago, and see which college football coaches have joined him in meltdown town.
Why people can't stop watching Ninja
Photo by Benedict Evans, treatment by Richard Roberts

How did Ninja become gaming's first crossover star? The Fortnite legend is relentless about one thing: He's always on.
Harry How/Getty Images

The NBA is the most absurd major U.S. sports league. Let's celebrate it.
David Zalubowski/AP Photo

There's still a lot to be decided -- division titles, wild-card spots, award winners, managers on the hot seat -- as baseball heads for the finish.