Odell Beckham Jr. hits pay dirt twice, nearly hauls in circus grab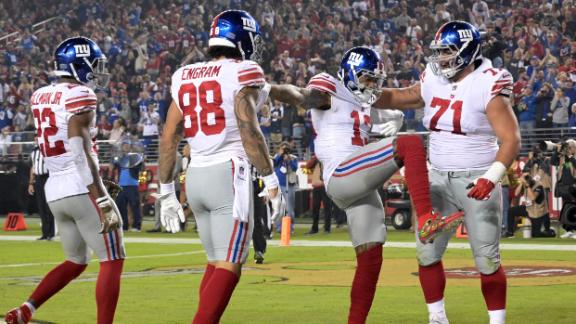 Shepard makes spectacular go-ahead TD catch
OBJ: We've got to win 7 more
Odell Beckham Jr. praises Eli Manning and the offensive line for beating the 49ers and discusses what they need to do to make a playoff push.
Mullens' final pass flies out of the end zone
On the last play of the game, Nick Mullens tries to find a receiver in the end zone but overthrows it out of bounds as the Giants hold on to win.
Eli: 'We've worked too hard' to enjoy a win
Eli Manning breaks down the Giants' 27-23 win on Monday Night Football and the game-winning drive late in the fourth quarter.
Mullens wanted a personal foul call on final play
Nick Mullens expresses how frustrated he is with his performance and how he thought there was a personal foul against the Giants on the last play.
McFarland says Giants' offensive line was key in win
Booger McFarland explains how well the Giants' offensive line stepped up in their win vs. the 49ers and why the 49ers didn't bring more pressure.
OBJ nearly makes incredible one-handed TD catch
Eli Manning lobs a pass into the end zone to Odell Beckham Jr., who almost makes a spectacular, diving one-handed catch.
OBJ celebrates TD catch with the Carlton dance
Eli Manning lobs a perfect touchdown pass to Odell Beckham Jr., who celebrates by doing the Carlton dance.
Breida hauls in TD falling to the ground
Nick Mullens lobs a pass to Matt Breida in the end zone and Breida secures the touchdown falling to the ground.
Big Men Monday
Centers, forwards put up big numbers
Durant goes off for triple-double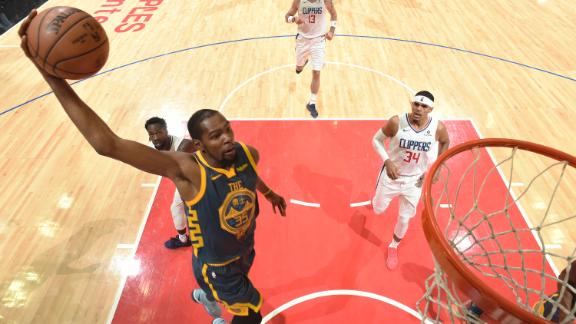 Towns pours in 25 points, 21 rebounds in Wolves' win
Karl-Anthony Towns has a big night on the inside, and sprinkles in a few key jump shots to fuel the Timberwolves to a 120-113 win over the Nets.
Embiid leads 76ers to win with 35 and 18
Davis drops 25 and 20 on the Raptors
Monday's Games
Men's College Hoops
Top 25 results
Lagerald Vick makes all eight of his 3-pointers
Customize ESPN

Sign up for FREE!
Cleveland Cavaliers

Time to hand out some grades for Nike's final batch of City uniform designs.
Brian Spurlock/USA TODAY Sports

Everything went according to plan for the top 10 teams this weekend, but the schedule doesn't get easier from here for the teams jockeying for that final top-four ranking.
ESPN Illustration

Only three teams -- the Chiefs, Rams and Saints -- were nearly perfect in the first half of the season.