Von Miller picks off Philip Rivers, returns it 42 yards
Lindsay drives in a 3-yard touchdown
Phillip Lindsay bounces outside and runs in a 4-yard touchdown to give the Broncos a 20-19 lead early in the fourth.
Rivers connects with Gates for 6-yard TD
Philip Rivers hits Antonio Gates on the out route for a 6-yard touchdown and a Chargers 19-7 lead midway through the 3rd quarter.
Rivers scrambles and hits Allen for 4-yard TD
Philip Rivers steps out of a tackle, finds the wide-open Kennan Allen and connects with him for a 4-yard touchdown to put the Chargers back up 13-7.
Lindsay erupts for 41-yard TD
Phillip Lindsay waits for the hole, breaks free and bursts for a 41-yard touchdown to give the Broncos a 7-6 lead.
Breaking News
Big Ben dives into end zone for game-winning TD with seconds remaining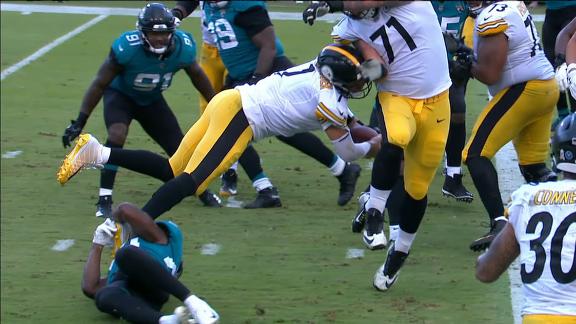 Roethlisberger leads Steelers to win after rocky start
Ben Roethlisberger shakes off a 3-interception game and leads the Steelers to a 20-16 win against the Jaguars, including rushing for the game-winning TD with three seconds left.
Roethlisberger not a primary option on game-winning TD
Ben Roethlisberger discusses his game-winning touchdown run and says he was not one of the first four options on the play.
Tomlin: 'We took care of business'
Steelers head coach Mike Tomlin says this comeback performance against the Jaguars "in a hostile environment" builds character for his team.
Ramsey picks off Big Ben twice
Jalen Ramsey was the recipient of two of Ben Roethlisberger's three interceptions in the Steelers' 20-16 win vs. the Jaguars.
McDonald snags TD in double coverage
Ben Roethlisberger slings a pass to the back of the end zone and Vance McDonald snags it over two Jaguars' defenders for an 11-yard touchdown.
Brown burns Ramsey for 78-yd TD
Ben Roethlisberger heaves a pass to Antonio Brown, who breaks free and beats Jalen Ramsey in a footrace to the end zone.
Fournette soars into end zone for TD
Leonard Fournette breaks the plane as he takes the goal line carry and springboards into the end zone for a 2-yard touchdown.
OBJ uses strong hands to secure 8-yard TD catch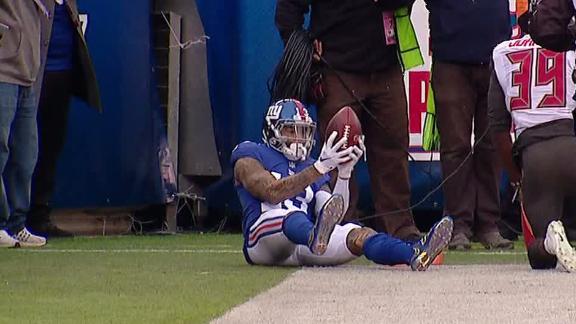 Elliott scores on 23-yard TD run
Ezekiel Elliott takes the handoff from Dak Prescott and takes it 23 yards to the house for a Cowboys' touchdown.
Stafford throws dart to Golladay for 19-yard TD
Matthew Stafford throws a dime to Kenny Golladay for a 19-yard touchdown.
Texans extend lead on 101-yard pick-6
Justin Reid intercepts Alex Smith in the end zone and takes it 101 yards for the pick-6.
Hilton's fancy footwork results in 14-yd TD
T.Y. Hilton breaks a tackle and is able to keep his feet inbounds for a 14-yard touchdown to widen the Colts' lead.
LeBron caps off his 28-point half with fancy reverse
Customize ESPN

Sign up for FREE!
Randy Moss discusses the Sunday night in 2007 when he caught 4 touchdown passes from Tom Brady in the first half against Buffalo.
Famous college football prank
Stan Grossfeld/The Boston Globe via Getty Images

In 1982, during the middle of The Game between rivals Harvard and Yale, a third player entered the game when MIT students pulled the greatest prank in college football history.
Cleveland Cavaliers

Time to hand out some grades for Nike's final batch of City uniform designs.