Leonard-less Raptors dominate Warriors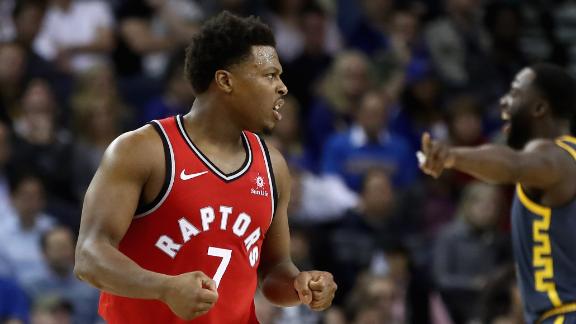 Durant says Raptors are not up-and-coming, 'they're here'
Kevin Durant praises the Raptors for having a great mix of veteran, championship-like players to go along with the younger guys on the team.
Lowry feeds Ibaka for dunk
Kyle Lowry bounces a pass to a driving Serge Ibaka, who finishes with a two-handed dunk.
Lowry says Raptors stepped up in Kawhi's absence
Kyle Lowry expresses his thoughts on the Raptors huge win over the Warriors without Kawhi Leonard and how well he played tonight.
Durant's 30 can't help Warriors in loss
Kevin Durant drops an impressive 30 points, but it wasn't enough as the Warriors lose big to the Raptors.
Monroe backs down Livingston for and-1
Greg Monroe backs his way towards the basket and sinks a tough layup while drawing a foul on Shaun Livingston.
Siakam drives baseline for circus shot
Kyle Lowry bounces a pass to Pascal Siakam, who goes baseline for an acrobatic reverse layup.
Durant posterizes Ibaka
Kevin Durant dribbles behind his back, flies to the rim and throws down a thunderous one-handed dunk over Serge Ibaka.
Valanciunas screams in pain after contact from Draymond
Draymond Green gets a part of Jonas Valanciunas' hand as he goes for the steal and Valanciunas seems to jam his fingers and screams in pain.
Lowry uses shot fake for and-1
Kyle Lowry drives to the basket, uses a shot fake to draw contact and still manages to bank in his shot.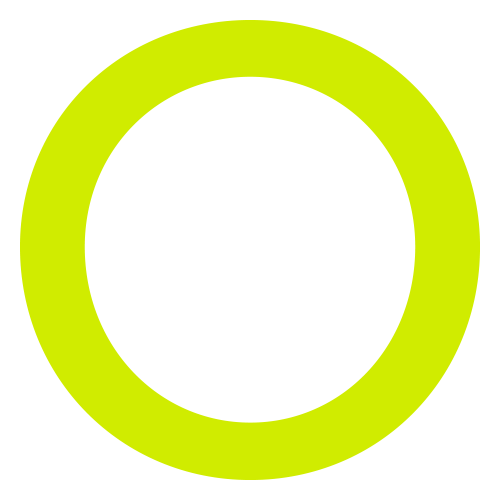 Outside The Lines
Concessions at stadiums can carry many risks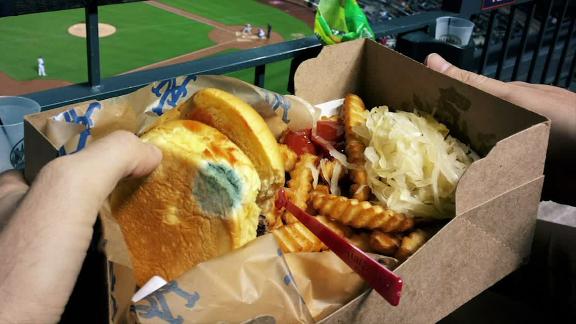 McShay: Nick Bosa is 'most complete player' in 2019 class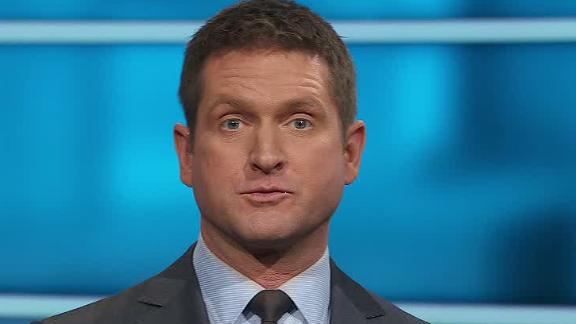 Customize ESPN
On This Date: Dec. 13, 1983
On Dec. 13, 1983, the Pistons defeated the Nuggets 186-184 in the highest-scoring game in the history of the NBA.
AP Photo/John Amis

Hitters 25 and under weren't just good in 2018. They were historic.
Best players in the world
Ryan Inzana

Our experts have voted on the best 100 players and managers in men's soccer for 2018. Here's the list.
Andrew Hancock for ESPN

Dallas Cowboys pass-rusher Randy Gregory bottomed out a year ago and sought help for depression, drugs and other issues. Today, he is playing football again, fighting to stay clean and help his team to the playoffs. It's December, and there's hope.