Year of the Scab
Film Summary
Two weeks into the 1987 season, the NFL's players went on strike. For the first time in the history of professional sports in the United States, replacement players would take the field. "No-Names", "Has-Beens", and "Never-Would-Be's" were plucked from obscurity for one last chance at football immortality. What they didn't know was that their golden ticket would become a scarlet letter.
Crossing the picket line to play in the NFL changed their lives, but not in the way they'd expected or hoped. The moment they crossed the picket line, they were no longer athletes; they were scabs. They were worse than replaceable. They were disposable.
Nowhere was this more true than in the nation's capitol. In every other city, the solidarity of striking players eroded and superstars crossed the lines to join the ranks of "scabs" in replacement football games. By the end of the strike, Washington stood alone, not only as the only team to have no help from veteran players, but also as the only replacement team to go undefeated- ultimately setting up returning strikers for a triumphant run at a Super Bowl. For those replacements, the experience of 1987 should have been a badge of honor. Instead, it became a scab that never healed.
Year of the Scab is directed by John Dorsey with executive producers Andrew Stephan, Brent Montgomery and David George.
Director's Take
The films that we all aspire to make are the ones that transcend their setting and subject matter and tap into something universal. In this case, sure, this film is about the NFL and it's about the strike of 1987. But really, at its core, it's about something much more elemental than that. It's about people who got a second chance at a first love. It's about guys who got a second shot at a dream that they thought was dead. And it's about the price that they paid for going for it.
When we were making this film we set out to make something about the NFL strike in 1987 that was fun and about how crazy it was that nobodies got plucked from obscurity to play on the biggest stage in sports. We thought it would be kind of light hearted and goofy. But in focusing on the replacement experience in Washington, we discovered there was a much more substantive story to be told and a wrong that needed to be righted.
These guys spent the last 30 years branded as Scabs, as villains. But the truth is what they accomplished was kind of heroic. And like real heroes, they aren't raising their hands looking for recognition for what they did. We went looking for the real-life Replacements and we found them hiding in plains sight.
Today, they are walking among us. They could be your neighbors, or bartenders, or your kid's football coaches - living out their lives in quiet dignity and the peace that comes from knowing they took their shot. These men aren't scabs. They're real people. And they have a story to tell.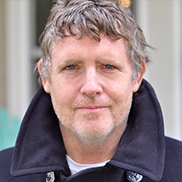 John Dorsey
A native of Dallas, John Dorsey began his career working for feature directors such as Barry Levinson and Mark Romanek. The experience working on scripted features inspired Dorsey and his partner, Andrew Stephan to launch ten100, a company dedicated to applying the narrative techniques and pacing from fiction films to the documentary form. Within a year of his company's formation, Dorsey and ten100 were recognized with both the Emmy® and the Peabody Award.
Year of the Scab marks the third film Dorsey has produced for ESPN, including Pony Excess, the final installment in the first season of 30 For 30. The documentary detailed the pay-to-play scandal surrounding the football team at Dorsey's Alma Mater, SMU. Subsequently, Dorsey directed and produced The Marinovich Project, a cautionary tale of quarterback Todd Marinovich's life and career which was nominated for an Emmy® in 2012 in the category of Outstanding Sports Documentary.
Venturing away from the world of sport, Dorsey's other work includes the feature documentary, Glory Hounds, which was filmed on the front lines in Afghanistan and revealed the unshakable bond forged in combat between Military Working Dogs and their human handlers.
Today, Dorsey continues to live in Los Angeles with wife and muse, Kelly, daughters Ava and Vivian and an eerily human-ish dog named Cooper.