About Bad Boys
Film Summary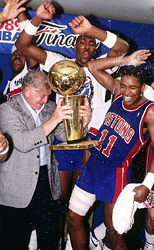 Few teams in professional sports history elicit such a wide range of emotions as the Detroit Pistons of the late 1980s and early '90s. For some, the team was heroic -- made up of gritty, hard-nosed players who didn't back down from anyone. And for others, it was exactly that trait -- the willingness to do seemingly anything to win -- that made them the "Bad Boys," the team fans loved to hate.
No drama is complete without compelling characters, and the Bad Boys Pistons had a full cast. Viewers will see the many factors that drove one of the best -- and most complex -- players in NBA history: Isiah Thomas, a lethal combination of sweetness on the outside and toughness within. In addition, the team was characterized by the toughness of Bill Laimbeer and Rick Mahorn; the quiet intensity of Joe Dumars; the savvy and fearlessness of a young Dennis Rodman; the comic relief provided by John Salley; and the mixture of grit, professionalism and style possessed by coach Chuck Daly.
Sandwiched between the Lakers' and Celtics' dominance of the 1980s and the Bulls' run in the 1990s, the Pistons' two titles in 1989 and '90 are often viewed as a transitional period in NBA history, rather than a dynamic championship era in its own right. But for anyone who experienced the Bad Boys in action, they more than carved out their own identity, both in the league and in American popular culture. Now, viewers will finally get the untold story behind one of the most unique championship teams in NBA history.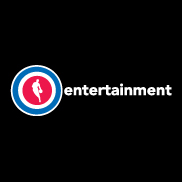 NBA Entertainment
NBA Entertainment (NBAE) is one of the largest suppliers of sports television and digital programming in the world, managing television, film, photos, promotional campaigns and marketing partnerships, as well as producing events domestically and internationally for the NBA, WNBA and NBA Development League.
Founded in 1982 as the definitive visual archive of the NBA's history, NBAE's growth can be attributed to a simple philosophy: to tell compelling stories about the game of pro basketball and the people it touches. That storytelling mission has been carried out through a variety of short and long-form programming, including acclaimed documentaries such as the Emmy-nominated "The Doctor" and "The Dream Team" for NBA TV and "The Announcement" for ESPN Films; "Once Brothers," produced as part of the Peabody-award winning ESPN Films "30 for 30" series; and the Emmy Award-winning documentary "Whatever Happened to Micheal Ray?".
Purchase

Buy the "30 for 30 Fifth Anniversary" box set. Available exclusively at Groupon ».