About Big Shot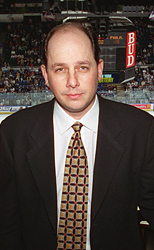 Film Summary
In 1996, the once-dominant New York Islanders were in serious trouble. Lousy performance and poor management were driving away the hockey franchise's loyal fan base. The team hit bottom. Then along came a Dallas businessman named John Spano, who swooped in and agreed to buy the team for 165 million dollars. Things began to look up for the Islanders - way up. But it was all smoke and mirrors. "Big Shot" goes inside an extraordinary scandal that engulfed the Islanders. Featuring the only interview Spano has ever given about the Islanders deal, this film is an unforgettable tale of a dream that became a lie -- and how a scam of such epic proportions initially went undetected.
John Spano's story is without a doubt one of the most notorious cons in sports history. It sent a shock wave through the NHL, blindsiding some of the wealthiest and most powerful businessmen in the country, and it forced them to change their decrees while evaluating prospective owners. Various other companies and business partners found themselves caught in his web of lies, not to mention his family. Another group, less high profile, but equally invested, was also left devastated in Spanos wake -- the Long Island Community, which I was a part of. So when ESPN approached me to tell this story I jumped at the chance.
As a kid growing up on Long Island, I lived and breathed for our hockey games. I watched my team shatter records, winning 19 straight playoff series and four consecutive Stanley cups. It was a dynasty, and as a young kid I had a front row seat. Even during the dark ages, before Spano, I never missed a game. When he stepped in, singing songs about restoring glory to the Islanders by investing money in the team, building a new coliseum, and trashing the Rangers, he was deemed the savior of Long Island. Then John Valenti from Newsday exposed Spano for what he was and what he had done. My friends and I couldnt do anything but sit back and watch our beloved team unravel. We had never seen anything like it.
My personal connection was the driving force behind wanting to tell this story, but as the filmmaking process began I had to step away and look at it objectively to decide exactly what story I was going to tell and how I was going to tell it. The core of John Spanos story is that of a man unabashedly chasing the American Dream -- and his American Dream, which I believe most men share, was to own a professional sports team. He grabbed his balls and schmoozed and lied and forged documents and made it to the top. He didnt stay there very long, but he did it. During the interview, Spano recalls walking into the Coliseum and thousands of fans rising to their feet and chanting, Save us Spano. Imagine what thats like for this young guy, raised by middle class parents in Ohio. He was lured in by the promise of fame and adoration. It was the lifestyle he desired, not the money.
A friend of mine sent me an article from the L.A. Times comparing John Spano to Jay Gatsby. Although each had a different dream, both lived in excess and craved notoriety, both worked outside of the system to achieve their status, both were mysterious characters, and of course both stories take place on Long Island. Throughout the film those interviewed continually discuss their shock when Spanos con was revealed. No one had ever seen anything like it, and yet, the story of a man betraying people and perhaps his own ideals while chasing his American Dream is one of the most well-known stories of our time.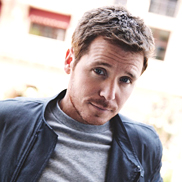 Kevin Connolly
Kevin Connolly, filmmaker and actor, has starred on the HBO hit series "Entourage," as "E," the best friend and manager to a young actor whose film career is in its heady first stages. He also directed the series' penultimate episode.
Connolly has appeared in Disney's "Secretariat," opposite Diane Lane and John Malkovich, "He's Just Not That Into You" opposite Jennifer Connelly, Drew Barrymore, Jennifer Aniston, Ginnifer Goodwin, Justin Long and Bradley Cooper. He was also seen in "The Notebook" with Ryan Gosling and Rachel McAdams.
In addition to his acting accomplishments, Connolly is also a gifted director who has worked on a variety of projects including music videos, commercials and television episodes. In 2007, Connolly directed the indie feature "Gardener of Eden," a dark comedy centering on alienated youth in suburban New Jersey. The film is produced by Leonardo DiCaprio, stars Lukas Haas and Erika Christensen and premiered at the Tribeca Film Festival. Connolly made his directorial debut with the 2003 short "Whatever We Do," starring Robert Downey Jr, Amanda Peet and Zooey Deschanel. The film premiered at the Sundance Film Festival.
Connolly will soon direct the coming of age tale of two young girls canvassing "Dear Eleanor." Liv Tyler and Luke Wilson are attached to star with up-and-comers Liana Liberato, Isabelle Fuhrman and Joel Courtney.
Additional feature film credits include "John Q" opposite Denzel Washington, "Antwone Fisher" directed by Denzel Washinton, "Rocky V," with Sylvester Stallone, "Alan & Naomi," "The Beverly Hillbillies," and "Angus."
Purchase

Buy the "30 for 30 Fifth Anniversary" box set. Available exclusively at Groupon ».