About Friedman's Shoes
Film Summary
There was a time when a small shoe store in downtown Atlanta was the center of the athletic universe. The time was the turn of the 21st century, the store was Friedman's, and the customers were the biggest names -- and biggest feet -- in sports: Mike Tyson, Michael Jordan, Deion Sanders, Charles Barkley, Dave Winfield, Shaquille O'Neal. Presided over by owner Bruce Teilhaber, Friedman's specialized in large sizes and exotic leathers, and players thought nothing of spending a hundred thousand dollars on footwear. Due to changing tastes and on-line retailers, Friedman's isn't what it used to be. But it's still there, and in this film directed by Danny Lee, Shaq returns to slip his size-22 feet into the good old days.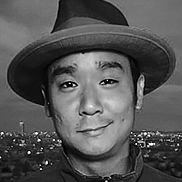 Danny Lee
Danny Lee is a Director, Producer, and Writer. Born and raised in Los Angeles, Lee made his feature directorial debut with the critically acclaimed "Rock Fresh," a candid documentary about graffiti artists making the leap to commercial art. The film world premiered at the AFI Fest where Variety singled it out as one of the films to watch.
Currently, Lee is directing the feature comedy "Public Disturbance" for Lionsgate. In non-scripted, his series "After the Ravres," about the global culture of electronic dance music, is the first original series set to launch the Red Bull TV network. Previously in non-scripted he showran/directed "Road to Brooklyn," the award-winning docuseries which followed the storied journey of the Nets to their new home in Brooklyn; the Nissan-powered series "With Dad" series for ESPN which won the Best Branded Series Cynopsis Award. In scripted television, he created "The Clinic" on Hulu, and has animation series "El Nino" in development. Features in development include "Backpackers" and "Winter War," the latter was awarded the Best Project Award, along with a cash grant by the Korean Film Council Filmmaker Development Lab. Lee is also active in branded content, directing/directing for global brands that include Nissan, Gatorade, Vitamin Water, Jaguar, Red Bull and more. For Red Bull, his documentary "Skate or Die" on high-risk Native American skater kids on the reservation, is now part of the Smithsonian Institute; and "Roll on Rockaway" won a Webby.
Lee was featured in Paper Magazine's 10th Annual Beautiful People issue, highlighting him as a filmmaker to watch. Lee has also been featured in Variety, Deadline, Hollywood Reporter, GQ, and LA Weekly. In addition to winning the KOFIC lab, he was also a fellow for Film Independent's Project: Involve program. Lee cut his teeth at Lionsgate before forming his own company CALICO, an award-winning, next gen content studio.
Purchase

Buy the "30 for 30 Fifth Anniversary" box set. Available exclusively at Groupon ».