About Silly Little Game
Film Summary
Fantasy Sports is estimated to be a $4 billion industry that boasts over 30 million participants and a league for almost every sport imaginable. But for all this success, the story of the game's inception is little known. The modern fantasy leagues can be traced back to a group of writers and academics who met at La Rotisserie Francaise in New York City to form a baseball league of their own: The Rotisserie League. The game quickly grew in popularity, and with the growing use and attractiveness of the Internet, the "founding fathers" never foresaw how their creation would take off and ultimately leave them behind. Innovative filmmakers Adam Kurland and Lucas Jansen chronicle the early development and ultimate explosion of Rotisserie Baseball, and shine a light on its mostly unnoticed innovators.
Director's Take
Knowing that the history of America is embroiled in Fantasy Sports (née Rotisserie) muck, it wasn't so much a choice to make this film as it was our American duty to honor this world-changing almost-sport. Whether Fantasy got its start in the front office of the 1963 Raiders, the mind of a Harvard sociologist, ancient Polynesian customs, or (and this one is probably the truest) with eleven self-described "stat-crazed schmucks" in a mediocre French restaurant on New York's upper East Side; few to none of the millions of fantasy players who make up today's multi-billion-dollar fantasy industry know anything about its origins, nor do they pay any respect or dividends to its founders. Now they will.
For us, fantasy is about people who take epically exciting, endlessly complicated, furiously competitive alternative universes just as seriously (if not more seriously) as they take their own everyday lives. It's a passion that makes sense after childhoods spent, in our cases, pretending to be Magic, passing to ourselves as Kareem, dunking on Nerf hoops, cheering like 30,000 fans and calling our own play by play. It's also a subject that calls for more than just the everyday slo-mo, big horns, boomy voice-over sports-doc treatment, it's a chance to play with the documentary form, and blur the line between fantasy and reality, or Rotisserie and reality, or whatever you want to call this thing. And we are proud of ESPN Films for acknowledging the great honor due to the birth of fantasy, as the least athletic major event in the last 30 years of sports history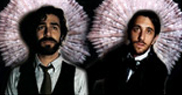 Adam Kurland and Lucas Jansen
Adam Kurland is the director of the documentary "This is Not a Robbery," the story of the world's Oldest Bank Robber, a credit he shares alongside partner Lucas Jansen. Mr. Kurland's music-video work has been featured on the MTV and Fuse networks. A native of Los Angeles and graduate of the USC Cinema-Television program, Kurland currently lives and works in Brooklyn, NY. Lucas Jansen and directing partner (and friend since Mr. Kramer's seventh-grade history class) Kurland founded Red Marker Films in 2005, with the goal of producing documentary work where the myths surrounding the subjects are just as important as the facts. Their first feature project, "This is Not a Robbery," a heavily animated chronicle of the life of 92-year-old Texan bank robber Red Rountree premiered at the 2008 Tribeca Film Festival. Jansen also hosts the Internet radio show "Seeing Ear Dogs" and produces and directs documentaries about the (occasionally strange) music he likes: including "The Definitive Boadrum," a web doc about Japanese noise legends Boredoms' composition for 77 live drummers.

Written and Directed by:
Adam Kurland
Lucas Jansen
Executive Producers:
Keith Clinkscales
John Dahl
Joan Lynch
Connor Schell
Bill Simmons
John Skipper
John Walsh
Producers:
Ted Schillinger
Daniel Silver

Director of Photography
Doug Emmett
Editor:
Luis Alvarez y Alvarez
Purchase

Buy the "30 for 30 Fifth Anniversary" box set. Available exclusively at Groupon ».