The Anti-Mascot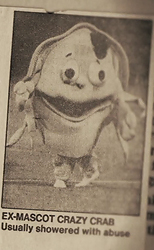 Film Summary
1984 was a grim year for the San Francisco Giants. The team finished dead last, losing 96 games. But no one -- not the players, not the front office, not even the fans -- had as nightmarish a time as Wayne Doba. That season, the 33-year-old actor was selected to play the club's first mascot.
The "Crazy Crab" was conceived as an anti-mascot. The Giants wanted to satire the late 1970's mascot craze, which had introduced now-iconic characters like the Phillie Phanatic. So the Giants gave their Crab an intentionally shabby foam costume which looked like a hamburger with arms; during spring training, TV ads showed manager Frank Robinson attempting to strangle the Crab; at games, announcers would encourage fans to boo whenever the Crab took the field.
It was an experiment unlike anything in professional sports.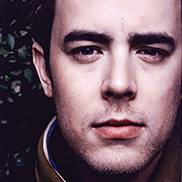 Colin Hanks
Colin Hanks is a founding partner at Company Name with producer Sean Stuart, where he primarily directs and produces documentary films. He is also known for his success as an actor, and coming off his Emmy Award- and Golden Globe-nominated performance in the FX miniseries "Fargo," Colin has most recently finished shooting "Elvis and Nixon."
Hanks was last seen in "Parkland" as Dr. Malcolm Perry. The film is based on the book "Reclaiming History: The Assassination of President John F. Kennedy," and recounted the chaotic events that occurred at Dallas' Parkland Hospital on the day Kennedy was assassinated.
Additional feature film credits include "My Mother's Curse," the Oliver Stone biopic 'W," the ensemble comedy "The House Bunny," the thriller "Untraceable," "The Great Buck Howard," "King Kong," "Orange County," "Get Over It" and the independent films "Lucky," "Alone With Her," "Standing Still," "Rx" and "11:14."
Colin shocked audiences as Travis Marshall, the Doomsday Killer, on season 6 of "Dexter." Additional television credits include the Fox television series "The Good Guys" and his memorable role as a mysterious priest on the Golden Globe- and Emmy Award-winning television series "Mad Men."
Purchase

Buy the "30 for 30 Fifth Anniversary" box set. Available exclusively at Groupon ».