About 'This Is What They Want'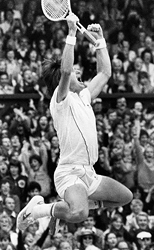 Film Summary
"This is What They Want" is an examination of Jimmy Connors' career told through the lens of the 1991 U.S. Open, when Connors so famously played at the age of 39 past five challengers, through an epic contest with Aaron Krickstein, and all the way to the semi-finals before being stopped by Jim Courier.
But it's not just an examination of that tournament: it's a look at how Connors and the colleagues/adversaries of his heyday re-invented tennis in the first decade of the Open era to be a high-octane spectator sport for the whole country, colored by intense competitors with strong personalities and towering, well-matched talents. And it's an exploration of the way "character" players like Connors changed the game and carved out legacies through their careers on the court.
When you're a sports fan growing up 20 minutes from the National Tennis Center, the U.S. Open matters. Fall comes around, getting ready for school, and just as the football season begins and baseball gets down to crunch time, the U.S. Open kicks into gear.
That's how it was for us, a couple of teenagers who'd take the Long Island railroad to the Shea Stadium stop at least a few times during the fortnight the tournament was going on. The rest of the majors had been settled, and it was a last chance for a player to finish an incredible summer or salvage a year without a title -- or maybe it was just New York looking on that made them fight so hard for it.
This was during the first golden age of professional tennis, the late 70's/early 80's, when Bjorn Borg, John McEnroe and, of course, Jimmy Connors made the game feel less like a country club pastime and more like a hard-nosed, full contact sport. They made it the marquis event it remains.
Each of those three men made an impact on us. Borg for his cool, McEnroe because he was cool and Connors because he just refused to give in to his opponents, the umpires, the tournament referees or, even, to any notion of politeness and civility.
So as we grew up, got out of college, started working, we were transfixed by the run Jimmy Connors made years later at the 1991 U.S. Open. How was this 39 year old guy still out there and playing as if it were 1981, while we were now humping office jobs? We didnt miss a match of his great run.
When Bill Simmons and the 30 for 30 team approached us about shooting one, we immediately thought of Jimmy, his run, our childhoods and knew exactly the movie we had to make.
Hope you enjoy it.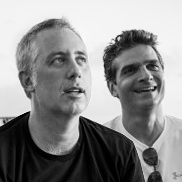 Brian Koppelman, David Levien
Filmmakers Brian Koppelman and David Levien have been writing, directing and producing movies since 1997. Among their films are "Rounders," "Solitary Man," "Oceans Thirteen," "The Illusionist," "Runaway Jury," "The Girlfriend Experience" and "Knockaround Guys." This October, "Runner Runner," a film they wrote and produced, starring Ben Affleck and Justin Timberlake will open nationwide and "This Is What They Want," the documentary the pair directed, about Jimmy Connors' improbable run at the 1991 U.S. Open, will air as part of ESPN's celebrated 30 for 30 series.
Levien, who's also a novelist, is about to publish the fourth book in his Frank Behr private investigator series. Koppelman, a regular Grantland contributor, has also written for Sports Illustrated and Lucky Peach this past year.
Purchase

Buy the "30 for 30 Fifth Anniversary" box set. Available exclusively at Groupon ».