About 9.79*: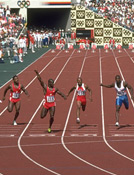 Film Summary
In the history of the Olympics, there's never been a controversy quite like what ensued over the 100 meter race at Seoul in 1988. The match brought together Carl Lewis (USA) and Ben Johnson (Canada) who had been fierce competitors. Lewis was known as a savvy careerist who became an American hero at the previous Los Angeles Olympics. Johnson was his chief rival, considered an underdog due to his recovery from a pulled hamstring. In less than 10 seconds, Johnson edged out in front of Lewis to win the Seoul race. But that wasn't the end. Three days later, in a reversal of fortune, the Olympic committee announced that Johnson had failed a drug test, losing his medal to Lewis in disgrace. A mystery still shrouds the race. Was Johnson exceptional in his drug usage or merely the fall guy for a widespread practice? Six of the eight finalists in the 1988 race have since been implicated for drugs -- although some still deny any wrongdoing. Filmmaker Daniel Gordon, digs into the controversy, conducting extensive interviews with Lewis and Johnson as well as their competitors, coaches and Olympic insiders. He uncovers layers of intrigue, deception and favoritism that change our perception of the way this story has previously been told.
The Seoul race wound up being the world's wake-up call to drugs in sports. Now the problem runs rampant throughout professional and amateur athletics. As drug-testing gets more sophisticated, so do means of evading it. This powerful story forces us to question what we expect from our athletes as they pursue records in the name of national pride. This story from the past is vital to understanding the future of sports.

Director's Take
I was going to write that I grew up a massive sports fan, but my wife would probably say that as a massive sports fan I never grew up! Sports -- and particularly soccer -- was my life. I played, I watched, I devoured anything I could -- be in on TV or video, newspapers or magazines. Events such as the WorldCup or the Olympics were exotic. Day after day of nonstop action, achievement, joy and sorrow. There were such extremes here, it made for compulsive viewing.
By the time of Seoul 1988, I was at a point in my life that I could really begin to appreciate the skill of these Olympians to perform at the highest level at that given moment in time. I had no real concept of the hard training that went into it. I had zero idea of drugs. But I knew these Olympians were a special breed, and none were more coveted than the eight men who made it through to the final of the 100m.
The race itself was the greatest ever run. Four men under ten seconds, a feat no one thought could be possible (of course, this has since been surpassed, but don't underestimate what a breakthrough this was in terms of human performance). But added to that was the drama just 48 hours later when the news broke that Ben Johnson -- the gold medal winner, the world record holder, the arch nemesis of Carl Lewis -- had tested positive for steroids, was stripped of his title and on his way out of the Olympics and home to Canada in disgrace.
As the years passed, more and more of the finalists would in some way be tainted by drugs scandals. As individuals, they had once shared a moment in the glare of the world's eyes. But more than two decades later, they continue to be associated with this infamous part of Olympic history. So what would it be like to track down all eight athletes who ran that race that day? Could I find out what hurdles they had overcome in life to reach that pinnacle? What had brought them to the start line? And more importantly, what had happened to them since?
That was the challenge and the result is "9.79*."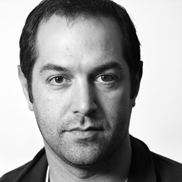 Daniel Gordon
Award-winning Producer/Director Daniel Gordon has over fifteen years of experience in the broadcast and independent production sector. His credits include sports documentary and live entertainment formats, human-interest documentaries, channel identity promos, live multi-camera studio shows and a pop promo for Faithless. Having written two books on his favourite football team, Sheffield Wednesday, he started his broadcast career at Sky Sports. There he first helped to pioneer cult favorite 'Soccer AM' and later produced and directed the flagship 'Tales From The Premiership', a 15-part documentary series on all the clubs who had played in the Premier League.
Daniel has just completed two feature documentaries -- one on Victoria Pendleton, the world's greatest ever female Track Cyclist, and the other on the infamous 100m final from the Seoul Olympics in 1988 -- for the first time ever, all eight men who ran that race tell their story.

Directed by:
Daniel Gordon
Executive Producers:
John Battsek
Gideon Boulting
John Battsek
Charlotte Moore
Maxine Watson

Producers:
Daniel Gordon
Gretha Viana
Cinematographer:
Charlie Grainger
Nick Bennett
Lula Cerri
Editor:
Nicholas Packer
Purchase

Buy the "30 for 30 Fifth Anniversary" box set. Available exclusively at Groupon ».