George Best: All By Himself
Film Summary
He was the Beatles of soccer - a handsome, charismatic lad from Belfast, Northern Ireland who worked wonders with the ball and thrilled Great Britain. But George Best was also the lead in a Shakespearean tragedy fueled by drink and excess and depression. In this 30 for 30 film, director Daniel Gordon (Hillsborough) recounts the tale of this beloved but bedeviled superstar with evocative footage and testimony by those who knew him at his best-and worst. There's a lot of ground to cover-from his electric debut with Manchester United at the age of 17, through the glory years that brought ManU the 1968 European Cup, to his adventures in the North American Soccer League. But Gordon does it with a dexterity worthy of Best himself. The film will make you realize why an estimated quarter million people lined the route of his funeral cortege in 2005.
Director's Take
You think you know George Best. You think you know his story. For me the challenge of making this documentary was to find a way to tell this story and makes you think again. 'George Best: All By Himself' has it all. Booze. Sex. Success. Stardom. A spectacular rise. And a tragic fall. When I was younger, I was so jealous of one of my school friends who had actually seen George Best play. Never mind that the game in question was when Best played for Fulham - long after his heights at Man United. No matter that my friend was only three years old when he saw Best, and fell asleep in the second half. What was most impressive was that he'd actually SEEN George Best play. Sadly, I never would, although I spent a lot of time in his company whilst we both worked at Sky Sports in the mid 1990s. Me at the beginning of my career, on Soccer AM. Best was a regular pundit on the show that followed us, Soccer Saturday. His wasn't always a guaranteed appearance. There were many stories of him being pulled out of a pub, bundled into a cab, and brought to the studio in a less-than-sober state. There were several no-shows from him. But he was probably the most popular of the ex players. He was clearly genuine, and kind-hearted. And he was also clearly in trouble and in need of help. As a kid, I just loved George Best. I would gasp with admiration whenever I saw old highlights of him, his skills on the pitch, his smoothness off the pitch. I read his autobiography before I was ten years old, having come across it at a stall at my primary school summer fair. It all seemed effortless. Yet in making this documentary, I would soon come to realize that for Best, life was far from effortless. And as there was no precedent for him, he was the ultimate football superstar pioneer. And sadly his was also the most notorious - and public - of implosions. Best means so much to so many people. Strong yet vulnerable. A rarity in being accepted - and celebrated - by ALL of Northern Ireland - and even rarer in uniting this most divided of countries. I see 'George Best: All By Himself' as a tribute to a legend - a tale interwoven with brilliant archive and contribution - from his down-to-earth family to his glamorous celebrity friends - and a warning to future generations of how NOT to cope with it all.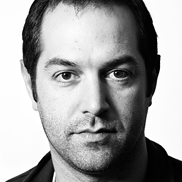 Daniel Gordon
Award-winning Producer/Director Daniel Gordon has nearly twenty years of experience in the broadcast and independent production sector. His credits include sports documentary and live entertainment formats, human-interest documentaries, channel identity promos, live multi-camera studio shows and a pop promo for Faithless. Having written two books on his favourite football team, Sheffield Wednesday, he started his broadcast career at Sky Sports. There he first helped to pioneer cult favourite 'Soccer AM' and later produced and directed the flagship 'Tales From The Premiership', a 15-part documentary series on all the clubs who had played in the Premier League. In 1999 Daniel moved to Chrysalis, where he directed Michael Owen's Soccer Skills for BBC TWO and Darren Gough's Cricket Academy for Channel 4 (for which he was BAFTA nominated). In 2001 Daniel established his own production company, VeryMuchSo, which set out to specialise in exceptional human stories from inaccessible locations. He produced and directed five feature documentaries, three in North Korea, one in Uganda and one in his native South Yorkshire. In 2010, Daniel directed 34 shorts and an hour long special, featuring and starring the 34 men who have scored a goal in the FIFA World Cup Final. He followed that with 'Match 64 - the day of the FIFA World Cup Final' which told the behind the scenes story of Soccer City on July 11th, 2010. Four years later, he made the follow-up film from the Rio World Cup Final - 'Match 64-Maracana'. In 2012, to coincide with the London Olympics, Daniel completed two feature documentaries - one explored the mind and make up of Victoria Pendleton, the world's greatest ever female Track Cyclist, and the other focused on the infamous Men's 100m Final from the Seoul Olympics in 1988 - for the first time ever, all eight men who ran that race tell their story. In 2014, Daniel made 'Hillsborough' a film that earned him an EMMY nomination and an ASTRA Award. The documentary is about the Hillsborough Stadium Disaster, and was embargoed in the UK until the end of the new inquests, which concluded in April 2016. 'Hillsborough' was then updated and broadcast to acclaim in May 2016. Also in 2016, Daniel completed three further feature documentaries - 'Best' (the story of George Best, due for cinema release in Feb 2017), 'The Fall' (the story of Mary Decker, Zola Budd and THAT race in LA 1984) and 'Don't Look Down' which revisits Richard Branson's epic balloon adventures from the 1980s and 1990s.
Purchase

Buy the "30 for 30 Fifth Anniversary" box set. Available exclusively at Groupon ».