The Shining Star of Losers Everywhere
Film Summary
In Japanese, Haru Urara means "Glorious Spring." But as this 30 For 30 Short directed by Mickey Duzyj makes delightfully clear, the name means a great deal more to the Japanese people. Haru Urara was a racehorse who could never win a race. She first came to the public's attention after her 88th straight loss at troubled Kochi Racetrack, then picked up more and more supporters with each defeat. With her pink Hello Kitty patches, she became a symbol of hope in Japan. And though she never did win, Haru Urara did accomplish something greater: she saved the racetrack.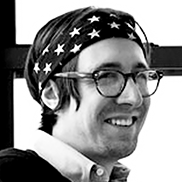 Mickey Duzyj
Mickey Duzyj is an artist and filmmaker whose credits include animation for the ESPN 30 for 30 feature "You Don't Know Bo" and the animation for Nike/Wieden+Kennedy's Make a Statement Olympics campaign for the US Men's Basketball team. His directorial debut was the Emmy-nominated ESPN animated short "The Perfect 18" (2014) about an IT manager's perfect game of Putt-Putt golf. He lives and works in Brooklyn, NY.
Purchase

Buy the "30 for 30 Fifth Anniversary" box set. Available exclusively at Groupon ».