What Carter Lost
Film Summary
There's high school football, and then there's Texas high school football. Oddly enough though, one of the greatest teams in state history has been lost to time... and fate. What Carter Lost, directed by Adam Hootnick for ESPN Films' 30 for 30 series, is the saga of that team, the 1988 Dallas Carter Cowboys. With 21 players who were offered college scholarships and several who went on to the NFL, Carter took on the best that Texas had to offer - including the Odessa Permian team that inspired Friday Night Lights - as well as the worst, in a racially charged state-wide dispute over one player's algebra grade and Carter's legitimacy. Somehow, Carter managed to win it all on the field, and somehow, they threw it all away. Perhaps it was the Dallas police officer and Carter fan who said it best after his actions ended a string of crimes that shocked the Carter faithful to their core: "Why would you do this?" Years later, it is a question that still has no easy answer, but through searing interviews with Carter players, coaches and family members, as well as glimpses of their lives today, this film is ultimately about what Carter found.
Director's Take
No matter how many times I hear the story of the 1988 Dallas Carter Cowboys, it's still hard to believe it really happened.
What if I told you... That one of the greatest high school football teams in history played in the same season and the same state as the most famous high school team ever - the Odessa Permian Panthers from
Friday Night Lights
... That an anonymous tip and a Texas-wide legal battle almost eliminated Carter from the post-season, nearly every week, but they still won it all... That after their team captured the title and a record number of scholarship offers, six Carter players committed a series of shocking crimes that changed the course of their lives, and their community's reputation, for decades. It's all true. It wasn't just this incredible series of real life dramas that convinced me to make What Carter Lost, though - it was the stories that hadn't been told. The movie
Friday Night Lights
showed us a Carter team full of menacing black giants who won by playing dirty, but we never met the players, or their community. They were parents who'd grown up in segregated schools but made it to college, good jobs, stable families and nice homes, and wanted to see their children do better. They were teachers and school board members who refused to be stereotyped as football-crazed cheaters, and believed they were being singled out because they were African American, not part of the Texas football old boys club. They were fans who rallied behind a city team that was upending the status quo, only to be devastated when some of their heroes faltered and the cynics said "I told you so." They were a few players who made horrible decisions they still can't quite explain, and their many teammates who did everything right, on the field and off, but felt ignored by history. Even after nearly 30 years, Texans are still divided by questions and conspiracy theories about that Carter season and its aftermath, and why things turned out the way they did. For many in 1988, and some still today, the way you saw the Carter story had a lot to do with your skin color or the neighborhood you grew up in. But whether you see it as triumph, tragedy or something more complicated, Carter's story is one you will never forget.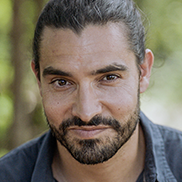 Adam Hootnick
Adam Hootnick is an award-winning filmmaker based in Austin, TX. Adam's last ESPN documentary was the SXSW selection Son of the Congo, following Serge Ibaka's improbable journey from the violence of Congo to NBA stardom and back home again, where Ibaka uses his basketball success to help rebuild a country and inspire a new generation to dream of a better life. Adam also followed five Olympic hopefuls battling for spots on the 2016 US Olympic Team in Destination: Team USA. His other recent projects include the short documentary Judging Jewell for ESPN's Emmy winning 30-for-30 shorts series, rated among the top films in the history of the series by Rolling Stone Magazine. Adam also collaborated with ESPN to direct the short films Pro Day and The Outstanding Mind-Bending Synergy Machine. Adam's first music video was the Webby Awards-honoree "Shoeshine" with Brooklyn rock band Black Taxi. His first feature, the critically acclaimed UNSETTLED, tells the story of several young Israelis from across the religious and political spectrum during the 2005 Israeli withdrawal from Gaza. UNSETTLED won numerous awards, including the Grand Jury Prize for Best Documentary Feature at the Slamdance Film Festival. Adam's recent commercial directing work includes NASCAR's Tribute to Jeff Gordon, One Last Time Around, as well as projects for United Airlines, Facebook, Tylenol, and the Clinton Foundation. A graduate of Harvard College and Harvard Law School, Adam began his career in news production at NBC and MSNBC before becoming a director/producer for MTV News & Documentaries, where Adam covered politics and international affairs.
Purchase

Buy the "30 for 30 Fifth Anniversary" box set. Available exclusively at Groupon ».