About 'Angry Sky'

Film Summary
In 1965, a truck driver and exotic pet dealer from New Jersey decided that he could join an elite group of men who had been to the final frontier -- space. With no formal training, no college degree, and barely enough money to support his wife and three young children, he set out to take a balloon to the edge of space and jump out. If he succeeded, he'd set a world record in a free fall back to earth for nearly 17 minutes.
At the height of the space race, Nick Piantanida would launch the first civilian space program. His young wife, Janice, would stand by him as he risked his life and their livelihood to achieve a dream that had become an obsession. A force of nature, Nick's willpower, charisma and delusions of grandeur would get him into space, make him a true American hero ... and lead him to a tragic end. This is the story of a man who fell madly in love with space -- and the woman who fell madly in love with him.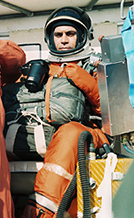 Five years ago, Mat Hoffman gave me this amazing book about Nick Piantanida -- "Magnificent Failure." At the time, Felix Baumgartner and Red Bull were planning their incredible trip to the edge of space, and I just couldn't believe a truck driver from New Jersey had attempted to do the same epic stunt in 1966. Luckily, Nick had a film crew following him around in the early 1960s. The footage was just so amazing that I knew there was a powerful film here.
I've told stories about guys like Mat Hoffman, Johnny Knoxville and Evel Knievel. And Nick fit right into that gang. He had a big heart, big balls, and substandard equipment. Even though his story is tragic, his unwavering commitment to do exactly what he believed in is inspiring to me.

Jeff Tremaine
Jeff Tremaine began his career as the editor of notorious skateboarding magazine, Big Brother, before co-creating "jackass," the cultural phenomenon that spawned a film franchise.
Beyond "jackass," Tremaine created a number of television series, including MTV's "Wildboyz," "Rob & Big," "Nitro Circus," "Ridiculousness," and Adult Swim's "Loiter Squad." His deep love of documentaries lead him to produce "The Wild and Wonderful Whites of West Virginia" and "Being Evel."
Tremaine also directed the ESPN 30 For 30 "The Birth of Big Air," a film about BMX legend Mat Hoffman. He is currently prepping his first narrative feature based on Motley Crue's epic autobiography "The Dirt."
Purchase

Buy the "30 for 30 Fifth Anniversary" box set. Available exclusively at Groupon ».