About Barbosa: The Man who Made Brazil Cry
Film Summary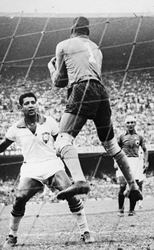 Given the opportunity to host their first World Cup in 1950, Brazil has high hopes of establishing the country as both an economic and soccer powerhouse. To establish the former, they have erected the Maracană in Rio, the largest stadium in the world, to host the majority of the home team's games. The latter seems a statement of fact given that the team features known stars like Ademir, Zizinho and Moacir Barbosa, widely regarded as one of the best goalkeepers in the world.
The pressure on Barbosa and the team is intense but on the eve of the last game, against much smaller Uruguay, it seems poised to deliver the championship. With 11 minutes remaining in the game, everything unravels. Alcides Ghiggia, a small and dangerous forward, tucks a ball between Barbosa and the near post to win the game for Uruguay. Brazil goes into a state of mourning and Barbosa becomes an anti-hero in his own country.
Even today, having won five subsequent World Cups, Brazil's wound remains fresh. Barbosa himself never plays in another Cup and, in a supreme irony, winds up spending most of his working life as an administrator at the site of his lowest moment: the Maracană. By nature a happy man, Barbosa's life is haunted by one bitter moment to the end.
Director's Take
I had never heard of Moacir Barbosa, the goalkeeper for the ill-fated 1950 Brazilian World Cup team, before great filmmaker and good friend Jonathan Hock approached me about doing the story. And what a story it turned out to be, told like a Greek tragedy, so dramatically tight that it appeared to have been written. But of course his story is true, and truth is usually messier than fiction.
As we wound our way through Brazil, interviewing biographers and people who knew him, the story unfolded in both expected and unexpected ways. If a story is close enough in form to a classic tragedy, you know the media, people like me, push it in that direction. We don't want the truth to get between us and a good story. The people I spoke to dutifully repeated his story, but also painted a portrait of a gentle soul, a man who became an anti-hero in his own country. I couldn't help but want to rescue him from continuing to go down in history as the man who made Brazil cry.
Toward the end of the shoot, I spent time with Tereza Borba, a woman who took Barbosa in toward the end of his life. Her connection to him was clear and genuine. I spoke to Helvidio Mattos, an ESPN reporter who was the last person to interview Barbosa. He pulled me into an edit suite to show me footage of Barbosa singing a song for he and the crew. These moments grabbed my heart.
Barbosa's story is indeed a tragedy, but maybe not the one Brazilians tell. How sad is it for a man to have his life repeatedly reduced to a few moments within a 90 minute soccer game? It would be convenient if Barbosa better played the role of villain. Upon being named the starting goalkeeper on arguably the best soccer team in the world, he could have become the type of celebrity we like to see fall from grace. But no, as near as I can tell, Barbosa never stopped being graceful. He was a sweet man carrying the burden of a nation. I hope this is what people take away from watching the film.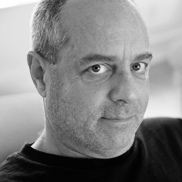 Loch Phillipps
Loch identifies himself as your classic indie filmmaker. 25 years in the biz has seen him produce fiction, documentary, and experimental films. He has co-directed an independent feature, "Use Your Head," a comedy which saw limited release. He directed a documentary about performance sculptor Ward Shelley, "The Voyagers," and also segments for "Beyond the Glory," for Fox Sports. Via his company, Off Ramp Films, he has traveled widely and produced short documentaries and PSAs for many non-profit and for-profit organizations, including UNICEF, IRC, the United Nations, the NBA, the Sundance Channel and the ACLU.
Currently, Loch is working primarily for Hock Films, under the sage guidance of his good friend and excellent filmmaker Jonathan Hock. With Hock, he has directed and edited sport documentaries for television, such as "MLS Insider" for NBC Sports and "30 for 30" shorts for ESPN. Loch has an MFA from California Institute of the Arts, which is where he got the idea that filmmaking can take many forms.
Purchase

Buy the "30 for 30 Fifth Anniversary" box set. Available exclusively at Groupon ».