About Benji:
Film Summary
In 1984, 17-year-old Ben Wilson was a symbol of everything promising about Chicago: a beloved, sweet-natured youngster from the city's fabled South Side, and America's most talented basketball prospect.
His senseless murder on the day before his senior season sent ripples through Chicago and the nation.

When I was in seventh grade all I would hear about is how cold this basketball player at Simeon by the name of Benji was. When Simeon would play my neighborhood high school (Percy L. Julian) we would run all the way up there just to get a glimpse of Ben Wilson playing but could not get in because we were only in grammar school. We had a plan for next year but never had the opportunity. Before the season started the next year, I woke up and heard on the news that Ben Wilson died. I cried like a baby! The city cried like babies. In a gang-divided city, his death changed the way we looked at each other. We started looking at each other like brothers instead of enemies.
When we had the opportunity to tell Ben Wilson's story, we thought it was great timing, seeing all the killing that's going on not only in Chicago but also around the world. We want to make the thugs cry! We want them to understand how powerful a gun is. When you shoot a person not only does it destroy the person and his/her family's lives, but it also destroys theirs, and possibly an entire city. You never would know what either of you would have become.
We hope this film resonates to these young men in the streets the way it did for us. Ben Wilson's death saved thousands of lives in Chicago, now we hope his story saves millions of lives around the world.
-- Coodie Simmons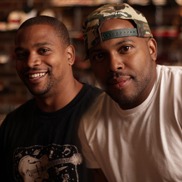 Coodie Simmons and Chike Ozah
Born and raised on Chicago's South Side, Coodie Simmons started his career as a performer, doing stand-up comedy in Chicago clubs. He went on to co-found Channel Zero, an underground hip-hop culture program on Chicago Public Access television. He began to document the early work of a young talent named Kanye West, an effort which led to his first high-profile music video, for the West song "Through the Wire."
Chike Ozah grew up in New Orleans, and after graduating from the Savannah College of Art and Design in Georgia, began a career in motion graphics. His work brought him to New York, where he created motion design and graphics for MTV. It was in MTV's hallowed halls that Chike first met Coodie, who was helping produce Kanye West's "MTV News: You Hear It First."
Coodie and Chike's first collaboration was on West's "Through The Wire." Since that project they have worked with such music luminaries as Erykah Badu, Christine Aguilera, Gil Scott-Heron and John Legend. They also formed Creative Control, a production and talent-development company, and host creativecontrol.tv, an online video channel that develops original hip-hop content.

Directed by:
Coodie and Chike
Producers:
Amani Martin
Ted Schillinger

Editor:
Jason Schmidt
Purchase

Buy the "30 for 30 Fifth Anniversary" box set. Available exclusively at Groupon ».