About 'Brothers in Exile'

Film Summary
Major League Baseball has been transformed by the influx of Cuban players such as Aroldis Chapman, Yasiel Puig and Jose Abreu. But a special debt of gratitude is owed to two half-brothers, whose courage two decades ago paved the way for their stardom. "Brothers in Exile" tells the incredible story of Livan and Orlando "El Duque" Hernandez, who risked their lives to get off the island. Livan left first, banking on his status as the hottest young prospect in Cuba he defected via Mexico and signed with the Florida Marlins, for whom he became one of the youngest World Series MVPs in history in 1997. Staying behind was Orlando, who was banned from professional baseball in Cuba for life because he was suspected of having helped Livan escape. Then, on Christmas 1997, an increasingly frustrated and harassed Orlando left Cuba in a small boat. He was stranded on a deserted island for days before being picked up by the U.S. Coast Guard. Less than a year later, "El Duque" was helping pitch the New York Yankees to a world championship, completing a most unlikely journey for two half-brothers who rode their arms to freedom and triumph.
I remember watching Orlando "El Duque" Hernández pitch his way through a sensational rookie season with the Yankees in 1998 with only a vague understanding of his life in Cuba before he made it to the major leagues. I knew he had escaped the island on a boat, but that was pretty much it. The bigger story at the time was his dominant pitching and the fact he led the team to another World Series championship.
Years later, I came across an article about El Duque and his half-brother, Florida Marlins pitcher Liván, that gave me a deeper appreciation of them as people. By all accounts their journey to the major leagues was an ordeal, especially for El Duque who initially did not choose that path. You can't talk about El Duque and Livan without also discussing Cuba's economic turmoil in the 1990s after the fall of the Soviet Union, which created desperate conditions for everyone on the island, including baseball players.
These conditions produced a potential market for a new breed of anti-Castro sports agents in the U.S. who began facilitating the defection of Cuban players and placing them on Major League teams. In different ways, El Duque and Livan became pawns in a political tug of war that changed their lives in dramatic ways. It's incredible to think that many years after the end of the Cold War two apolitical baseball players were still caught in its crosshairs.
My approach to directing this film was to tell El Duque's and Livan's story from their own unique perspective, tracking their thoughts and motivations through every challenge they faced. Most importantly, my goal was to provide an understanding of the reasons behind many Cuban defections and the fact there is a real human cost associated with them. Many of these players make the decision to leave their country and their families knowing they might not be able to ever return. No matter how successful they become as major league players, there is still a painful trade-off.
As a Latino filmmaker it is my hope that "Brothers in Exile" resonates on a human level, cutting through the political stalemate that has characterized the U.S./Cuba discourse for decades. After all, El Duque and Livan did not and still do not take sides on the issue of U.S./Cuba relations. They remain, simply, athletes who love the game of baseball.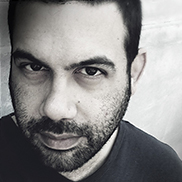 Mario Diaz
Mario Diaz is an award-winning documentary filmmaker and editor who has directed four feature-length sports documentaries, including "The Clemente Effect" (ESPN Deportes), about the lasting impact of baseball legend Roberto Clemente; "Bazooka: The Battles of Wilfredo Gómez" (HBO Latino), which chronicles the life of three-time world champion boxer Wilfredo Gómez; and "Viva Cepeda!" (HBO Latino), about Hall of Fame baseball player Orlando Cepeda. He also directed and edited the popular Grantland short "The Fastest Man in Rugby: Carlin Isles."
In addition to directing documentaries, Diaz also has an extensive background in television. He was the senior producer of the nationally syndicated newsmagazine "American Latino TV," supervising producer of Season 2 of the Oprah Network relationship series "Unfaithful," senior producer of the CBS online business show "Wallstrip," and entertainment producer for Associated Press Television News (APTN).
As an editor, Diaz's film credits include the documentaries: "Unspooled," "Generation Meds" and "Leap of Faith." His television credits include "Worst Cooks in America" for the Food Network, two seasons of "Design Star" for HGTV and four seasons of "Ink Master" for SpikeTV.
Diaz was also the documentary programmer for the San Diego Latino Film Festival from 2011-2013 and a producer/editor for the Gotham Independent Film Awards from 2007-2012.
Major League Baseball Productions
Major League Baseball Productions is the Emmy-award-winning television and video production division of Major League Baseball and the official archivists of the game. With unparalleled access to the Clubs and their players, Major League Baseball Productions produces original programming for growing audiences worldwide through its network specials, exclusive home entertainment, commercials and other specialty programming. Major League Baseball Productions produced the ESPN Films "30 for 30" documentary "Four Days in October." Additional credits include "The Franchise" (Showtime), "BEING: Mariano" (FOX), "Bryce Begins" (ESPN), "Derek Jeter 3K" (HBO), "Prime 9" and "Baseball Seasons" (MLB Network), as well as the annual "World Series Film" since 1943 and the longest-running sports anthology series in American television broadcast history, "This Week in Baseball."
Purchase

Buy the "30 for 30 Fifth Anniversary" box set. Available exclusively at Groupon ».