Director's Take
"Catholics vs. Convicts". Those three words took an already bitter rivalry and lit it on fire.
In 1988, I was a senior at Notre Dame as our fellow classmates on the gridiron -- under the leadership of Coach Lou Holtz -- set out for perfection. Our football team had been struggling over much of the past decade, but as the '88 season began it seemed that our long wait for another championship might possibly be coming to an end. But we had to get past the Miami Hurricanes to do it.
I grew up enamored with Notre Dame. In my family, it was hard not to. My grandfather and namesake, Francis Patrick Creadon I, was recruited by Coach Knute Rockne to play for the Irish in 1924. Though he didn't end up playing, he cheered on his classmates from the student section as the Irish captured their first national championship. Years later, my father attended Notre Dame, and though another national championship eluded the Irish during his time as a student there, he did witness one of the greatest upsets in college football history when we snapped Oklahoma's 47-game winning streak in Norman, Oklahoma.
Several weeks before our epic showdown against Miami in 1988 -- a game that would ultimately determine the national championship that year -- my best friend and roommate Pat Walsh was busy chasing down his own dream. Since he was a little kid, he had dreamed of becoming the walk-on for Digger Phelps and the Notre Dame basketball team. Walshy was a good player, but he'd have to beat out one hundred other hopefuls that year to make Digger's squad. He and I had trained all summer together -- he ran sprints, I blew the whistle and held the stopwatch -- and by the beginning of our senior year he was in the best shape of his life.
Walshy's other passion was to be a successful entrepreneur. He had built an underground t-shirt empire on campus out of our dorm room, and by the beginning of senior year he'd been warned by the university to shut it all down. Students were not only prohibited from running a business on campus, they were certainly not allowed to break copyright laws in the making and selling of t-shirts. Determined to keep his nose clean senior year, Walshy put aside his entrepreneurial pursuits and focused only on basketball.
That's when he ran into Joe Fredrick, the captain of the basketball team. "Walshy, I have a great idea for a shirt for the Miami game." "No way," said Walshy. "That shirt will get me kicked out of school."
The Notre Dame-Miami showdown went on to become one of the greatest games in college football history, and the battle on the field actually lived up to and surpassed all the hype leading up to it. And miraculously, my buddy Walshy achieved his lifelong dream on the hoops court.
But that's only part of the story ... and I don't want to give away the ending.
Catholics vs. Convicts
Film Summary
On October 15, 1988, Notre Dame hosted the University of Miami in what was arguably one of the greatest games in college football history. It was tradition vs. swagger, the No. 4-ranked Fighting Irish versus the No. 1-ranked Hurricanes, one coaching star, Lou Holtz, versus another, Jimmy Johnson. But the name still attached to the contest came from a t-shirt manufactured by a few Notre Dame students: "Catholics vs. Convicts."
In this documentary for ESPN Films' acclaimed 30 For 30 series, director and narrator Patrick Creadon (Wordplay, I.O.U.S.A.) doesn't just look back on this epic game. He explores the deeper narrative as a Notre Dame senior at the time, a close friend to the young men in the middle of the "Catholics vs. Convicts" controversy (Joe Fredrick and Pat Walsh) and a fellow classmate of the player behind center for the Fighting Irish (quarterback Tony Rice). He gets the coaches and the players to open up about the fight that started the game, the highly debatable calls that are still being talked about and the insensitive aspects of the irresistibly popular t-shirt.
As compelling as the tale of Notre Dame's dramatic victory is -- even losing quarterback Steve Walsh calls it "a helluva ballgame" -- the backstory is just as riveting.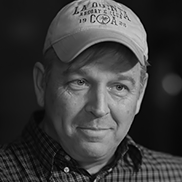 Patrick Creadon
Patrick Creadon and his wife and partner Christine O'Malley are one of the most successful documentary teams in America. They've twice been nominated for the Grand Jury Prize at the Sundance Film Festival ("Wordplay" 2006, "I.O.U.S.A." 2008), their film "If You Build It" (2013) won an Independent Spirit Award, and their films have been translated into over a dozen languages and screened throughout the world. This is their first collaboration with ESPN Films. Creadon and O'Malley both grew up in Chicago, and are the children (and grandchildren) of Notre Dame grads. They live with their three daughters, two dogs, and two cats in Los Feliz, CA.
Purchase

Buy the "30 for 30 Fifth Anniversary" box set. Available exclusively at Groupon ».