Director's Take
There are moments in sport when you just stop and admire the performance you are witnessing. Evander Holyfield provided several such moments in his storied career. To name a few, his fight against Dwight Muhammad Qawi and two against Riddick Bowe and two against Lennox Lewis were all epic bouts. Holyfield displayed skill, tenacity and a true warrior's heart, even in defeat. He won the heavyweight championship belt an unprecedented four times.
And yet, despite such impressive career highlights, Evander Holyfield is primarily known today as the guy who had his ear bitten off by Tyson. While the insanity of that singular incident is permanently etched in our collective memory, it is my hope that this film will reintroduce an audience to a fighter who deserves to be remembered as one of the all-time greats.
About Chasing Tyson
Film Summary
With his outsized personality and ferocious punches, Mike Tyson cast a commanding shadow over boxing in the 1980s and '90s. Even when "Iron Mike" was in prison, the heavyweight division belonged to him. Meanwhile, like Ahab patiently waiting to reel in his giant whale, Evander Holyfield endured years of delay for the opportunity to take down Tyson. Though Holyfield captured the heavyweight title when he knocked out Buster Douglas, the prevailing view of the mild-mannered Holyfield was that he was a journeyman -- the heavyweight champion but never a truly great one. Though Holyfield dramatically lost and recaptured the heavyweight crown, and then lost it again, even he understood that his career would ultimately be defined by how he stood up to Tyson -- if he ever got his chance. By the time of their much-hyped and oft-delayed heavyweight title bout in November of 1996, Holyfield was 34 and considered past his prime. Four years younger, Tyson was heavily favored to be standing over another meek and easily vanquished opponent at the end. Instead, we got two of the sport's most memorable fights -- but for very different reasons.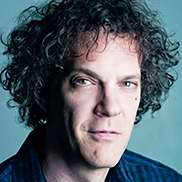 Steven Cantor
Director and producer Steven Cantor is the founder of New York City based Stick Figure Studios.
Cantor received an Academy Award nomination for his first documentary, "Blood Ties: The Life and Work of Sally Mann," about the notorious photographer. Last year, Cantor was nominated for an Emmy for producing and directing the ESPN film "Cutthroat," about injured NHL goalie, Clint Malarchuk. Cantor received an Emmy nomination for the HBO/Channel 4 UK documentary "Devil's Playground," and two more nominations for the HBO/BBC co-production of "What Remains." He won an Emmy award for his PBS American Masters film "Willie Nelson: Still Is Still Moving."
Cantor produced and directed the Sundance film "loudQUIETloud," about the reunion of the rock band Pixies. It was named by Rolling Stone Magazine as one of the ten best rock documentaries of all-time.
Cantor directed the HBO film, "No One Dies in Lily Dale," about a town of psychic mediums in upstate New York.
As a producer, Cantor was nominated for two more Emmy Awards for HBO's "I Am An Animal" as well as two for HBO's "Reporter."
At present, Cantor is producing and directing "Dancer," a BBC Films feature documentary about controversial ballet phenom, Sergei Polunin.
Purchase

Buy the "30 for 30 Fifth Anniversary" box set. Available exclusively at Groupon ».