About Collision Course: The Murder of Don Aronow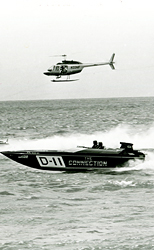 Film Summary
In the 1980s, powerboat racing was to Miami what polo was to Palm Beach: a sport for the rich with an insatiable appetite for speed and adventure. To this day, the most famous brand names associated with power boating were the creation of Don Aronow - Cigarette, Formula, Donzi, Blue Thunder. Aronow was a handsome family man who moved to Miami after making a fortune in New Jersey construction, but soon became world famous as a champion boat racer and international businessman, selling boats and fostering close personal relationships with some of the most powerful men in the world. But in Miami in the 1980s, the most formidable group with a need for speed on the water who also could afford the astronomical sticker prices on Don Aronowıs Go-Fast boats were drug smugglers. "Collision Course: The Murder of Don Aronow" recounts the rarely told fast life and times of one of the worldıs most intriguing adventurers and explores, Don Aronow.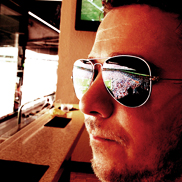 Billy Corben
Florida native Billy Corbenıs feature documentary directorial debut, "Raw Deal: A Question of Consent," premiered at the Sundance Film Festival in 2001, making him one of the youngest directors in Sundance history. Examining the alleged rape of an exotic dancer at a fraternity house at the University of Florida, the film utilized extensive clips from videotape footage of the alleged assault. Considered by critics to be 'one of the most controversial films of the modern day' and 'one of the most compelling pieces of non-fiction ever produced,' (Film Threat Magazine).
Following that success, Corben and producing partner Alfred Spellman founded rakontur, a Miami Beach-based content creation company, and took on another Florida true crime story, this one closer to home. The New York Times called 2006's Cocaine Cowboys 'a hyperventilating account of the blood-drenched Miami drug culture in the 1970's and 80s.' The film tells the story of how the drug trade built Corbenıs native city of Miami, through firsthand accounts of some of the most successful smugglers of the era and the deadliest hitman of the Cocaine Wars. The sequel, Cocaine Cowboys II: Hustling with the Godmother, was released in 2008.
2011 saw the release of two Corben directed movies, "Square Grouper: The Godfather of Ganja" and "Limelight."
Corben is also the director of two previously released 30 for 30 feature documentaries, "The U" and "Broke." He is currently working on a dramatic series adaptation of "Cocaine Cowboys" for HBO, with executive producers Jerry Bruckheimer and Michael Bay, a feature documentary titled "Dawg Fight," a violent expose on the illegal underground backyard fights in South Florida, and two "Cocaine Cowboys" sequels.
Purchase

Buy the "30 for 30 Fifth Anniversary" box set. Available exclusively at Groupon ».