About Fernando Nation
Film Summary
"The Natural is supposed to be a blue-eyed boy who teethed on a 36-ounce Louisville Slugger. He should run like the wind and throw boysenberries through brick. He should come from California." Steve Wulf, Sports Illustrated, 1981.
So how was it that a pudgy 19-year-old Mexican left-handed pitcher from a remote village in the Sonoran desert, unable to speak a word of English, could sell out stadiums across America and become a rock star overnight?
In Fernando Nation, Mexican-born and Los Angeles-raised director Cruz Angeles traces the history of a community that was torn apart when Dodger Stadium was built in Chavez Ravine and then revitalized by one of the most captivating pitching phenoms baseball has ever seen.
Nicknamed "El Toro" by his fans, Fernando Valenzuela ignited a fire that spread from LA to New York -- and beyond. He vaulted himself onto the prime-time stage and proved with his signature look to the heavens and killer screwball that the American dream was not reserved for those born on U.S. soil.
In this layered look at the myth and the man, Cruz Angeles recalls the euphoria around Fernando's arrival and probes a phenomenon that transcended baseball for many Mexican-Americans. Fernando Valenzuela himself opens up to share his perspective on this very special time. Even 20 years later, "Fernandomania" lives.
Director's Take
One of my father's favorite phrases is "ponle ganas" ("give it your best") and although I heard this all the time throughout my childhood, one of the most memorable occasions was when he proudly boasted about a fellow countryman, Fernando Valenzuela, who at only 19 was becoming a national sensation. My father would use Fernando as an example of what could be achieved. If Fernando, who came from such humble beginnings, could do it, then I could accomplish anything in this country.
Like my father and I, many of us of Mexican descent lived vicariously through Fernando's success. When he won, we won. He was our Sandy Koufax, our Joe DiMaggio and in a way our Jackie Robinson because he gave us a sense of belonging and permission to participate as fans in the most American of pastimes -- baseball. Latinos showed up in unprecedented numbers to stadiums where they had previously felt unwelcome.
Without a doubt, Fernando's success had a positive impact on the psyche of a whole generation growing up in the early 1980s. He was pudgy, shy, and mysterious, and at 20 years of age, he was the youngest player in Major League Baseball. He came from a remote village in rural Mexico and couldn't speak a word of English. And yet he managed to set off a global mania, virtually overnight, becoming a hero to millions of people.
I was intrigued by why Fernandomania took place. His amazing 8-0 start certainly lit the fuse, but I had a hunch that his story was much more than a baseball fairytale. This film is my chance to explore and dig deeper into the phenomenon that was Fernandomania, to humanize the man that many still see as a myth, and to give voice to the community that embraced him.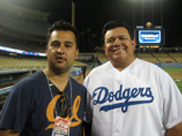 Cruz Angeles
Brooklyn-based filmmaker, Cruz Angeles, was born in Mexico City and raised in South Central Los Angeles. His feature film directorial debut, "Don't Let me Drown," premiered at the 2009 Sundance Film Festival in competition for the Grand Jury Prize and garnered enthusiastic reviews. The Hollywood Reporter named it "one of the best film portraits yet of New York City in the aftermath of 9/11" and New York Magazine called it one of the top 15 films out of Sundance. The film won the Audience Award at the San Francisco International Film Festival and at the Florida Film Festival. It also won the Lee Marvin Best Feature Narrative Award at the Woodstock Film Festival.
In 2009, Cruz was nominated for a Gotham Award in the Breakthrough Director category. He is a Sundance Institute Screenwriting and Directing Fellow, a Director's Guild of America Award recipient, an Annenberg Film Fellow, a recipient of the NHK/Sundance International Filmmakers Award and an alumnus of the prestigious graduate film program at NYU.

Directed by:
Cruz Angeles
Executive Producers:
Keith Clinkscales
John Dahl
Joan Lynch Connor Schell
Bill Simmons
John Skipper
John Walsh
Producers:
James Lawler
Virgil Price
Maria Topetei Mark Durand
Libby Geist
Editors:
Anne Barliant
Madeleine Sackler
Cinematography:
Naiti Gámez
Music:
Daniel Belardinelli
Purchase

Buy the "30 for 30 Fifth Anniversary" box set. Available exclusively at Groupon ».