About 'I Hate Christian Laettner'

Film Summary
He made perhaps the most dramatic shot in the history of the NCAA basketball tournament. He's the only player to start in four consecutive Final Fours, and was instrumental in Duke winning two national championships. He had looks, smarts and game.
So why has Christian Laettner been disliked so intensely by so many for so long?
Maybe it was the time he stomped on the chest of a downed player, or the battles he had with his teammates, or a perceived sense of entitlement. But sometimes, perception isn't reality.
"I Hate Christian Laettner" will go beyond the polarizing persona to reveal the complete story behind this lightning rod of college basketball. Featuring extensive access to Laettner, previously unseen footage and perspectives from all sides, this film will be a "gloves-off" examination of the man who has been seen by many as the "Blue Devil Himself."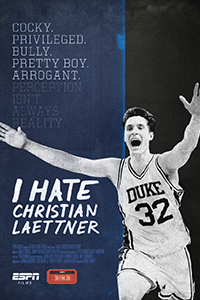 I grew up outside Philadelphia a die-hard Eagles fan. And I despised the Dallas Cowboys and everything they stood for. It was as much fun hating the Cowboys as much as it was rooting for my team. But why? Why do fans hate certain players or teams beyond just home team loyalties? We figured this could be an interesting topic to explore through the lens of one of the most polarizing college athletes of all time ... Christian Laettner.
I told Christian when we started that the film would not be a love letter to him or his school, but that we would try to be fair. I'm appreciative of Christian and his family for trusting me to tell this story. Few other athletes would be so forthcoming and generous. I am also grateful for the collaboration with Rob Lowe. He knows sports and he knows storytelling. His contribution to the film has been invaluable.
Of all the films I've been fortunate to direct, this film was the most challenging creatively. ESPN didn't want the film to be a straight bio. We took an unorthodox approach that hopefully entertains and enlightens. We attempted to explore some tough topics while still being fair. The film features pop culture blended with controversy, and hopefully a touch of humor as well. My hope is haters and non-haters alike will be satisfied.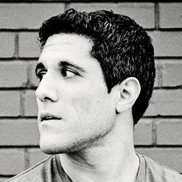 Rory Karpf
Rory Karpf is a five-time Emmy award-winning filmmaker who specializes in telling emotional, heartfelt stories.
In 2007, Rory directed the theatrical release "Dale," the first authorized documentary on the life of racecar driver Dale Earnhardt. Narrated by Academy Award winner Paul Newman, "Dale" became the highest selling sports themed DVD of all time. Rory followed that up with "The Ride of Their Lives" which aired on Showtime and was narrated by Academy Award winner Kevin Costner. Rory also directed the official music video for the film, "Backyard" by Kevin Costner and the Modern West. In 2009, Rory directed "Together," about the tragedy that took the lives of members of the Hendrick Motorsports team. The film aired on ABC and was narrated by Academy Award nominee Tom Cruise.
Rory previously worked with ESPN, directing the 30 for 30 film "Tim Richmond: To the Limit." That was followed by Rory producing the first four films in the "SEC Storied" series, which included directing the titles "Herschel" and "Lolo." In 2012, Rory along with producer and wife Lauren Karpf, launched the production company First Row Films. He went on to direct the ESPN films "Silver Reunion," "Miracle 3" and "The Book of Manning." In 2015, Rory was executive producer of the series "Snoop & Son: A Dad's Dream," featuring pop culture icon Snoop Dogg and his son Cordell.
Rory currently resides in Charlotte, N.C. with his wife Lauren, and sons Cooper and Tyler.
Purchase

Buy the "30 for 30 Fifth Anniversary" box set. Available exclusively at Groupon ».