Locked In
Film Summary
The family photos and home movies show a precocious, athletic little girl, a triplet with two brothers who lovingly teased her as they grew up in New Hampshire. Victoria Arlen truly had the world ahead of her. But at the age of 11, she began to suffer from an illness that baffled her doctors and tore up her family. She fell into a vegetative state, only to wake up three years later, unable to communicate to her loved ones that she was still there. As she says in this inspiring and moving 30 For 30 Short directed by Alison Ellwood, "I was locked in my own body."
As it turned out, two different and rare neurological diseases had robbed Victoria not only of precious years, but also her physical capabilities. But they hadn't taken her spirit. Slowly but surely, with the help of loved ones and proper treatment, she began to recover her true self. She couldn't walk, but her brothers showed her she could still swim... all the way to London for the 2012 Summer Paralympics, where she won a gold and three silver medals. Determined to recover the use of her legs, she enrolled in a program called Project Walk... and ended up performing on Dancing With The Stars.
Locked In features moving testimony from her mother, father, brothers, and coach, but ultimately, the words that sum up her remarkable story belong to Arlen, who now works for ESPN. "I wanted to switch the word 'impossible' to 'I'm possible.'"
Director's Take
As a person, I was drawn to Victoria Arlen's story as it represented the power of love in a family determined to never give up, despite the odds. As a director her story presented exciting visual challenges that allowed me to experiment with metaphor. Given that Victoria was a swimmer, the water was a natural place for her Locked In mind to exist, simultaneously at peace and angst.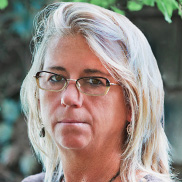 Alison Ellwood
Alison Ellwood is a director, producer, and editor whose work spans documentary and narrative film and television. Among her credits are American Jihad, which she directed, the Academy Award®-nominated documentary Enron: The Smartest Guys in the Room, for which she served as editor and producer, and the Emmy®-winning series American High, which she directed.