About MECCA: The Floor That Made Milwaukee Famous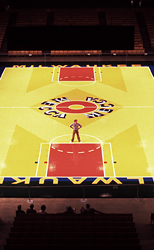 Film Summary
In the 1970s, the rust-belt city of Milwaukee used public funds to commission an eccentric, openly gay artist from the Bowery in New York City to paint the Bucks basketball floor. In 1988, the Bucks moved across the street to the newly constructed Bradley Center -- leaving the MECCA Arena floor in storage, all but forgotten by the general public.
Fast-forward 25 years -- Bucks fan Andy Gorzalski, discovers the floor for sale for scrap, listed online as a "gym floor." Against better judgment, Andy puts his family's credit card down for $20k to protect this iconic symbol of Milwaukee and basketball history. Over the next year, Andy and another fan, Ben Kohler, team up with Robert Indiana to re-construct and re-exhibit the floor -- serving as the inspiration for the Milwaukee Bucks to redesign a new home court floor for their '13-14 NBA season based on the original MECCA design.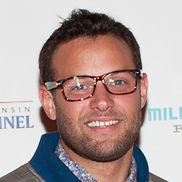 Chris James Thompson
Chris James Thompson is an award-winning director living in Milwaukee. He began his career working underneath filmmaker Chris Smith, and has various credits on the films: "The Pool" (Winner-Sundance Film Festival 2007), "Collapse" (Toronto International Film Festival 2009) and "Suffering & Smiling" (Winner-Human Rights Watch Film Festival 2006). His first feature film "The Jeffrey Dahmer Files" premiered in competition at the SXSW Film Festival (2012), became a New York Times Critics Pick and was acquired by IFC for broad distribution.
His other past films include "Kyoko Naturally" (Winner-IFP-Chicago Film Fest 2007) and "The Making of the Pool" (Milwaukee Film Fest 2009). He is currently working on two projects: a children's web series about camping and a feature film about the U.S. rendition program and torture.
Purchase

Buy the "30 for 30 Fifth Anniversary" box set. Available exclusively at Groupon ».