About Muhammad and Larry

Film Summary
In October of 1980 Muhammad Ali was preparing to fight for an unprecedented fourth heavyweight title against his friend and former sparring partner Larry Holmes. To say that the great Ali was in the twilight of his career would be generous; most of his admiring fans, friends and fight scribes considered his bravado delusional. What was left for him to prove?
In the weeks of training before the fight, documentarians Albert and David Maysles took an intimate look at Ali trying to convince the world and perhaps himself, that he was still "The Greatest." At the same time, they documented the mild-mannered and undervalued champion Holmes as he confidently prepared to put an end to the career of a man for whom he had an abiding and deep affection.
In the raw moments after Ali's humbling in this one-sided fight, it was not fully comprehended what the Maysles brothers had actually captured on film and, due to unexpected circumstances, the Maysles footage never received a public screening or airing. However, in the intervening years, the magnitude of this footage is now clear. An era ended when the braggadocio and confidence were stripped away in the ring, and the world's greatest hero was revealed to be a man. Here for the first time is the unseen build up to that fight, accompanied by freshly shot interviews by Albert Maysles with members from both the Ali and Holmes camps, as well as others who were prime witnesses to this poignant foolhardy attempt at courage.
Director's Take by Albert Maysles
Years ago my mother gave me some heartfelt and sage advice that has been of so much help in my life and in my documentary filmmaking. The advice, "there's good in everybody," has enabled me to connect and empathize with just about anyone. With Muhammad Ali that was no problem at all; he was totally likeable. In 1964, I first filmed the young Ali (then, of course, known as Cassius Clay) as he fought and defeated Sonny Liston in Florida, and was crowned World Champion. I hadn't seen Ali again for many years, when I was crossing Broadway in New York City one afternoon, and heard someone shouting, "Hey Al! Hey Al!". It was Muhammad Ali, his head out the window of his taxicab -- a big, beautiful smile on his face.
A good part of the joy of filming and watching Muhammad Ali and Larry Holmes is how human and likeable they are, especially at a time now when most in the mass media seem to find it all too difficult to represent anyone who may exemplify the best in all of us. Muhammad and Larry, surely, represent the best.
Of special interest to me is that ESPN asked me and my filmmaking partner, Bradley Kaplan, to work exactly as we do, with deep affection and respect for our subjects -- behind the scenes, intimately and up close -- in a way we believe is best for both Muhammad Ali and Larry Holmes. They deserve nothing less.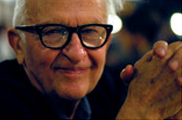 Albert Maysles is recognized as a pioneer of "direct cinema," the distinctly American version of French cinema verité. He earned this distinguished reputation by being the first to make non-fiction feature films --films in which the drama of human life unfolds as it is, without scripts, sets or narration.
Born in Boston of Jewish immigrants from Eastern Europe, Albert received his B.A. at Syracuse and his M.A. at Boston University where he taught psychology for three years. He made the transition from psychology to film in the summer of 1955 by taking a 16mm camera to Russia to film patients at several mental hospitals. The result, "Psychiatry in Russia," was Albert's first foray into filmmaking. Several years later, he and his brother David made a motorcycle journey from Munich to Moscow and along the way shot their first collaborative film on the Polish student revolution.
In 1960, Albert was co-filmmaker of "Primary," a film about the Democratic primary election campaigns of Kennedy and Humphrey. The use of hand-held cameras and synchronous sound allowed the story to tell itself. With a fine-tuned sense of the scene-behind-the-scene, Albert made "Meet Marlon Brando" (1965) and "With Love From Truman" (1966). Then they came out with the landmark non-fiction feature film "Salesman" (1968), a portrait of four door-to-door Bible salesmen from Boston. It won an award from the National Society of Film Critics and is regarded as the classic American documentary. In 1992, the Library of Congress saluted the film for its historical, cultural and aesthetic significance. Albert was made a Guggenheim Fellow in 1965.
His next two films became cult classics. "Gimme Shelter" (1970) is the dazzling portrait of Mick Jagger and the Rolling Stones on their American tour, which culminated in a killing at the notorious concert at Altamont. "Grey Gardens" (1975) captures on film the haunting relationship of the Beales, a mother and daughter living secluded in a decaying East Hampton mansion. These films, like "Salesman," were released theatrically to great acclaim.
Albert was honored to shoot for friend Martin Scorsese on his new Rolling Stones documentary, "Shine A Light" (2008). Maysles recently produced two episodes of Ovation TV's ongoing series "Close Up" and a documentary portrait of New York-based dancer/choreographer Sally Gross, "The Pleasure of Stillness" (2007).
Among other new and exciting projects, Albert is currently at work on his autobiographical documentary film, "Handheld."
A dedicated teacher and mentor, Albert enjoys lecturing at master classes and workshops around the world. He has visited and taught at the famous Danish Film School, UCLA, NYU, MOMA, the Metropolitan Museum of Art and at film festivals in Chicago and Belfast, to name but a few.

Directed by:
Albert Maysles
Bradley Kaplan
Executive Producers:
Keith Clinkscales
John Dahl
Joan Lynch Connor Schell
Bill Simmons
John Skipper
John Walsh
Producers:
Bradley Kaplan
Laura Coxson
Mark Durand
Associate Producers:
Elizabeth Geist
Katie Sorohan
Sound:
David Maysles
Composer:
Paul Grimstad
Cinematography:
Albert Maysles
Editing:
Paul Carruthers
Ian Markiewicz
Purchase

Buy the "30 for 30 Fifth Anniversary" box set. Available exclusively at Groupon ».