About No Más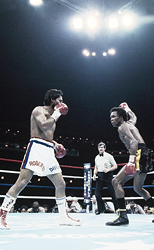 Film Summary
In the midst of boxings contemporary golden age -- the 1980s -- stood two fighters who established a captivating rivalry. Their pair of bouts within a span of just over 5 months in 1980 had all the trappings of instant classics. Sugar Ray Leonard, an American hero, who had become a household name after a Gold Medal-winning performance at the 1976 Summer Olympics that led to numerous corporate sponsorships, versus the Latino champion, Roberto Duran, the toughest -- some said meanest -- fighter of all time. It was not just the drama and action of these fights that would endure, but those two words uttered in the second of their clashes, which would create a sense of mystery, bewilderment and intrigue to the present day.
"No Más." I always wanted to know why Robert Duran -- a fighter with so much power, so much talent, and so much experience -- would stun the world by uttering those two fateful words in the ring against Sugar Ray Leonard in 1980. It was so antithetical to everything Duran represented -- his machismo, his meanness, his toughness. Was it frustration? A fix? Or something else? I guess I figured it would always endure as one of those boxing mysteries that went unsolved. Until I happened to run into Sugar Ray Leonard at an event in Washington, DC in 2012. I asked him if it ever bothered him that it seemed that Duran got more attention for quitting in that fight than Leonard did for winning it. His answer was an unequivocal yes. And so began the journey of both Ray Leonard and this film, a journey that would not only relive an incredible rivalry, but finally serve to confront Roberto Duran once and for all about a night in boxing history that none of us will ever forget.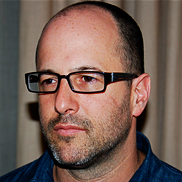 Eric Drath
Eric Drath is an Emmy Award-winning film director and producer, and executive producer of Live Star Entertainment. Eric began his career at ABC News and went on to producer positions at CNN and Fox News Channel. As his interest in the boxing industry grew, he began working as a publicist then agent, representing over 40 fighters and traveling worldwide with them for professional bouts. In 2000, Eric combined his passion for boxing with his talent for storytelling and created Live Star Entertainment, where they produce live sports, concerts and award shows, as well as documentary films. His first documentary feature, "Assault in the Ring," tells the story of a boxer involved in an alleged boxing crime, which received the Emmy award for Outstanding Sports Documentary in 2010. The film aired on HBO domestically and has aired in more than a dozen countries worldwide.
Continuing with the theme of controversy in sports, Eric directed two ESPN 30 for 30 films; a short film about baseball legend Pete Rose and a feature, "Renée," about transsexual tennis sensation Renée Richards. In addition to "No Más," Eric's upcoming projects include a scripted series, a documentary for Marvel Entertainment, a Civil Rights story about former Knicks legend and TSU graduate Dick Barnett, and a feature-length documentary about Yiddish theater and culture narrated by Alan Alda entitled, "Theodore Bikel: In the Shoes of Sholom Aleichem."
Drath received his B.A. from Columbia University and has lectured at NYU graduate film school, SVA and SUNY Purchase. He resides in New York City with his wife Valerie and two young daughters.
Purchase

Buy the "30 for 30 Fifth Anniversary" box set. Available exclusively at Groupon ».