Qualified
Film Summary
In 1977, a 39-year-old aerospace engineer attempted to qualify for the world's most famous race, the Indianapolis 500. In the face of scorn and skepticism, and saddled with subpar equipment, Janet Guthrie shocked the racing world. The reluctant feminist-turned-trailblazer became the first woman to earn a place on the starting grid at Indy, among 33 of the world's greatest drivers. But just as her career should have rocketed forward, it suddenly, inexplicably stalled. Qualified chronicles the mercurial rise of this barrier breaking auto racer and her equally rapid decline. What Janet Guthrie accomplished in the male bastion of mid-70s American motorsports, stands as a testament to one woman's determination and skill - the kind too often relegated to the margins of history.
With unprecedented access to the era's local television coverage, network broadcasts, rarely seen promotional films, home movies, and private photo and film collections, Qualified story comes to life through archival material. Immersing audiences in the wildly colorful and violently dangerous world of 1970s auto racing, the film is punctuated by period commentary and interviews from Jim McKay, Jackie Stewart, and Howard Cosell. The contemporary interviews provide 'eyewitness' accounts, and feature over a dozen personalities who were there, from Guthrie's crew members to her competitors, such as legendary racers A.J. Foyt and Johnny Rutherford, along with Guthrie's own in-depth, candid, and ultimately revealing account.
Director's Take
Until about ten years ago when I was invited to attend my first Indianapolis 500, my relationship to the event was memories of my Dad tuning the radio to the race broadcast before he lit the grill on Memorial Day. I was skeptical. I love sports, but 500 miles around an oval track during a hot day in May...
The moment I approached the imposing Indianapolis Motor Speedway from 16th Street, I knew I'd underestimated how epic an event this is. Walking up the stairs to the grandstands revealed two and half miles of track, four raked turns, massive crowds that magically fell silent while a bugle called Taps, a starting grid of open-wheel race cars, three abreast, waiting for the start command... and then it happened. "Gentlemen, start your engines!" The powerful, chest-resonating, floor-vibrating roar of 33 rockets on wheels overtook me- they don't call this the "greatest spectacle in racing" for nothing. It is something of a spiritual experience, and I was an instant convert.
Like many, I didn't know about Janet Guthrie; the first woman to race at the hallowed Speedway. But, in 1976 Guthrie was all over the evening news and in every newspaper for her unprecedented attempt to leap from sports car racing to the top levels of motor-sport. Today, her name would stump many an expert in a game of trivia.
I was instantly inspired by Guthrie's tenacity and intrigued by her story. Car racing is one of the only sports where men and women compete with each other on the same field at the same time. Once that helmet goes on and that driver climbs in the cockpit, anyone would be hard pressed to identify whether it was a man or a woman behind the wheel. So why did she face such intense scrutiny and resistance from her male counterparts and racing fans? I wanted to know more about this athlete that loved racing so much she gave up a career in aeronautical engineering, went broke, ceded her anonymity, and fought against impossible odds just to have a shot at driving 200mph. And I couldn't shake that more than being the "first", Guthrie's obstacles and personal sacrifice still resonate forty years later, and well off the track.
The best stories tap into the human condition in a way that transcends place and time. Years after Title IX and the ERA, women in sport and across industries still find themselves pushing a rock up a mountain for something as simple and obvious as equal pay and opportunity. The novelty of being a "first" or worse, forgotten, means women continue to carry the burden of trying to carve out a path and normalize their progress. QUALIFIED suggests what might have been with a fair shake, and I hope Guthrie's experience empowers others to go after what they want because they couldn't possibly do otherwise.
Billy Jean King, another great athlete who broke ground in her sport, said of Janet: "The biggest difference between my challenge match with Bobby Riggs and Janet's historic races at Indianapolis and Daytona is the difference between hitting a ball into the net and hitting a concrete wall at 200mph. Janet put everything on the line, including her life."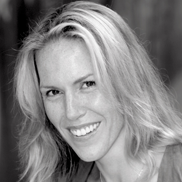 Jenna Ricker
Jenna Ricker wrote, directed and produced her first feature film, Ben's Plan. The coming of age story was told on a micro-budget and awarded Best Drama at the AOF Festival, Distinguished Debut at the London Independent Film Festival, and Ricker was honored with the Mira Nair Award for Rising Female Filmmaker. Originally from California, she moved to New York to study acting at the Tisch School of the Arts and the Atlantic Theater Company. While volunteering as a script reader and working in a commercial production house, she began writing and directing theater. Her first screenplay, The Garage, was a quarterfinalist of the prestigious Nicholl Fellowship. Security, her first collaboration with Greg Stuhr, was selected for the IFP's Emerging Narrative Program. She co-wrote and directed their second collaboration, The American Side, hailed as an "adrenaline-charged pop-noir mystery" (The Hollywood Reporter), and starring Greg Stuhr, Matthew Broderick, Janeane Garofalo, Alicja Bachleda, and Robert Forster. Ricker wrote and directed a 5-part short docu-film series for DOVE's Self- Esteem Initiative. Qualified, her first feature documentary, premiered at the SXSW Film Festival. She is a member of the Directors Guild of America.