About 'Rand University'

Film Summary
Randy Moss has long been an enigma known for his brilliance on the football field and his problems off it. Sometimes there's even been an intersection of those two qualities. "Rand University" gets to that crossing by going back to where he came from - Rand, West Virginia - and exploring what almost derailed him before he ever became nationally known for his extraordinary abilities as a wide receiver. After overcoming troubles with the law, losing the opportunities to play at Notre Dame and Florida State and then reviving his enormously promising football career at Marshall University, all that was good and troubling about Randy Moss materialized on the day of the 1998 NFL Draft. Twenty picks were made before the Minnesota Vikings selected him in the first round. Based on what unfolded throughout Moss's NFL career, the teams that passed on him may have had a mixture of regret and relief.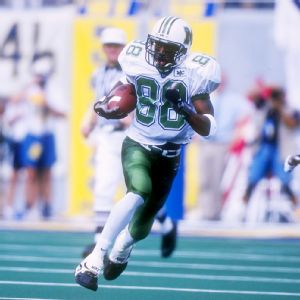 As a kid growing up in Bedford-Stuyvesant in Brooklyn, New York, the game of basketball seemed to be the only sport that mattered. My oldest brother was a standout high school point guard, and I grew up watching New York street-ball legends such as Kenny Anderson, Stephon Marbury and Lamar Odom. I, too, eventually played basketball on a competitive level. Fast forward to 1998 -- I was 16 years old and playing NCAA football video games at home with my brothers. My team of choice was always Marshall University. This supremely gifted athlete, who had the nickname "The Freak," for his dominance over a two-year span at Marshall, became my obsession. Moss's un-human like ability easily propelled him to become my favorite football player.
Sixteen years later, I'm approached by ESPN Films to direct a film on Randy Moss. Naturally, I was elated with the opportunity. My excitement did not stem from his athletic prowess or from the controversy that he experienced in the spotlight as a pro, but rather, his modest upbringing. His humble beginnings, dating back to tiny, isolated Rand, West Virginia, attracted me more than anything. While most of the world knows Moss as a future Hall of Fame football player, I was most impressed by what he had to overcome to reach this stage. A few brushes with the law, lost opportunities and redemption are all themes that remind me of my own childhood. Like Randy, I've been able to overcome some of my own shortcomings due to some lucky breaks. How could a young boy from rural West Virginia, who grew up in a single-parent home go from jail to stardom? This fascinates me as a filmmaker.
In setting out to make a film on Randy Moss, I wanted to accomplish two things. First, I wanted to really take the viewer into the mind of Moss. He is a very complex and private individual. He has traditionally been hands-off with the media, for a reason. Throughout the course of his career, he has kept a very close-knit circle, and through this film, I wanted to give the audience insight into why this is. Second, I wanted to make the town of Rand, West Virginia, as big of a character as Moss himself. His unparalleled affection for this place that he calls home, despite a turbulent relationship with the state of West Virginia, is captivating and a big part of who he is today.
Throughout the course of production on this film, I have entrenched myself in Randy Moss's life. I am hopeful that my passion for his story comes across and shows that redemption is always possible, especially if a small town country boy like Randy Moss was able to accomplish it.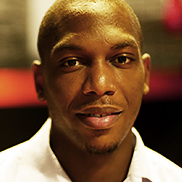 Marquis Daisy
In June of 2005, following an undergraduate student career at Williams College (Williamstown, Massachusetts), Marquis Daisy accepted an opportunity at HBO Sports, working in production for "Inside the NFL," which reviews each week's highlights and documents issues pertaining to the league and current and alumni athletes. Marquis would go on to spend the subsequent seven years with HBO Sports, developing a deep love for storytelling and nurturing a gene for creativity. In addition to his role on "Inside the NFL," Marquis has also worked on a plethora of other programs, including: "Costas Now," HBO's boxing series, "24/7," "Real Sports with Bryant Gumbel" and "Joe Buck Live." He also served as a graphics producer for HBO Sports' live boxing telecasts and helped produce two major documentaries, "Magic & Bird: A Courtship of Rivals" and "Namath: Beaver Falls to Broadway."
In the spring of 2012, Marquis moved on from HBO Sports to pursue independent opportunities as a director, producer and editor. He has directed and produced for the NFL Network, ESPN, BET, UFC and Interscope Records. In 2013, Marquis directed an independent piece, entitled "Smile: The Documentary," which explores gun violence in the inner city of a crime infested Chicago, documenting one family's unbelievable experience with tragedy. In addition, as a freelance producer, Marquis produced the ESPN "30 for 30" film, "Bernie and Ernie," as well as the Grantland short film "Kid Chocolate." Marquis is now a producer for ESPN Films.
Purchase

Buy the "30 for 30 Fifth Anniversary" box set. Available exclusively at Groupon ».