About Run Ricky Run
Film Summary
Ricky Williams does not conform to America's definition of the modern athlete. In 2004, with rumors of another positive marijuana test looming, the Miami Dolphins running back traded adulation and a mansion in South Florida for anonymity and a seven dollars a night tent in Australia. His decision created a media frenzy that dismantled his reputation and branded him as America's Pothead. But while most in the media thought Williams was ruining his life by leaving football, Ricky thought he was saving it. Through personal footage recorded with Williams during his time away from football and beyond, filmmaker Sean Pamphilon takes a fresh look at a player who had become a media punching bag and has since redeemed himself as a father and a teammate.
Director's Take
During my career as a sports broadcasting journalist I was always fascinated and drawn to the introspective, deep thinking athletes who had strained relationships with the media. Former heavyweight champion Michael Moorer, tennis legend Pete Sampras and Heisman winner, Ricky Williams, were three of my personal favorites.
I first met Ricky a month before his senior season at the University of Texas and over the next six years, produced four feature stories on him for ESPN and FOX. When he abruptly retired in the summer of 2004, I was fascinated for he hadn't changed all that much since the time I had met him. However, the cultural perception of him had done a complete 180. Perhaps he wasn't as good as we in the media built him up to be? One thing I knew for certain was that he wasn't as bad as he was torn down to be. Somewhere in between was the reality.
During the critical time of his life crisis -- when Ricky was hiding from the world and the media storm he created by quitting football -- we spoke several nights a week, including when he was reading the bible by candle light and crashing in a seven dollar a night tent in a campground in Australia. After a few weeks Ricky asked me to quit my staff producing job in NY and tell his life story. "Good ending, bad ending, whatever," Ricky insisted. At first I said no. I relented because I cared for him personally, but more specifically, he said he wanted his story to be the absolute truth. "99% of the truth is a lie," he insisted. Everyone in his life would be instructed to be honest -- both positively and negatively -- when interviewed.
What was supposed to be a six month experience turned into a five year odyssey, which at times was very odd. "People have said I'm an enigma," Ricky emailed me after I agreed to tell his story, "it's your job to figure it out." I soon realized this task was almost impossible, for over the next five years Ricky Williams struggled mightily himself to find out who really he is. I simply did the best I could to maintain my dignity, do my job and tell a truthful story.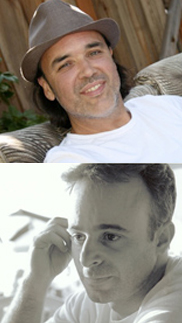 Sean Pamphilon and Royce Toni
Sean Pamphilon is an award winning filmmaker ("playing with RAGE") and emmy winning documentary producer (HBO's boxing series "Legendary Nights") with over a decade of production experience in sports television. Two months after graduating from Boston University in 1993, he began his television career as a production assistant for ESPN in Bristol, Connecticut.
In 1997, Pamphilon received a Best Writing sports emmy nomination for a spoken-word essay ("Free Agent Fan") he produced and was the on-camera talent for the X-Games. Since 1995 his signature spoken-word poetry essays have appeared on ESPN, FOX, ABC, NBC, CNN, Classic Sports and USA Networks.
Royce Toni has been in television for thirteen years. In 1996 was hired out of the University of Michigan by NBC Sports for the Atlanta Olympic Games where he earned his stripes in both feature producing and multi-camera television coverage. In 1997 he began producing features for NBC Sports. In 1999, he did his final event for NBC Sports: the Gravity Games, and was nominated for a Sports Emmy.
In January of 2000, he was hired as an Associate Producer for a new CBS experimental summer show entitled "Survivor." With a background in live television sports, Royce worked on the multi-camera segments of the challenges and tribal councils. He also helped with the overall feel of the show, working with the music composers and the director of photography for the main title sequence.
Royce quickly became a sought after Producer/Director on such hits as HBO's "Project Greenlight," Fox's "Boot Camp," and NBC's "Last Comic Standing," which received an Emmy nomination. He then partnered with Sean Pamphilon and won an award for the feature length documentary, "playing with RAGE" at the 2006 Indie Memphis Film Festival.
Royce continues to direct and produce documentary features and reality television. He resides in Los Angeles, Calif.

Written and Directed by:
Sean Pamphilon
Co-directed, Produced and Edited by:
Royce Toni
Executive Producers:
Keith Clinkscales
John Dahl
Joan Lynch
Connor Schell
Bill Simmons
John Skipper
John Walsh
Producer:
Erin Leyden
Associate Producer:
Anne Priebe
Co-producers:
Louise Story
Derek Hastings
Directors of Photography
Bradley Crumb
Sean Pamphilon
Royce Toni
Music Composed by:
Conrad Sanguinetti
Purchase

Buy the "30 for 30 Fifth Anniversary" box set. Available exclusively at Groupon ».