About 'Slaying the Badger'

Film Summary
Before Lance Armstrong, there was Greg LeMond, who is now the first and only American to win the Tour de France. In this engrossing documentary, LeMond looks back at the pivotal 1986 Tour and his increasingly vicious rivalry with friend, teammate and mentor Bernard Hinault. The reigning Tour champion and brutal competitor known as "The Badger," Hinault "promised" to help LeMond to his first victory, in return for LeMond supporting him in the previous year. But in a sport that purports to reward teamwork, it's really every man for himself.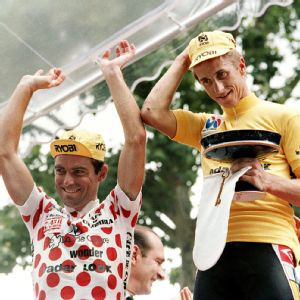 For an English teenager, 1986 had already been an extraordinary summer of sport. Yes, we had been knocked out of the World Cup, but at least we had made the quarterfinals and were defeated by the greatest-ever goal in Maradona's magical, mystical run.
Within a few days there would be an event watched, in complete contrast, by hardly anyone in the country -- the Tour de France. As a sport few understood, for me and a select group of friends it was our secret, like following some incredibly cool underground band. The stakes had been raised not only because this was the first year the whole race would be televised live but also because Greg LeMond was leader of a team.
LeMond was a novelty, the first American to break into the sport, and for someone who had grown up in suburban London gorging on "Columbo" and "CHiPS," the fact that he was from California made him even more exotic. He also happened to be brilliant, perhaps the most naturally gifted rider the sport has ever seen.
In 1986, LeMond was still a naive Tour de France youngster and would be up against the fearsome Frenchman, and five-time winner, Bernard "The Badger" Hinault. It didn't disappoint -- they went head-to-head in a race of unparalleled heroism, treachery and spectacle. What made it all the more remarkable was they were on the same team.
Cut to Belgium over a quarter century later, and I am now making a film about Bradley Wiggins, who would go on to become the first Briton to win the race. How times had changed, as cycling was now very much over ground, one of the most popular sports in the country. As I write this, thousands of fans mob the outside of Buckingham Palace as the Tour de France passes through London (in a summer when the USA got further than England in the latest World Cup; just how topsy-turvy has the world of sport gotten?!?)
Back in Belgium, I interviewed cycling journalist Richard Moore for my Wiggins film. Over a couple of bottles of Burgundy he happened to remark that his book on the 1986 race would make a good film. He was right. Some films take years to get off the ground, some just a few glasses of great wine.
ESPN was quick to see the value in the story of not only arguably the greatest race in the Tour's century old history, but one with a rivalry up there alongside Borg versus McEnroe, Frazier and Ali ... LeMond-Hinault.
If your experience of cycling is only that of the dodgy Texan, you'll find this a refreshing tale, and if you know little of the sport, prepare to embrace its brilliant, breathtaking eccentricity and drama. As the veteran American sports writer Sam Abt says in the film -- "You know what they say about cycling, an individual sport practiced by teams ..."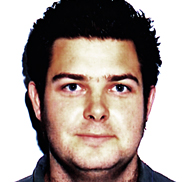 John Dower
John Dower's Greg LeMond film, "Slaying The Badger," is the latest of several sporting feature documentaries and continues on from "Bradley Wiggins: A Year In Yellow," which earned him a BAFTA nomination for Best Director. Other directorial credits include: "Once In A Lifetime: The Extraordinary Story of the New York Cosmos" (2006) and "Thrilla in Manila" (2008), which was in competition at the Sundance Film Festival, earned BAFTA and Emmy nominations, and won Grierson and Peabody Awards.
Purchase

Buy the "30 for 30 Fifth Anniversary" box set. Available exclusively at Groupon ».