About Straight Outta L.A.
Film Summary
In 1982, Oakland Raiders owner Al Davis beat the NFL in court and moved his team from Oakland to Los Angeles. With a squad as colorful as its owner, the Raiders captivated a large number of black and Hispanic fans in L.A. at a time when gang warfare, immigration and the real estate boom were rapidly changing the city.
The L.A. Raiders morphed into a worldwide brand as the team's colors, swagger and anti-establishment ethos became linked with the hip-hop scene that was permeating South Central Los Angeles. Rapper-turned-filmmaker Ice Cube was not only witness to this evolution, he was also a part of it. As a member of the notorious rap group N.W.A, Ice Cube helped make the silver and black culturally significant to a new generation and demographic. Still a die-hard Raiders fan, Cube will explore the unlikely marriage between the NFL's rebel franchise and America's glamour city and show how pro football's outlaw team became the toast of La La Land.
In 1980, Ronald Reagan was elected president, few white kids were listening to rap and I was an 11-year-old kid in South Central Los Angeles. I was into sports and watched as many games as I could on TV -- the Lakers, USC Football, UCLA, but I hadn't developed a connection to any particular football team. But that fall, something clicked as I watched the Oakland Raiders.
It wasn't just that they were good. They had style and they had swagger: the silver-and-black uniforms, the pirate logo, the players who played tougher and looked cooler than anyone else. There was Lester Hayes with his Stickum and Star Wars visor, Rod Martin flying all over the field making tackles, and owner Al Davis scowling from the stands in his white jumpsuit and thug sunglasses. When the team moved to L.A. in 1982, it was one of the greatest days of my life. My team was now in my city -- and everything was about to change.
I wanted to make this film for two simple reasons: 1) I've been a Raiders fan for most of my life and 2) My music career will probably always be linked, in one way or another, with the Raiders' era in Los Angeles. The Raiders played in L.A. from 1982 to 1994 -- just 13 seasons -- but during that time, the team's colors, aura and superstar players became a phenomenon. And to put it bluntly, I had a lot to do with that.
The music, lyrics and images that I created with N.W.A as a solo artist and as an actor helped turn the Raiders into something more than a football team. It's been 21 years since we released "Straight Outta Compton," but to this day, kids all over the world buy Raiders gear, imitate the "Gangster Rap" style and try to connect with the South Central L.A. vibe that we brought to the masses. Over the years a lot of people have written books about the history of hip-hop, the cross-marketing of sports and entertainment, and the influence of Rap music on youth culture. Now it's time for me to tell the story of how it really went down.
And it starts with the Silver and Black.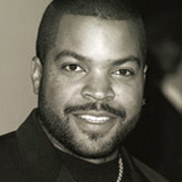 Ice Cube has been looking at untouched topics since his emergence with N.W.A in the late 1980s. As the lyrical mastermind behind N.W.A, the group's "Straight Outta Compton" launched the gangster rap revolution thanks in large part to the landmark "F-ck Tha Police" song, and Ice Cube's solo material, including undeniable early 1990s classic albums "AmeriKKKa's Most Wanted" and "Death Certificate," solidified Ice Cube's place as rap's most important and socially aware artist.
Soon thereafter Ice Cube became a major Hollywood force. He is the star, producer and catalyst for the "Friday" and "Barbershop" film franchises, all released through his own company, Cube Vision. He has become one of the most bankable actors thanks to his charismatic turns in box-office hits such as "First Sunday," "Are We There Yet?," "Are We Done Yet?," "Boyz N The Hood" and "Three Kings" to name a few.
As his status in the film world increased, Ice Cube remained prolific in the music realm, with 14 releases as a solo artist or a member of a group (Da Lench Mob, Westside Connection), including the blockbuster 2006 release of "Laugh Now, Cry Later," the first album Ice Cube released on his own Lench Mob Records and the most successful independent hip-hop release of 2006. It all adds up to a remarkable rap career that continues expanding and evolving. "When you start peeling off the layers -- as far as content, staying relevant in the game, always having something to say, not repeating myself too many times, groundbreaking stuff, being a champion of the West Coast -- once you tally it all up, I don't know who else can hold up," he says. "Just on volume alone, it's hard to keep up."
It's also hard to keep up with all of Ice Cube's projects outside of rap and film. In 2007, he partnered with the prestigious McNally Smith College of Music in St. Paul, Minnesota to establish an annual music scholarship. The Ice Cube Scholarship will be awarded to one student annually in the music technology department. Ice Cube will personally select each winner judged on the creativity, talent and skill in developing a song based on elements he provides them with. Also in 2007, Ice Cube and long-time collaborator DJ Pooh announced the launch of UVNTV.com, the world's first real-time streaming television network online.

Directed and Narrated by:
Ice Cube
Executive Producers:
Jamie Patricof
Matt Alvarez
Keith Clinkscales
John Dahl
Joan Lynch
Connor Schell
Bill Simmons
John Skipper
John Walsh
Producer:
Arunima Dhar
Produced and Written by:
Jon Weinbach
Editor:
Dan Marks
Director of Photography:
Alex Van Wagner
Purchase

Buy the "30 for 30 Fifth Anniversary" box set. Available exclusively at Groupon ».