About The Gospel According to Mac
Film Summary
Football is a religion to many people. But few know the depths of both faiths as well as Bill McCartney, the former football coach at Colorado and the founder of Promise Keepers, a Christian men's ministry. "The Gospel According to Mac" tells the truth-is-stranger-than-fiction story of Coach Mac's controversial national championship run, and the two seasons that followed with multiple arrests and strife between his mostly African-American players and the Boulder police. McCartney's own daughter became pregnant by the team's quarterback before seeing that same quarterback struck by cancer. The saga culminated in consecutive Orange Bowl matchups against Notre Dame. Bill McCartney's passionate and often polarizing beliefs have made him many enemies and many admirers, but it's difficult to deny that he embodies the essential issues facing football in America to this day.
Director's Take
Getting the opportunity to tell a great story is a gift. And Dereck Whittenburg is the gift that keeps on giving. Dereck was the inspiration behind the 30 for 30 film "Survive and Advance" and his relationship with coach Jim Valvano was central to that film. After he left State, Whitt, worked at the University of Colorado, where he befriended football coach Bill McCartney. As a result, "The Gospel According to Mac" is now a film.
Mac, like Valvano, is truly a unique character whose own life story has a stranger than fiction quality to it. Mac has been a lightning rod during his life and after getting to know him during the filming, I could see why. His honesty was unusual and refreshing. In a time when people are unwilling or afraid to speak their minds, Mac is an open book and like him or not, that is something to be admired. Mac's story at Colorado plays like a soap opera. It is steeped in love, religion, conflict, humor, heartache and controversy -- and almost as much drama on the football field. It's truly been a privilege to tell his tale.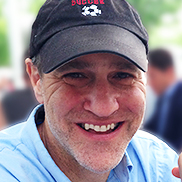 Jim Podhoretz
Jim Podhoretz is a four-time Emmy-award winning independent filmmaker who thoroughly enjoys storytelling.
In 2013, Podhoretz produced and edited the Emmy-award winning ESPN 30 for 30 film, "Survive and Advance" for Hock Films. He also helped produce and edit the Emmy-award winning documentary, "The Doctor" for NBA TV. In 2014, he helped produce the series, "Inside the U.S. Men's National Team" for ESPN and directed the film "Dwight Howard, In the Moment" for Epix.
Previous to that, Podhoretz produced and edited the documentary, "The Last Gladiators," which debuted at the Toronto International Film Festival. He also produced and edited the documentary, "Off the Rez" (The Learning Channel), and the Emmy-nominated film, "The Streak" (ESPN), for Hock Films. Both of those productions premiered at the Tribeca Film Festival.
Before he became an independent filmmaker, Podhoretz worked at NBA Entertainment as the senior director of production. During his tenure there, he won Emmys for directing and producing the documentaries "Whatever Happened to Micheal Ray" and "NBA@50." Both of those films aired on TNT. Podhoretz also had the good fortune to work with Jonathan Hock at NBA Entertainment. Jonathan, the founder of Hock Films, has remained a friend and mentor for many years and "The Gospel According to Mac" is a Hock Films production.
Podhoretz is proud to say that he was the 12th man for the Eastchester High School basketball team that was coached by the legendary Ron Rothstein (the architect of the fearsome Detroit Pistons Bad Boys defense). So if you play against Podhoretz in a pick-up game, beware, for Jim allows no easy lay ups. Jim, his wife Jane Ostacher, and their kids Jack and Sally, live in Maplewood, NJ.
Purchase

Buy the "30 for 30 Fifth Anniversary" box set. Available exclusively at Groupon ».