About The Myth of Garrincha
Film Summary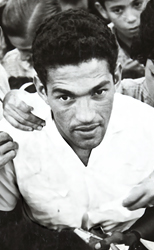 In Brazil, Pelé is "The King." But his teammate, Mané Garrincha, is also remembered as the one of the best soccer players of all time. In a country where the sport grants its protagonists such royal deference, Garrincha is the jester -- an entertainer who amused crowds and turned soccer into an irresistible spectacle, all while helping Brazil capture two World Cups. This, despite his legs being so bent that early in his career doctors deemed him unfit to play professionally. Match after match, he proved them wrong. But his unpredictable moves were of little assistance after his playing career came to an end.
Abandoned by the soccer establishment, Garrincha died a victim of alcoholism in 1983. But his fans did not forget him. His body was brought to a cemetery, in the outskirts of Rio de Janeiro. Garrincha's relatives had to borrow a grave, which turned out to be too small for his coffin. Thousands of people flooded the tiny burial ground, much more than the place could accommodate. After 49 years of a brilliant career and tumultuous life, the man who turned soccer into a "Beautiful Game" was memorably laid to rest. His legend lives on.
Director's Take
Soccer permeates every single aspect of a boy's life in Brazil. It strengthens his family bonds, as parents and sons go to soccer stadiums together. It expands or limits his circles of friendships when he encounters other kids who either support his local team or side with bitter rivals. That boy may simply be a loyal fan on the stands, or may even be dreaming of the day in which he'll be a soccer star. I was the former boy.
Nurturing my passion and my dreams were the legends of great feats performed by amazing soccer players. According to my father and grandfather, I'd never see anyone like they had. Nor would any sports fan. It was both a desolating prophecy as well as an intriguing invitation to dig through the sport's past. The stories they told me were, at times, of heroic proportions.
I learned about a soccer player who was called the "angel with bent legs," who was greater than the "King" Pelé. A player who once won, single-handedly, a World Cup for Brazil. A player who was so amazing that he put fans from other teams under a spell; when he had the ball, the whole stadium cheered for him. It didn't matter which side you were on. In a country where soccer delineated rigid social frontiers, separated fans from rivals, this was what turned man into legend!
Only much later, I heard this player lived the last years of his life struggling against alcoholism and poverty while being virtually forgotten by the sports establishment. Everything I read about Mané Garrincha brought a newer and darker shade to a heroic portrait that refused to fade, despite the silence that seemed to have fallen upon his legacy, mostly due to legal obstacles created by his heirs. And then, there was Elza Soares. The woman who fell deeply in love for the man and who did everything she could to protect the image of a soccer hero. Genius. Tragedy. Passion. Soccer ... Fundamentals that are hard to avoid when describing the essence of Brazilian people and that also come perfectly together when presenting the story of the most amusing player the world has ever known.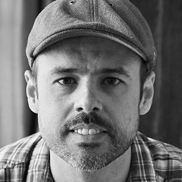 Marcos Horacio Azevedo
Marcos Horacio Azevedo is a Brazilian filmmaker, living and working between Rio de Janeiro and Los Angeles. He started his career as a film editor over 13 years ago and has edited several short and feature length documentaries. In 2006, Marcos set up Tatuí Filmes, the most successful trailer house in Brazil with his partner, and producer of "The Myth of Garrincha," Marcello Serafim. While creating theatrical trailers and TV spots for over 100 films, Marcos has continued to pursue directorial projects in Brazil and the United States.
Purchase

Buy the "30 for 30 Fifth Anniversary" box set. Available exclusively at Groupon ».