About There's No Place Like Home: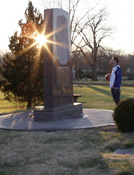 Film Summary
On December 10, 2010, Sotheby's auctioned off what could be considered the most important historical document in sports history -- James Naismith's original rules of basketball. "There's No Place Like Home" is the story of one man's fanatical quest to win this seminal American artifact at auction and bring the rules "home" to Lawrence, Kansas, where Naismith coached and taught for over 40 years.

Director's Take
We're not in Kansas anymore ...
This statement has followed the Kansas Basketball team on the road for 70-plus years. (The Wizard of Oz debuted in 1939, the same year as the NCAA Tournament.) It seems that every time the Jayhawks visit opposing arenas, there are at least a few signs from local fans relaying this infamous line recited by Dorothy.
I, too, am not in Kansas anymore. I've lived in New York for over 15 years. I love New York. It's the sort of place where dreams can come true. But it will never be home. My home will always be Kansas.
Home for basketball's inventor, James Naismith, was also Kansas. Though he stopped over in Springfield, Mass. where he created the game, Naismith lived in Lawrence for 41 years. It was there where he founded the KU Basketball program. It was there where he mentored the great Forrest "Phog" Allen and the modern game took shape. And it's there, where Naismith rests for eternity.
Naismith relayed late in his life that he wished for the Basketball Hall of Fame to be erected in Lawrence, Kan. They didn't listen. They built it in Springfield. My mission and this resulting film are about honoring James Naismith's last wishes. This film is about cementing one man's legacy and honoring the greatest basketball tradition of all time & and the place that James Naismith called home.
-- Josh Swade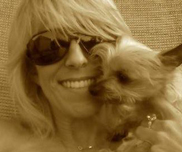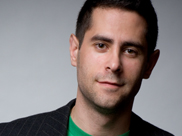 Maura Mandt's passion is telling stories. She began pursuing this passion while in college, writing for a newspaper and working for a local news station in her hometown of Detroit. After graduating, she moved to Bristol, CT to begin a career at ESPN.
In 2002, Maura became the executive producer of the ESPY Awards. Some of the best stories in sports have been told at the ESPYS over the last decade -- Pat Tillman, George Weah, John Carlos and Tommie Smith, Nelson Mandela and Pat Summitt have all been honored at the show.
When Maura left ESPN to start her own company, she found even more opportunities to pursue her passion. Oprah Winfrey reached out to ask her to produce and direct features for her prestigious Legends Ball. The highly acclaimed pieces on 25 iconic African-American women were later combined into an ABC television primetime special.
Josh Swade's bio could tell you about how he left his home in Kansas in the late 90's and moved to New York to pursue a career in entertainment. It could tell you how he has since produced records and television to great success. How he has worked at famous companies like Loud Records, Maverick Records, and William Morris. His bio could tell you how this film, There's No Place Like Home, is a professional milestone - years of hard work culminating in a truly original, passion project. But Josh would rather his bio tell you this:
In 1984 he sat next to his dad in section 209, and witnessed Danny Manning's first game in Allen Fieldhouse. In '89 he sat in those same seats high in the corner, as KU dropped 150 on Kentucky. He was there when Jacque Vaughn hit that game-winning three against Indiana in overtime. He was present in '95 down 19 to UCLA. He remembers what it felt like to come back and win that game. He remembers leaving the Fieldhouse and not being able to hear. He remembers waking up the next day and still not being able to hear. He remembers every moment from every game he ever witnessed in that building. He has since been to every great basketball building in this country. He knows that Allen Fieldhouse is better than all of them. And he knows ... it's about to get a lot better.

Directed by:
Maura Mandt and Josh Swade
Producers:
David Chamberlin
Matt O'Connor
Editor:
Matt O'Connor
Purchase

Buy the "30 for 30 Fifth Anniversary" box set. Available exclusively at Groupon ».