About Unmatched
Film Summary
The first time Chris Evert and Martina Navratilova stepped onto a tennis court together, the world scarcely noticed. Only a few hundred spectators saw the pert 18-year-old beat the scrappy 16-year-old Czech in 1973. "I remember that she was fat," Evert recalled. "She was very emotional on the court, whining if she didn't feel she was playing well. But I remember thinking, if she loses weight, we're all in trouble." Said Navratilova, "My goal was for her to remember my name." Eighty matches later -- amid the extraordinary growth of women's tennis -- Evert not only remembered, but became a tried and true friend and confidante, remarkable considering the two appeared to be polar opposites in upbringing, life styles and personal relationships. Through a series of personal conversations, filmmakers Nancy Stern Winters and Lisa Lax, along with producer Hannah Storm, tell the story of one of the greatest one-on-one sports rivalries and capture these two extraordinary athletes' views on tennis and an ever-changing world.

Director's Take
No two athletes have met in as many matches or world championships as Chris Evert and Martina Navratilova. While Ali fought Frazier all of 3 times and Borg faced McEnroe a total of 14 times, Evert and Navratilova met on the tennis court 80 times over the course of 16 years. The individual narratives of these two star athletes who carried women's tennis through the 1970s and 1980s could stand on their own as significant sports stories in the past 30 years. However, what is truly amazing is how two fierce competitors who provided fans with some of the most memorable moments in the history of tennis could simultaneously forge such a strong and lasting friendship, bonding them to this day.
Their performance standards and personal convictions influenced female athletes for years to come, especially us. For 12 consecutive years, from 1975 to 1986, either Evert or Navratilova finished the season ranked No. 1 in the world. We first picked up tennis rackets in 1975 and continued playing competitively through college in 1986; Nancy emulating Martina in her aggressive style, and Lisa inspired by Chrissie's quiet persistent determination. Since our childhood we have been intrigued and fascinated by these two women, and we cherish the opportunity to explore their historic impact on the world of sports through the scope of their rivalry.
This story is told through their eyes only -- as it's never been told before. Chris and Martina reveal details of the intense experiences they shared while playing with and against each other for so many years. On the court, their battles were fought hard, but the even more remarkable story is about what happened off the court as they formed an unlikely friendship. As Martina once said in the midst of her storied tennis career; she looks forward to the time when she can reminisce over a glass of wine with her dear friend about the good old days. That day has come.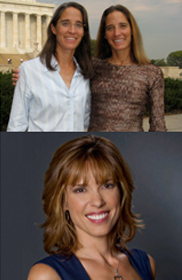 Directed and Produced by Lisa Lax & Nancy Stern Winters Co-Produced by Hannah Storm
During her twelve year tenure as former Producer / Director at NBC Sports and Olympics, Lisa Lax became one of the most respected production talents in the business. In her role as head of NBC's Olympic profiles unit, Lax supervised the production of more than 500 feature stories on the world's best Olympians. Lax also produced and directed several documentary films that were highlights of NBC's Olympic coverage during the Atlanta, Sydney and Salt Lake City Games, including Emmy Award winning "The Wonders of Rome", critically acclaimed "Twice Born - Muhammad Ali" and "Peggy & Dorothy".
Nancy Stern Winters' remarkable talents include a vast expertise in producing live events, network television specials and scripted dramas. Her credits are notable for their variety, quantity and quality in sports, entertainment and news. Stern was the first woman to produce the world's most famous bicycle race, The Tour de France, and the American classic, ABC's Wide World of Sports. Displaying her versatility, Stern segued into Daytime television and created a new look in Daytime Drama as consulting producer and director for the two-time Emmy Award winning soap opera "The City". She served as the co-executive producer for the primetime broadcast of the 1997 Daytime Emmy Awards. Stern also served as executive producer and director of NBC's critically acclaimed and highly rated Special "The Cosby Show ... A Look Back".
In 2002, Nancy and Lisa became partners in Lookalike Productions, where their first collaboration was the award-winning documentary "Emmanuel's Gift". The film highlighted the courageous efforts of Emmanuel Ofosu Yeboah as he fought for the rights of his 2,000,000 fellow disabled in Ghana, West Africa. "Emmanuel's Gift" sparked a call to action. In July, 2006, Ghana's Parliament passed a Disability Bill that had been ignored for decades, guaranteeing unparalleled rights for this long-overlooked community.
In 2008, Lisa and Nancy Directed and Produced "Let It Out: The Movie", a documentary film presented by Kleenex where Olympic legends, Olympic hopefuls and fans share their most emotion-filled memories of the Games, as never been told before.
In conjunction with Sesame Workshop and Worldwide Pants, Lookalike Productions has just completed production on two prime time specials for PBS, "Coming Home: Military Families Cope with Change", featuring Queen Latifah, Elmo and John Mayer and "Families Stand Together: Feeling Secure in Tough Times" hosted by Al Roker and Deborah Roberts.
Lisa and Nancy reside in New Jersey with their husbands and children.

Directed by:
Lisa Lax
Nancy Stern Winters
Executive Producers:
Keith Clinkscales
John Dahl
Joan Lynch
Connor Schell
Bill Simmons
John Skipper
John Walsh
Producers:
Lisa Lax
Nancy Stern Winters
Hannah Storm
Erin Leyden
Directors of Photography:
Tami Reiker
Christian Hoagland
Music by:
Peter Calandra
Associate Producer:
Amanda Postel
Coordinating Producer:
Rebecca Gitlitz
Supervising Producer and Editor:
Meredith Paige
Purchase

Buy the "30 for 30 Fifth Anniversary" box set. Available exclusively at Groupon ».