About Untucked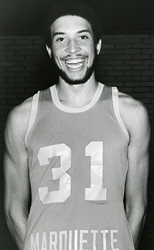 Film Summary
Marquette University's men's basketball team is known for some of college's most unique uniforms. The most iconic of them being the untucked jersey worn in 1977 when Marquette won its first and only national championship. Commissioned by legendary coach Al McGuire, this forward thinking, and subtly subversive, jersey was designed by then current player and art major Bo Ellis. The jersey would later be banned by the NCAA. This exploration into the history of the 1977 Maguire jersey will provide insight on Ellis and McGuire, the power of uniforms, the correlation between sports and fashion, and the benefits of a creative environment, which allowed a Championship team to flourish.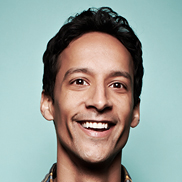 Danny Pudi
Danny Pudi is an actor/comedian currently seen as Abed on NBC's "Community." A Chicago native, Danny graduated from Marquette University and then went on to study improvisation at the Second City's Conservatory Program. His TV/Film credits include "ER," "Gilmore Girls," "Hot in Cleveland," "Royal Pains," "The Pretty One" and the upcoming comedy "Larry Gaye: Renegade Male Flight Attendant."
Danny recently directed the ESPN 30 for 30 short "Untucked," which premiered at the Sundance Film Festival. Danny is an avid runner, coffee drinker and long underwear collector. He lives in L.A. with his magical wife, Bridget, and his two magical children James and Fiona.
Purchase

Buy the "30 for 30 Fifth Anniversary" box set. Available exclusively at Groupon ».