What the Hell Happened to Jai Alai
Film Summary
Back in the day, jai-alai players would ceremoniously march out to salute crowds of 15,000 fans, devotees not only to the subtleties of the cesta and the speed of the pelota, but also to the opportunity to wager on actual human beings. It was a Cuban passion by way of the Basques, but thanks to American superstars like Joey Cornblit, frontons began spreading all along the Eastern Seaboard. In this poignant documentary for ESPN Films, director Ryan Suffern relives both the glory days and the disastrous 1988 strike that turned the game into an afterthought. Yes, players still march out to greet the patrons at Miami Jai-Alai, but now there are barely a hundred of them. As the once legendary "Joey" says, "It's basically on life support."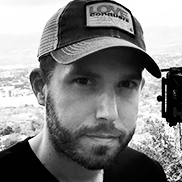 Ryan Suffern
As head of documentaries for The Kennedy/Marshall Company, Ryan Suffern has an active role on a full slate of films. He and Frank Marshall have collaborated on three commissioned documentaries for ESPN Films, and Suffern is currently directing a feature documentary-co-produced with the USC Shoah Foundation-titled "Finding Oscar", which details the epic search for one of the lone survivors of a massacre in Guatemala. Other past projects include producing the feature documentary "Transcend", directing and producing the award-winning short "Running Blind", and documenting the behind-the-scenes of four Steven Spielberg films. Under his own banner, Suckatash Productions, Suffern has directed and produced a host of music videos, documentaries and web series for the likes of Paramount Pictures, Universal Music and Beggars Banquet. As an English major from the University of Illinois Urbana/Champaign and member of the Writer's Guild of America, he has written a feature screenplay on assignment for DreamWorks Studios. Prior to catching the filmmaking bug, Suffern considered a career in photojournalism and has had his pictures published by the New York Times, Rolling Stone and the Associated Press. Suffern currently lives in Los Angeles with his wife, Kim, and their two daughters, Pearl & Iris.
Purchase

Buy the "30 for 30 Fifth Anniversary" box set. Available exclusively at Groupon ».