About 'When The Garden Was Eden'

Film Summary
In the early 1970s, America was being torn apart by the war in Vietnam, with racial unrest in the streets and a distrust of the White House. But there was a happier place where men of different backgrounds showed people what could happen when you worked together: Madison Square Garden. "When The Garden Was Eden" (based on the book by Harvey Araton) explores the only championship years of the New York Knicks, when they made the NBA Finals in three out of four seasons, winning two titles. Stitched together by Red Holzman, the previously mediocre Knicks might have seemed an odd collection of characters: a forward from the rarefied air of Princeton (Bill Bradley), two players from the Jim Crow South (Willis Reed and Walt Frazier), a blue-collar guy from Detroit (Dave DeBusschere), a pair of inner-city guards (Earl Monroe and Dick Barnett), even a mountain man from Deer Lodge, Montana (Phil Jackson). But by embracing their differences and utilizing their strengths, they showed the NBA and the world what it was like to play as a team. That they did it on the stage New York City provided made it all that much sweeter.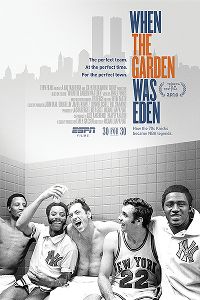 As a native New Yorker and lifetime New York Knick fan, the 1970-1973 Knicks teams were like modern folklore in my life playing basketball on the streets of New York. I grew up hearing about Clyde Frazier, Earl "The Pearl" Monroe and Willis Reed more than actually seeing them. The reality is that I was just 3 years old when they won their last championship in 1973, so to get a chance to go back in time and explore a version of New York City that no longer exists and to interview so many basketball Hall of Famers from Bill Bradley to Phil Jackson to Jerry West was such an honor and a privilege. I learned so much from each person's story and their perspective on not only those iconic New York Knicks teams but also what the hard realities of being a professional athlete at the time were.
It's truly an honor to have made an ESPN Films "30 for 30" and I am excited for people to see "When the Garden Was Eden."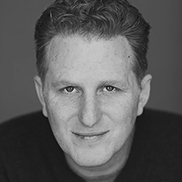 Michael Rapaport
Michael Rapaport is an actor who has appeared in over 60 films and television shows since his breakout performance in the 1993 Sundance Film Festival Award Winning Film, "Zebrahead." Since then he has worked on such films as "True Romance," "Mighty Aphrodite," "Beautiful Girls" and "The Heat." His many television appearances include "Friends," "Prison Break" and most recently "JUSTIFIED."
The native New Yorker directed the 2012 PGA Award-Winning Documentary, "Beats Rhymes & Life: The Travels of A Tribe Called Quest," documenting the group's rise to fame and eventual breakup. Sony Pictures Classics distributed the film. Michael Rapaport begins production as an actor in October on TNT's show "Public Morals" created by Ed Burns and executive produced by Steven Spielberg.
Purchase

Buy the "30 for 30 Fifth Anniversary" box set. Available exclusively at Groupon ».