About Youngstown Boys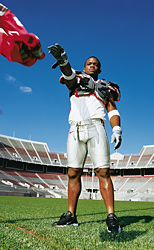 Film Summary
"Youngstown Boys" explores class and power dynamics in college sports through the parallel, interconnected journeys of one-time dynamic running back Maurice Clarett and former elite head coach Jim Tressel. Clarett and Tressel emerged from opposite sides of the tracks in Youngstown, Ohio, and then joined for a magical season at Ohio State University in 2002 that produced the first national football championship for the school in over 30 years. Shortly thereafter, though, Clarett was suspended from college football and began a downward spiral that ended with a prison term. Tressel continued at Ohio State for another eight years before his career there also ended in scandal.
At its core, the story of Maurice Clarett and Jim Tressel is about fathers and sons. In addition to their record-breaking exploits on the playing field and involvement in two of college football's biggest backroom scandals, we were drawn to the layered saga of "The Senator" and "The Beast" because it transcends sport. In examining the interconnected rise and downfall of these two men from opposite sides of the Youngstown tracks, we discovered the deep role that family plays in any quest for greatness.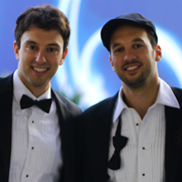 Jeff and Michael are Emmy Award nominated writers, directors, and editors whose films have been broadcast on HBO, MTV, PBS, Channel 4 UK, the BBC, BET, and The Sundance Channel, as well as theatrically distributed worldwide.
The brothers previously directed the 30 for 30 feature documentary "The Two Escobars," which internationally premiered as an official selection of the Cannes Film Festival, world premiered in competition at the Tribeca Film Festival, and was an official selection at the Los Angeles Film Festival and IDFA, among other international festivals. The film won 4 Gold Medals in the New York Film and TV awards, and was nominated for an Emmy for Outstanding Documentary, as well as the Writer's Guild of America's Best Nonfiction Script of 2010.
Most recently, the brothers wrote and directed "Pele," a narrative feature film about the soccer legend's life for Brian Grazer and Imagine Entertainment, Last year, they directed Arnold Schwarzenegger in "Arnold's Blueprint," an ESPN 30 for 30 short film.
Purchase

Buy the "30 for 30 Fifth Anniversary" box set. Available exclusively at Groupon ».