Cejudo brings out a snake to dramatic effect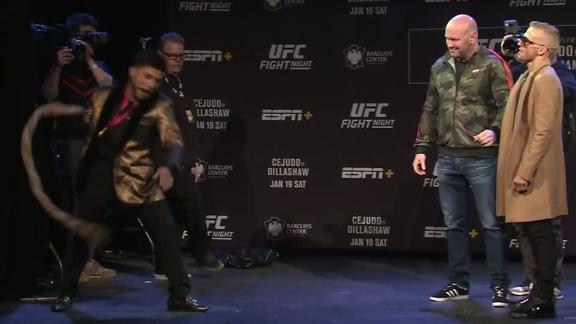 AUSTRALIAN OPEN
WOMEN'S ROUND OF 32
Australian Open
Men's ROUND OF 32
Customize ESPN
On This Date: Jan. 18, 1958
AP Photo

Boston's O'Ree had no points in his debut, a 3-0 win at Montreal. He played 45 games for the Bruins, though his professional career spanned 21 seasons.
Photo Illustration by Eric Heintz

The world's best MMA action is coming to ESPN. These are the moves you need to know, selected by our team of fighting experts.
Mark Brown/Getty Images

How high does Oklahoma quarterback Kyler Murray rate in Todd McShay's first ranking after the CFB season of the best 2019 NFL draft prospects?
ESPN Illustration

Clemson is the new king, but Alabama will be back, along with Georgia, Ohio State and Notre Dame, while a couple of teams from Texas elbow their way into the top 10.