LeBron passes Kareem for most playoff FG ever
LeBron gets up for Love's full-court pass in double coverage
Kevin Love chucks a pass the length of the court, and LeBron James looks like a tight end catching the pass over two Celtics and laying home.
Celtics clank a trio of first-half dunks
Al Horford, Jayson Tatum and Jaylen Brown all miss at the rim in a rough first half for the Celtics in Cleveland.
Korver's rare block leads to Hill's triple
Kyle Korver swats away Jaylen Brown's shot, then George Hill buries a 3-pointer on the other end.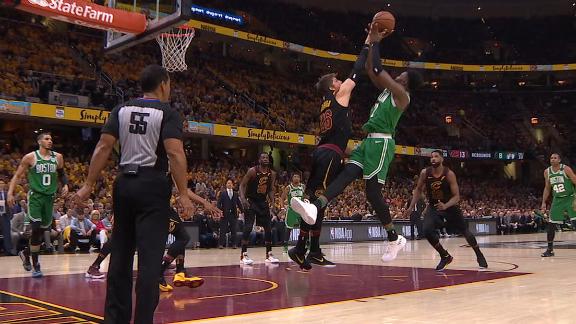 Hill absorbs Morris' contact and knocks down and-1 layup
George Hill gets undercut by Marcus Morris, but still gets the shot to go as he falls to the ground.
LeBron getting his teammates involved
LeBron James scores 22 points in the first half, but also dishes out several nice assists to his teammates.
LeBron hits Thompson in stride for the flush
LeBron James catches the Celtics with their guard down by making a great pass to an open Tristan Thompson who finishes with a dunk.
LeBron drops 11 in perfect 1st quarter
LeBron James goes 4-for-4 from the field and makes an incredible grab off a pass by Kevin Love as the Cavs dominate the first quarter.
Tatum's missed dunk turns to LeBron's and-1 layup
Jayson Tatum's jam attempt on the fast break goes off the back rim and sparks a LeBron James transition and-1 lay-in.
Jalen can't handle Jay Williams' take
Jalen Rose has to walk away from the set after Williams says James would dominate Jordan in a 1-on-1 game.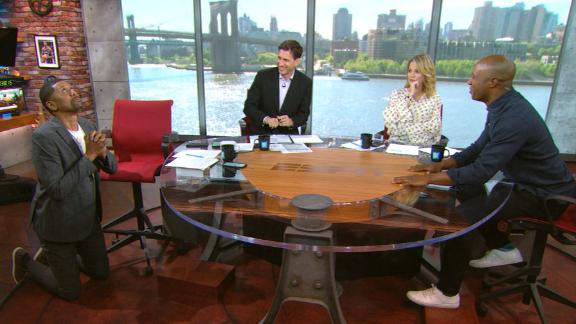 Stephen A. goes off on Pippen's MJ-LeBron comparison
Stephen A. Smith doesn't understand Scottie Pippen defending LeBron James by saying he plays in a different era than Michael Jordan.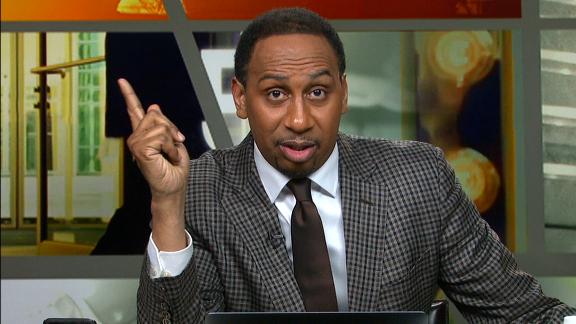 19-year-old Soto crushes first career home run
Young Nationals prospect Juan Soto earns his first career hit, mashing a 3-run home run to the opposite field in the second inning.
Dyson makes improbable catch at the wall
Both Jarrod Dyson and David Peralta speed to the wall to catch Travis Shaw's high-flying hit but the pair collide as Dyson makes the catch.
Harper goes yard to pad Nats' lead
Bryce Harper lets it fly to left field and over the wall for his 14th home run of the season.
Shaw's nifty barehanded play pays off
Travis Shaw makes a nice barehanded stop and quick throw to first to tag Paul Goldschmidt out at first base.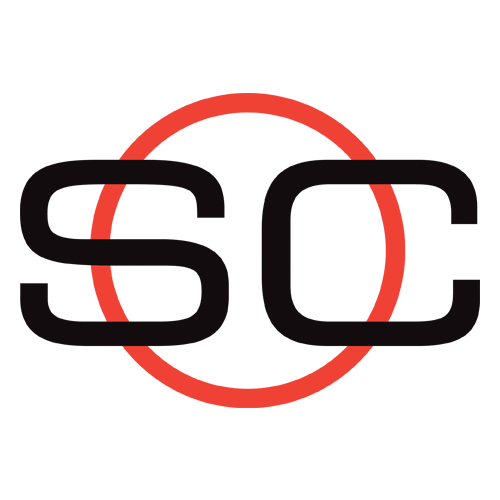 High School Baseball
SVP: Sports provide a great healing place
Scott Van Pelt's 1 Big Thing discusses the Santa Fe (Texas) HS baseball team's decision to play a day after a shooting at their school that killed 10 people.
Brady's no-show at OTAs a bad sign for Pats?
Mike Golic weighs in on what Tom Brady's absence from the start of New England's voluntary OTAs means for the Patriots this season.
Schefter: Brady will 'be there when it matters'
Adam Schefter reacts to Tom Brady and Rob Gronkowski not yet participating in organized team activities.
Ibrahimovic sent off for slapping Petrasso after being stepped on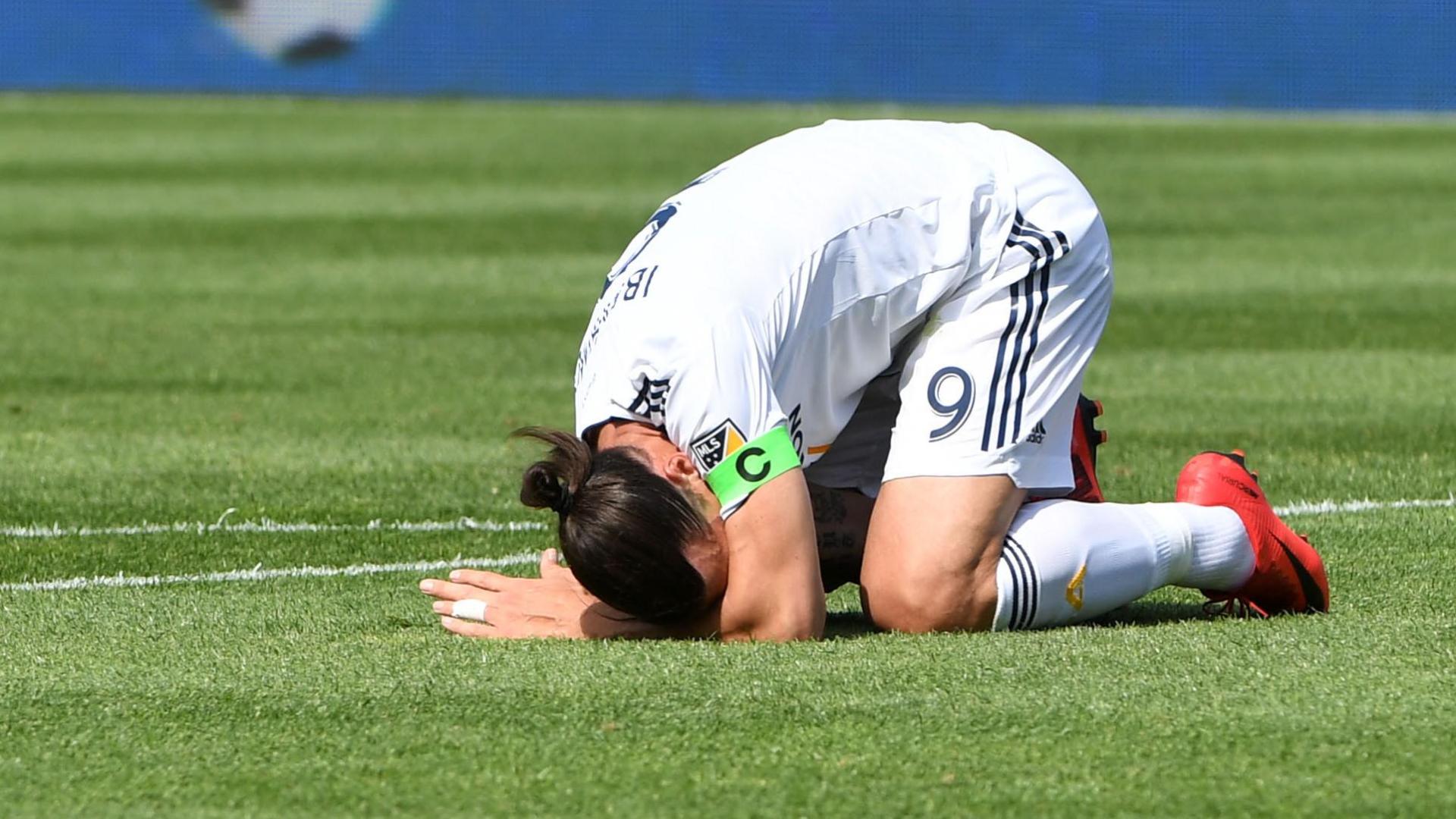 Customize ESPN
On This Date: May 21, 2012
Russell Westbrook gets a steal, goes to the other end and finishes by scooping up a wild shot that went in off the backboard while getting fouled during the Thunder's 2012 Western Conference semifinals matchup against the Lakers.
Calderon's rumored wealth
Abbie Parr/Getty Images

An internet mix-up led to Jose Calderon briefly showing up on Google with a net worth of $2.2 billion, leading to endless jokes in Cleveland.
Jeff Hanisch/USA TODAY Sports

Aaron Rodgers had an early campaign for 2017 MVP cut short. Is he a favorite for this year's award? Our Insiders make their picks and dig into more.
Lionel Messi is the quietest superstar
Erik Madigan Heck for ESPN

Lionel Messi only seems like the least interesting man in the world. Listen closely and his silence speaks louder than most athletes' shouts.