Draftees shine on the red carpet.
The NBA's future stars, including Markelle Fultz, Lonzo Ball, De'Aaron Fox and Josh Jackson, show off their style before the 2017 NBA Draft.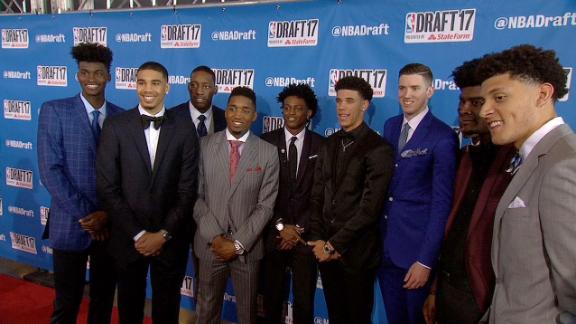 Barcelona
Soccer
Michigan
College Football
BELLATOR NYC
SATURDAY, JUNE 24TH
Lynx
WNBA
Louisville
Men's college hoops
REDEF + ESPN
Customize ESPN
On This Date: June 22, 1981
On the 36th anniversary, take a look back at John McEnroe's most famous on-court meltdown.
ESPN

Let your voice be heard and then tune in to the 2017 ESPY Awards on July 12 on ABC!
Marcus Smith for ESPN

No, LaVar Ball will not stop talking. Not until it gets him and his family everything they want, starting with oldest son Lonzo in a Lakers uniform.
Adam Hunger/USA TODAY Sports

The Jets are shedding established veterans -- and money -- and appear to be aiming for the No. 1 overall pick in 2018. Is it the right move? Even without a lottery in the NFL, tanking isn't so easy.