Lue's explanation on Korver playing time unreal
Ty Lue says Kyle Korver didn't play more because the Celtics didn't play Korver's matchup, Semi Ojeleye.
Brown says Celtics had their best defense of the year
Jaylen Brown explains why the Celtics' defense was a key factor in defeating the Cavaliers in Game 5.
Is the NFL's anthem controversy over with new policy?
The SportsNation crew believe that the NFL's changes to its national anthem policy have created other issues for the league.
What issues surround new anthem rules?
Josina Anderson says NFL player rights are being infringed upon by not being able to express themselves freely.
NFL anthem policy leaves a lot open to interpretation
Jason Reid joins OTL to weigh in on the NFL's new rules for the national anthem.
Riddick: 'Owners trying to protect their bottom line'
Louis Riddick says the new anthem policy requiring players to stand or be in the locker room helps owners from alienating fans.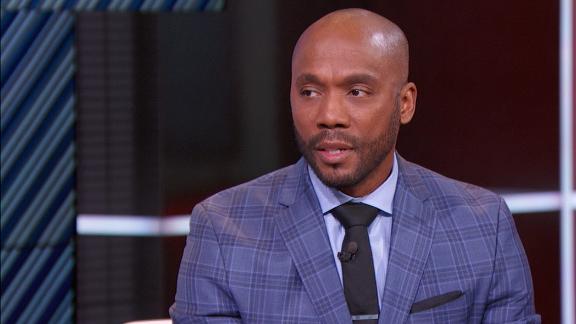 World Fame 100
ESPN The Magazine
Notable risers in World Fame 100
Odell Beckham Jr. and Caroline Wozniacki head the list of fast risers in this year's version of the World Fame 100.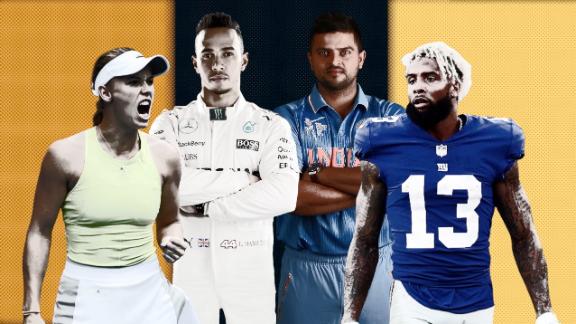 Customize ESPN
Tragic end, new beginning
Jon Lowenstein/NOOR for ESPN

For Chicago White Sox grounds crew member Nevest Coleman, the journey from prison to exoneration is a story of time lost, new beginnings and a murder that remains a mystery.
Calderon's rumored wealth
Abbie Parr/Getty Images

An internet mix-up led to Jose Calderon briefly showing up on Google with a net worth of $2.2 billion, leading to endless jokes in Cleveland.
Lionel Messi is the quietest superstar
Erik Madigan Heck for ESPN

Lionel Messi only seems like the least interesting man in the world. Listen closely and his silence speaks louder than most athletes' shouts.