Flurry of trades lead to QB picks.
Three teams shocked the NFL draft by trading up to get their man.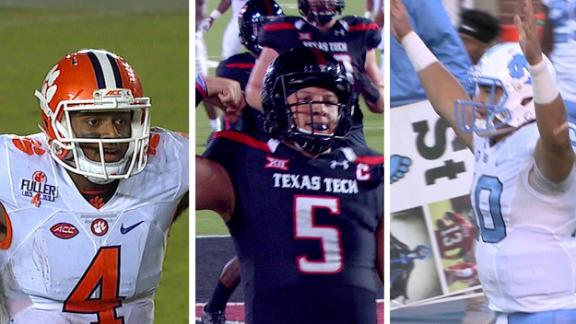 NBA
Spurs move past Memphis, ready for Texas showdown in second round.
Tony Parker knocks down a jumper late in his vintage performance, all but sealing the Spurs' win over the Grizzlies in Game 6. Parker finished with 27 points, while Kawhi Leonard scored a game-high 29 points as San Antonio set a second-round matchup with Houston.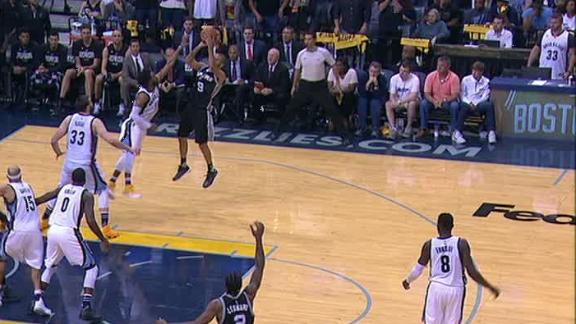 Don't ask Popovich the same question twice.
Gregg Popovich explains how great of a player he believes Mike Conley is, but when he is asked the same question later on during the press conference, he gives a typical Popovich response.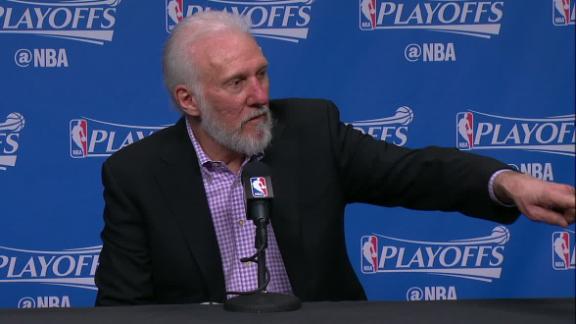 Raptors blow big lead but eliminate Bucks.
Toronto let a 25-point lead slip away Thursday night but DeMar DeRozan's 32 points helped the Raptors hold on in Milwaukee. Toronto will face Cleveland in the second round.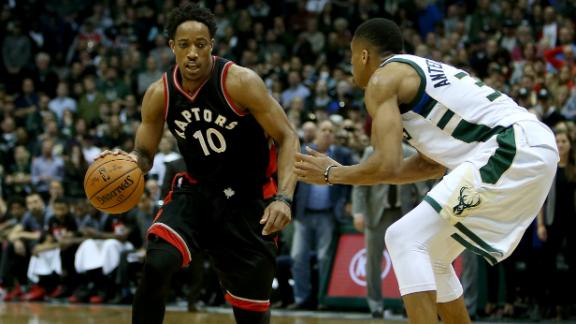 Trubisky at No. 2
2017 NFL Draft
Bears
NFL
Bears
NFL
Bears trade up to draft Trubisky.
The 49ers and Bears swapped the Nos. 2 and 3 picks in the draft, and Chicago grabbed the North Carolina QB.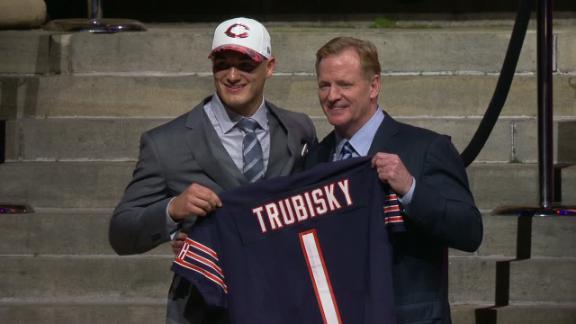 Watson at No. 12
2017 NFL Draft
Texans' pick
2017 NFL draft
Texans move up for Deshaun Watson.
Houston traded with Cleveland to get the Clemson quarterback with the 12th overall pick.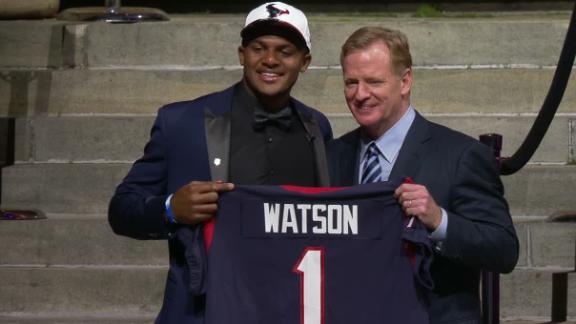 Crosby scores twice in Penguins' Game 1 win.
Sidney Crosby scores two goals in less than a minute and Nick Bonino scores the go-ahead goal in Pittsburgh's Game 1 victory over Washington.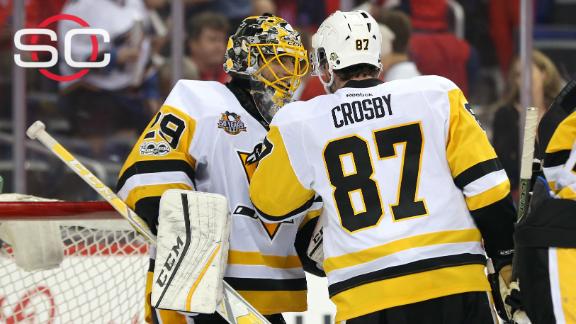 NHL
Sens take Game 1.
Ryan Dzingel and Erik Karlsson each score for the Senators in a 2-1 victory over the Rangers in Game 1 of the second-round playoff series.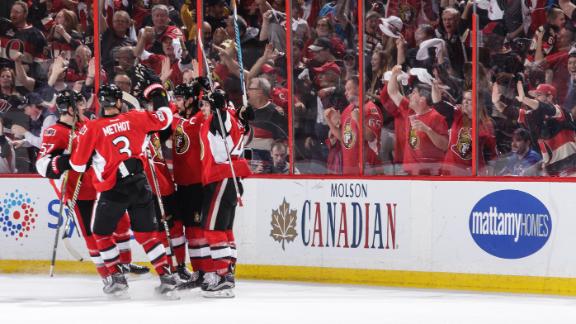 Tanaka finishes off shutout.
Masahiro Tanaka gets Andrew Benintendi to groundout to second base, completing Tanaka's three-hit shutout.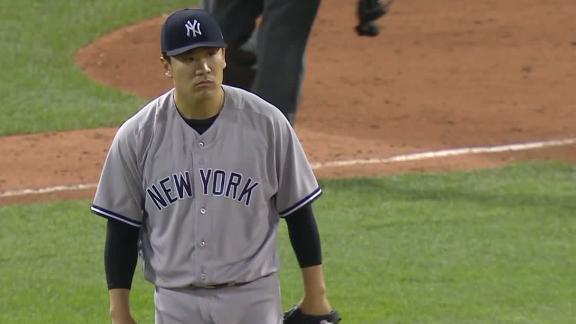 Nationals
MLB
Harper puts cherry on top with 3-run homer.
Bryce Harper hit his eighth homer of the season, a 441-foot 3-run blast, in the Nationals 16-5 win over the Rockies.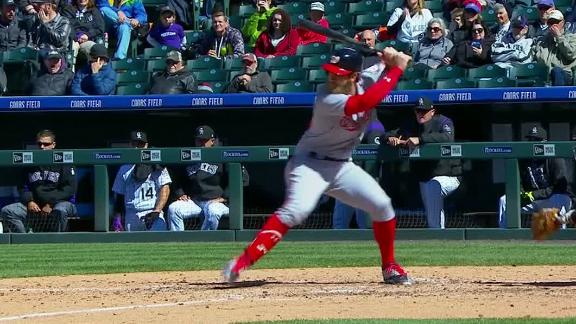 Fellaini sees red in goalless draw.
Marouane Fellaini's sending off late in the second half for a head-butt on Sergio Aguero robs Manchester United of another body as the Premier League enters the stretch run.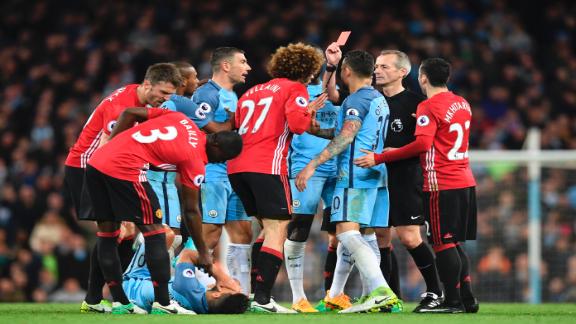 Michigan
College Football
Michigan
NCAAF
Michigan
NCAAF
Wolverines in Vatican City.
The team paid a visit to the pope and presented him with a gift from Ann Arbor.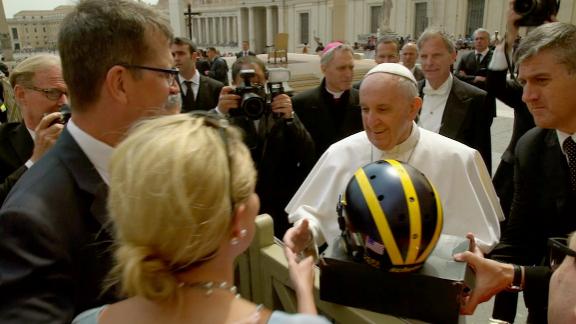 Giants
MLB
Customize ESPN
On This Date: April 28, 1967
AFP/Getty Images

Ali refused to serve in the Army during the height of the Vietnam War, citing his religious beliefs. For his decision, Ali was sentenced to five years in prison and stripped of his boxing title.
Mystery of Biker Sherlock
Robert Beck for ESPN

Former action sports star Biker Sherlock lived loudly, but at the time of his suicide in 2015, he had become a different person -- anxious, confused and despondent. Solving the mystery of why became imperative for his widow Amy to move on.
Wilfredo Lee/AP Photo

This was the NBA legend's most difficult season in 50 years. So why, after nine championships, doesn't he just walk away? If only it were that easy.
AP Photo/Adam Rountree

Jon Gruden calls passing on Aaron Rodgers in 2005 "one of the greatest regrets in my lifetime." This is the oral history of Rodgers' draft-day fall and the awkward green-room scene that ensued.
Jon Lowenstein/NOOR for ESPN

Watch "We The Fans" to follow the stories of the Chicago Bears faithful of Section 250 in an eight-episode documentary series on ESPN.