Reaves' deflection propels Vegas to Stanley Cup Final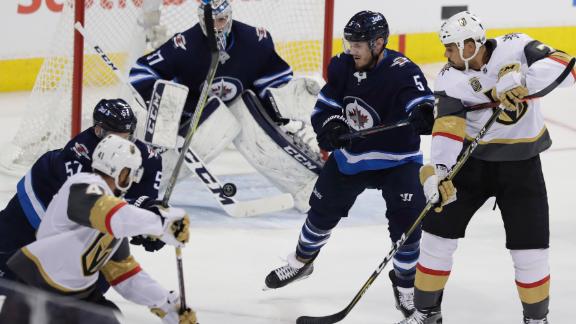 Breaking News
Harden: 'It's us against the world'
James Harden says the Rockets' focus is at an all-time high going in as underdogs for Game 3 against the Warriors.
KD says Draymond's mom is like 'the team mom'
Kevin Durant shows love to Draymond Green's mother, but says he won't change after she tweeted about too many isolation plays in Game 2.
Kerr explains Dubs' lack of focus in Game 2
Steve Kerr calls it "human nature to let your guard down a little bit," but says that manifesting with the Warriors through turnovers is an issue.
Curry says knee feels 'great', remains confident
After struggling from deep early in the WCF, Steph Curry says he'll never lose confidence in himself and 'that'll never change."
Durant says Steph is the 'best shooter to ever play'
When asked about Steph Curry's recent struggles, Kevin Durant expresses confidence in the two-time MVP, asking "what are we even worried about?"
Tyler Austin goes yard twice for Yankees
Austin follows up his fourth-inning dinger with a solo shot in the fifth inning against Kansas City.
Benintendi crushes 2-run homer in Red Sox victory
Andrew Benintendi's homers to right field on a 3-2 count, putting Boston up 3-0 over Baltimore in the bottom of the fifth inning.
Swanson's walk-off single caps Braves' comeback
Dansby Swanson hits a two-run single with 2 outs in the ninth inning that caps a six-run rally as the Braves defeat the Marlins 10-9.
Mets' ball boy lays out for incredible grab
The ball boy for the Mets makes an impressive catch after Asdrubal Cabrera fouls one out along the third base line.
NBA Draft
United States
Soccer
Customize ESPN
On This Date: May 20, 1994
On May 20, 1994, Scottie Pippen throws down a jam over Patrick Ewing and steps over him after the play. He also has some words for Spike Lee.
Lionel Messi is the quietest superstar
Erik Madigan Heck for ESPN

Lionel Messi only seems like the least interesting man in the world. Listen closely and his silence speaks louder than most athletes' shouts.
Brian Rothmuller/Icon Sportswire

A quarter of the way through the MLB schedule, the all-world Angels outfielder is on a run for the ages.
Casey Sapio/USA TODAY Sports

The Suns have won the NBA draft lottery. Who will they take, and where will the rest of the top prospects land?
A Humboldt survivor's recovery, future
Emily Kaplan

Kaleb Dahlgren, who is still recovering from his own devastating injuries, hopes to honor his fallen teammates by returning to the ice.