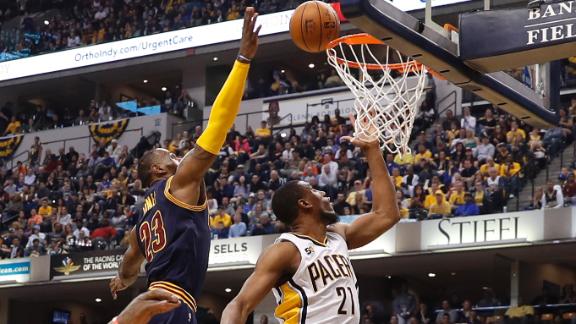 Crowder tosses Lopez's shoe, Lopez adjusts Crowder's.
Robin Lopez's shoe falls off and Jae Crowder clears it out of bounds. Lopez counters by adjusting Crowder's shoe. Crowder would receive a technical on the play.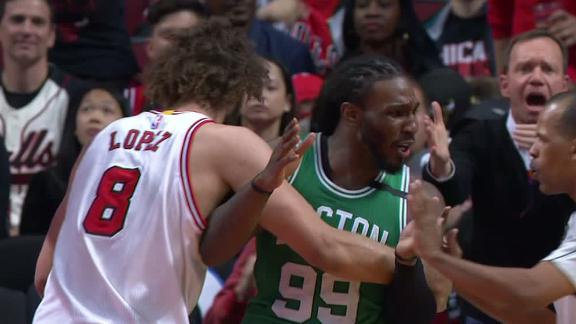 Thomas responds to Hoiberg's officiating comments.
Bulls coach Fred Hoiberg tells the media that Isaiah Thomas is "impossible to guard" because the refs allow him to put his hand underneath the ball on every possession.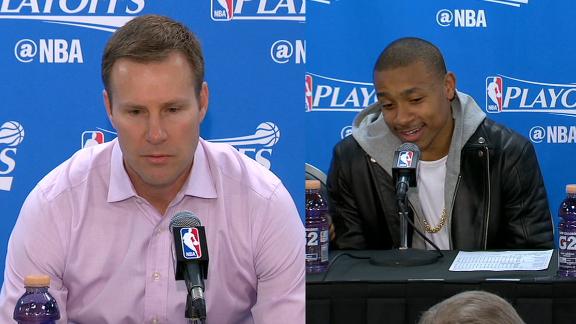 Thunder
NBA
Westbrook has heated back-and-forth with reporter.
Russell Westbrook isn't pleased with the media comparing the Thunder's play with and without him on the court.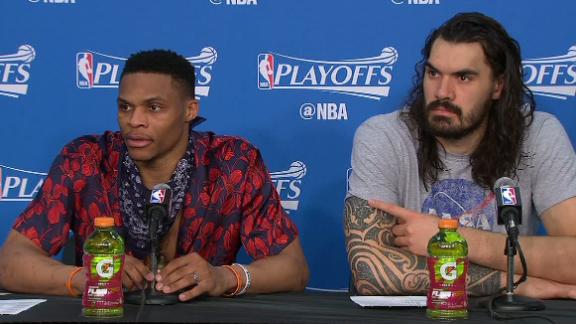 Rockets
NBA
Nene makes history as he ices Thunder.
Nene's final basket puts him at 12-of-12 from the field, which ties a playoff record for most made shots without a miss in the Rockets' Game 4 victory.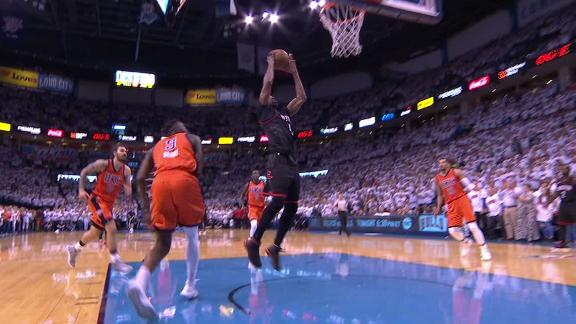 Messi stuns Real Madrid in El Clasico.
Lionel Messi scored a pair of goals, including the game winner in stoppage time, to lead Barcelona over Real Madrid. Messi now has 500 career goals with Barcelona.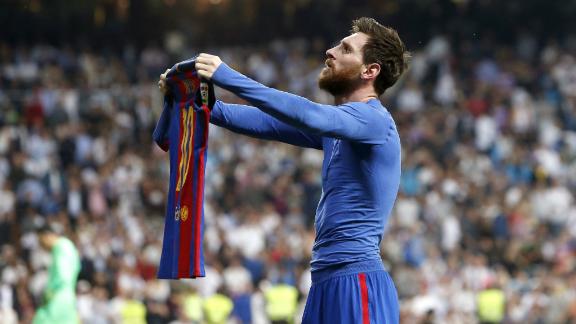 UConn
NCAAF
Gobert marks return with monster putback jam.
Rudy Gobert grabs Joe Ingles' miss and dunks it against the Clippers in his first game since his Game 1 injury.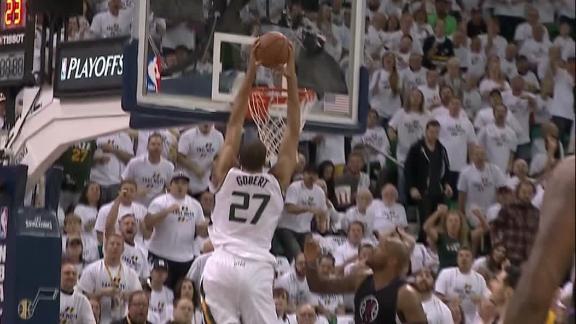 Warriors
NBA
Warriors
NBA
Warriors
NBA
Warriors comfortable with Brown coaching.
Marc Stein explains why Mike Brown filling in for Steve Kerr won't be a major adjustment for the Warriors players.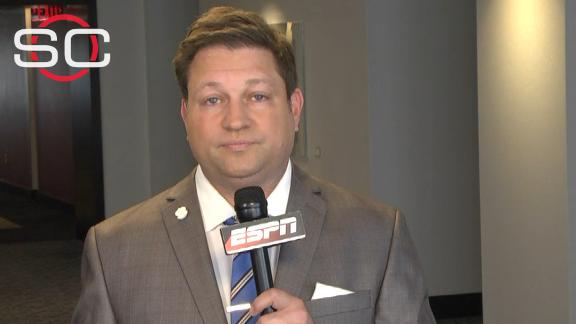 Pitch thrown by Machado's head gets Barnes ejected.
Matt Barnes pitch flies behind Manny Machado's head getting Barnes ejected and leaving Dustin Pedroia to call out to Machado from the dug out.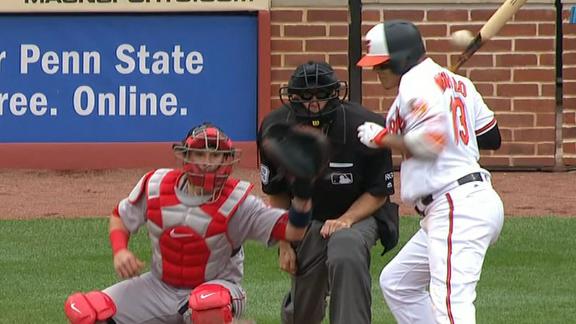 Dodgers
MLB

Johansson ends series for Caps with OT winner.
In the fifth overtime game of the series, Marcus Johansson stuffs home the winner for the Capitals to give Washington the dramatic 4-2 series victory.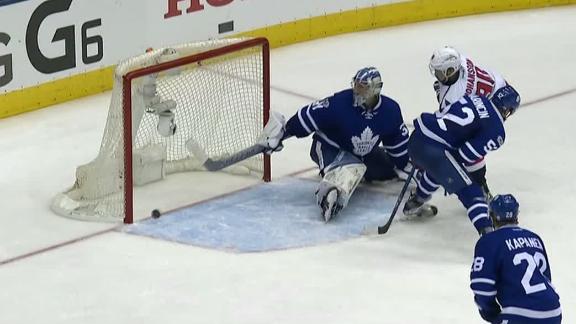 MacArthur's OT goal gives Sens series win over Bruins.
Clarke MacArthur nets a power-play goal in overtime to defeat Boston in six games and send the Senators to the second round of the playoffs..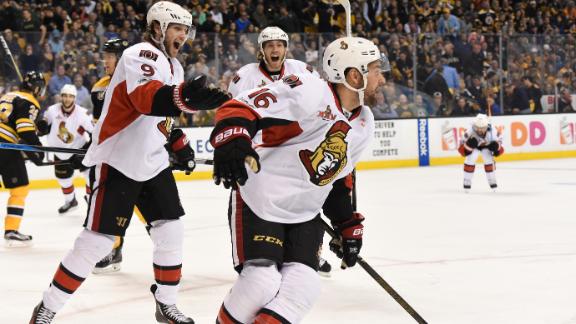 Morris puts Seattle up three before half.
Jordan Morris continues Seattle's offensive deluge in the first half when he finds the net to put the Sounders up 3-0 on the Galaxy.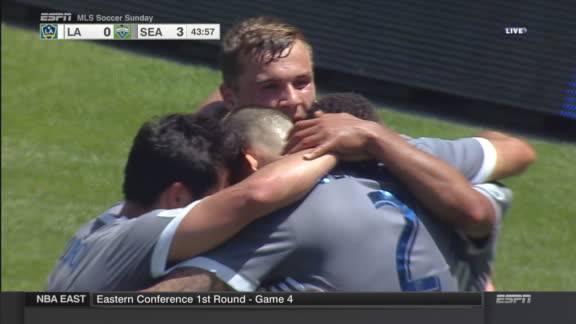 Sunday's schedule
Melrose intrigued by Nashville-St. Louis matchup.
Barry Melrose explains why he's looking forward to a hard-fought series between the Predators and Blues in the second round.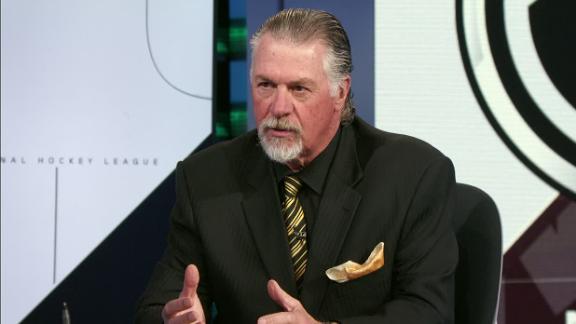 Customize ESPN
On This Date: April 23, 1989
Getty Images

On this date in 1989, Kareem Abdul-Jabbar played his last NBA game. At the time of retiring, he held the record for many "mosts", such as points scored, blocked shots, Most Valuable Player awards and All-Star Games.
Blame Your Brother

In the playoffs, it's all about getting stops. Here's how some of the league's best defenders use their skills to shut down the opposition.
Tom Pennington/Getty Images

Cowboys rookie Ezekiel Elliott opened up some eyes last year to the possible value of drafting a running back early.
Tom Pennington/Getty Images

The league packed its prime-time schedule with its best draws, the Falcons avoid the Pats for seven weeks, and the Raiders face a difficult stretch.