Crowder ejected after scuffle for elbow to Adams' face.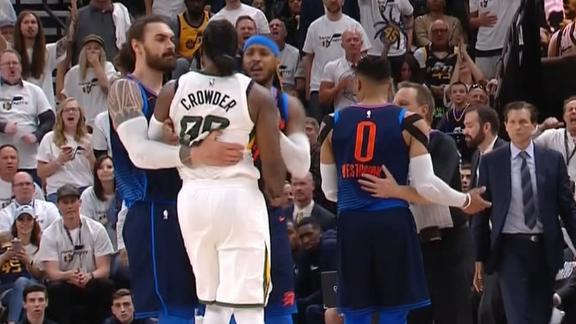 Jazz beat Thunder in physical Game 4.
Russ on Rubio: 'It's not about me or him.'
Westbrook and Rubio go toe-to-toe again.
Mitchell leads Utah to Game 4 victory.
Mitchell fired up after and-1 layup.
Jalen: Westbrook got humbled by Rubio.
Mitchell shines, Jazz take 3-1 series lead.
Crowd erupts after Rubio's alley-oop to Gobert.
Fans taunt Westbrook after fourth foul.
Ingles knocks down 3-pointer over George.
George gets T'd up for shoving Ingles.
Westbrook all over Rubio on defense to start game.
Harden, Rockets lift off in absurd third quarter.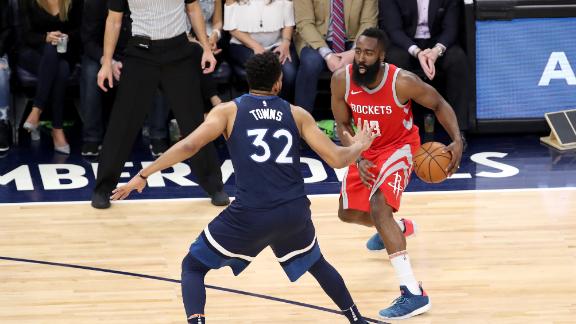 Harden says Rockets flipped a switch in win.
Rockets roll in Game 4 behind huge third quarter.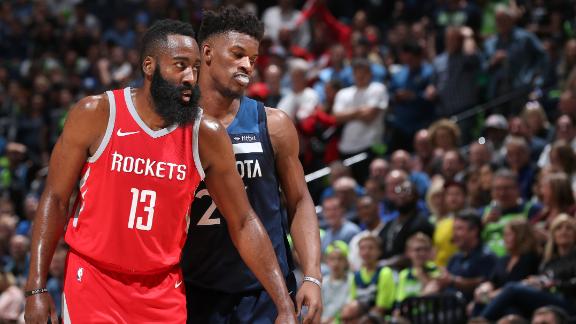 D'Antoni: 'Check your tweets' about Harden at halftime.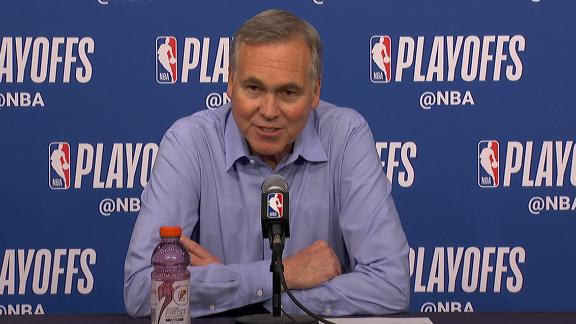 Gordon caps off 50-point quarter with buzzer-beater.
Rockets put Timberwolves on the brink.
Harden goes off for 22 in the third quarter.
Harden propels Rockets to Game 4 win.
Harden connects from downtown.
Harden steps back to hit jumper.
CP3 bides his time to drain 3-pointer.
Harden can't find his shot in first quarter.
Stanton sends ball into orbit for monster dinger.

Music in Sports
Customize ESPN
Melina Vastola-USA TODAY Sports

The Heisman winner's future in the league won't just depend on whether he's ready, it'll depend on whether the NFL is.
Inside the Sixers' success
Mitchell Leff/Getty Images

Two years ago, the Philadelphia 76ers won 10 games. Now they're a 52-win 3-seed, with two possible future MVPs, each under the age of 24. This is the inside story of the talk therapy that helped make it all happen.
Alabama's Locksley coping with tragedy
Mark J. Rebilas/USA TODAY Sports

When Mike Locksley spoke to his son Meiko after Alabama's season-opening win, he never thought that would be their final conversation.
ESPN Illustration

A generation ago, Boston was the hard-luck sports city and Washington was the successful one. Now, the shoes, spikes and skates are on the other foot.