Celtics defend home court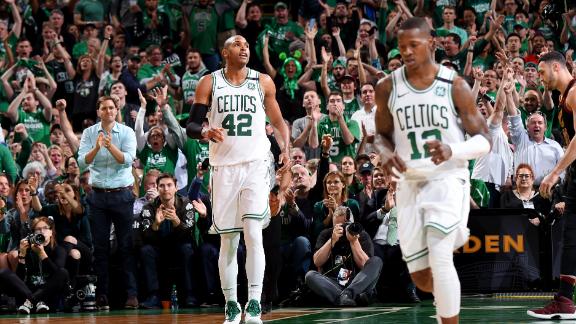 Morris, Nance get into heated altercation
Marcus Morris taunts Larry Nance Jr. after a block. Nance shoves Morris as teammates try to separate them. Morris and Nance receive technical fouls.
Rozier feeds Horford for the alley-oop
After LeBron James misses a layup, Terry Rozier flies downcourt and lobs a pass up to Al Horford, who finishes with a two-handed dunk.
Celtics hitting from downtown
The Celtics drain nine 3-pointers in the first half and hold an 11-point advantage at halftime.
Nance's poster attempt fail
Larry Nance Jr. tries to throw down a huge dunk over Aron Baynes, but gets called for a charge.
Tatum says Celtics played with more poise in Game 5
Jayson Tatum explains how the Celtics were able to once again protect home court in Game 5 and what Boston needs to do to win in Cleveland.
Tatum converts steal into layup
Jayson Tatum picks up Kevin Love's bad pass and drives right past LeBron James for a layup.
Ball movement leads to Smart's 3-pointer
Celtics pass the ball around a couple of times before Marcus Smart pulls up from 3-point land and drains it.
LeBron's sloppy pass leads to Tatum's 3-pointer
LeBron James turns the ball over with a bad pass and at the other end, Jayson Tatum knocks down a pull-up 3-pointer.
Smart drains back-to-back buckets
Marcus Smart banks in a shot off the glass and on the next possession, smart floats in a layup.
Tatum follows up 3-pointer with assist to Baynes
Jayson Tatum pulls up and drains a 3-pointer and on the next possession, Tatum finds Aron Baynes with a no-look pass for a dunk.
Baynes caps off block with tip-in
Aron Baynes rises up to deny George Hill's layup attempt and then cleans up Jaylen Brown's miss with a tip-in.
Tatum makes jump shot after nice dribble
Jayson Tatum dribbles behind his back, pulls up for a midrange shot and knocks it down.
Is the NFL's anthem controversy over with new policy?
The SportsNation crew believe that the NFL's changes to its national anthem policy has created other issues for the league.
What issues surround new anthem rules?
Josina Anderson says NFL player rights are being infringed upon by not being able to express themselves freely.
NFL anthem policy leaves a lot open to interpretation
Jason Reid joins OTL to weigh in on the NFL's new rules for the national anthem.
Riddick: 'Owners trying to protect their bottom line'
Louis Riddick says the new anthem policy requiring players to stand or be in the locker room helps owners from alienating fans.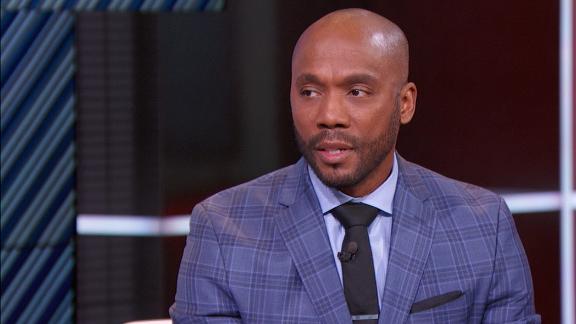 World Fame 100
ESPN The Magazine
Customize ESPN
On This Date: May 23, 2002
On May 23, 2002, Dodgers slugger Shawn Green went 6-for-6 with four home runs, setting a single-game MLB record with 19 total bases in the process.
Tragic end, new beginning
Jon Lowenstein/NOOR for ESPN

For Chicago White Sox grounds crew member Nevest Coleman, the journey from prison to exoneration is a story of time lost, new beginnings and a murder that remains a mystery.
Calderon's rumored wealth
Abbie Parr/Getty Images

An internet mix-up led to Jose Calderon briefly showing up on Google with a net worth of $2.2 billion, leading to endless jokes in Cleveland.
Lionel Messi is the quietest superstar
Erik Madigan Heck for ESPN

Lionel Messi only seems like the least interesting man in the world. Listen closely and his silence speaks louder than most athletes' shouts.