LeBron delivers epic Game 7 to advance to NBA Finals
Playing every second, LeBron James records 35 points, 15 rebounds and 9 assists as the Cavs beat the Celtics on the road.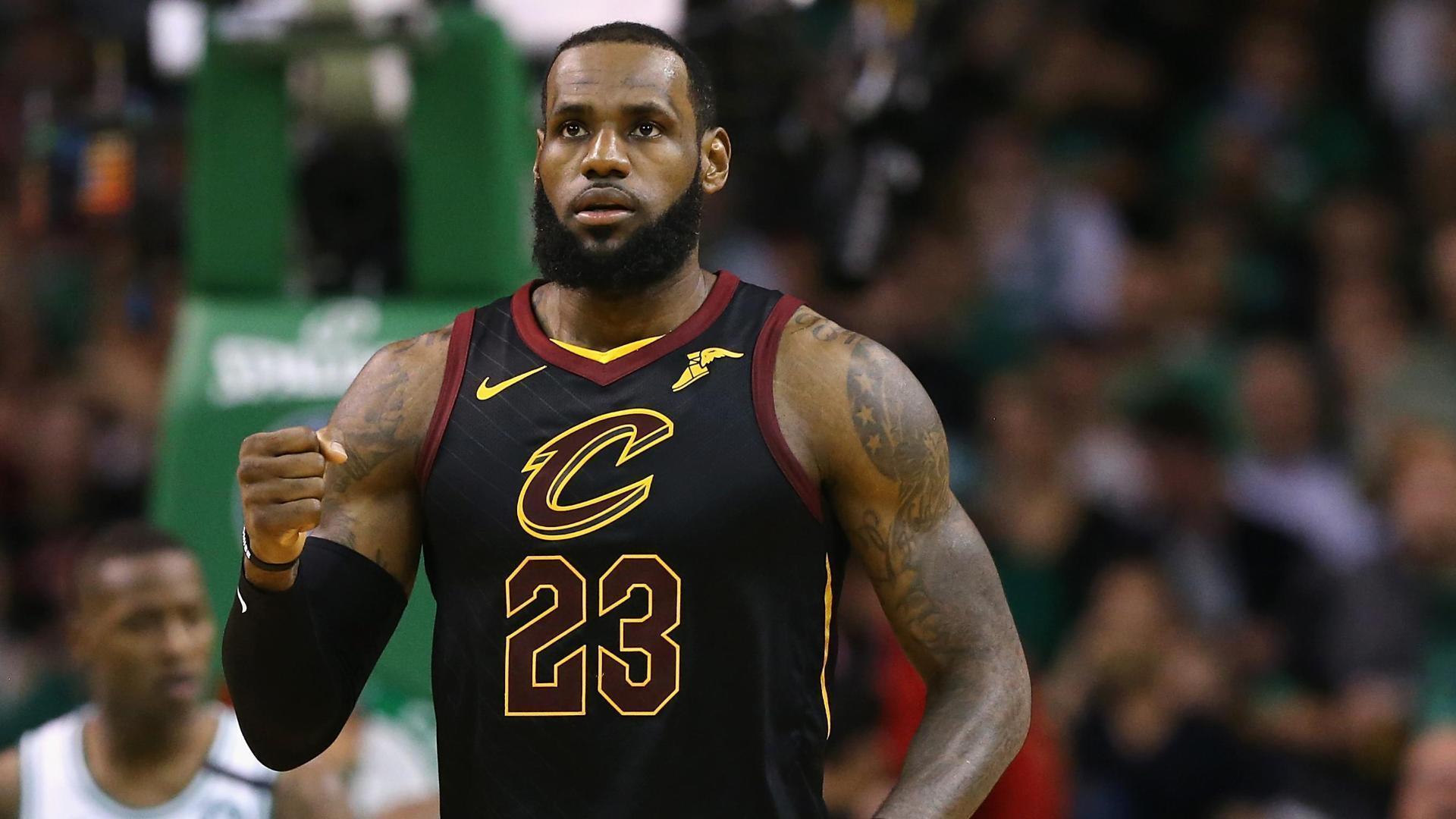 LeBron makes another incredible Game 7 block
Terry Rozier speeds up the court and attempts a strong dunk, but LeBron James elevates and stuffs him.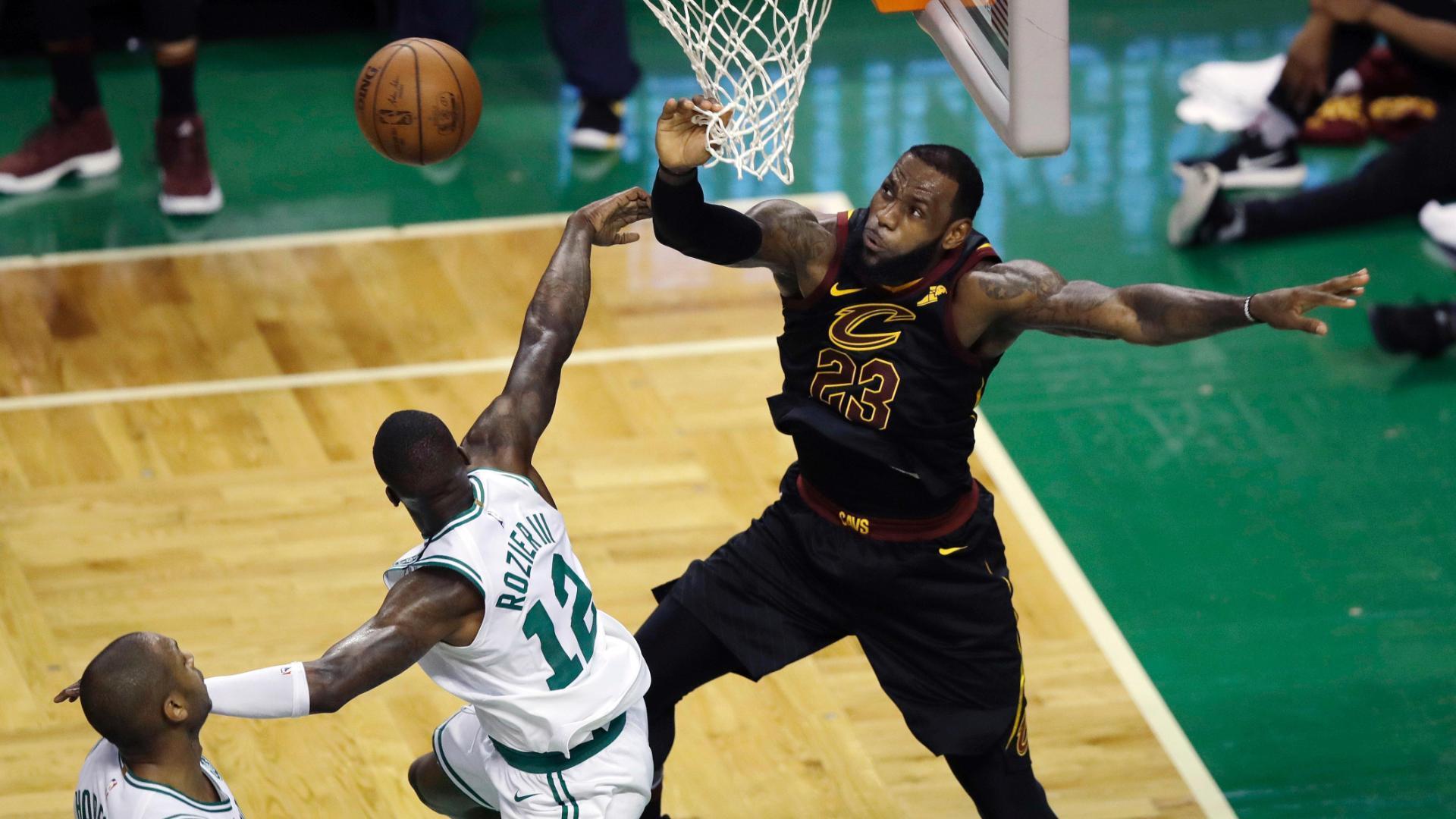 Tatum's dunk on LeBron heard around the world
Jayson Tatum posterizes LeBron James with a huge one-handed dunk and set the world into a frenzy.
LeBron says 'it's a treat' to lead Cavs to Finals
LeBron James shares how the Cavaliers came together after the trade deadline to make the NBA Finals for the 4th consecutive season.
Smart: It'd be 'huge' to return to this Celtics team
Marcus Smart is proud of how this Celtics team fought all season and has his mind focusing on the loss to the Cavaliers and his family.
Green overwhelmed with emotion
Jeff Green says he can't put it into words how good it feels to finally reach the NBA Finals after 10 years in the league.
Lue on LeBron: 'He's the best player in the world'
As LeBron James lies on the floor behind him, Ty Lue praises the Cavs' star, saying "you want the best player in the world on your side."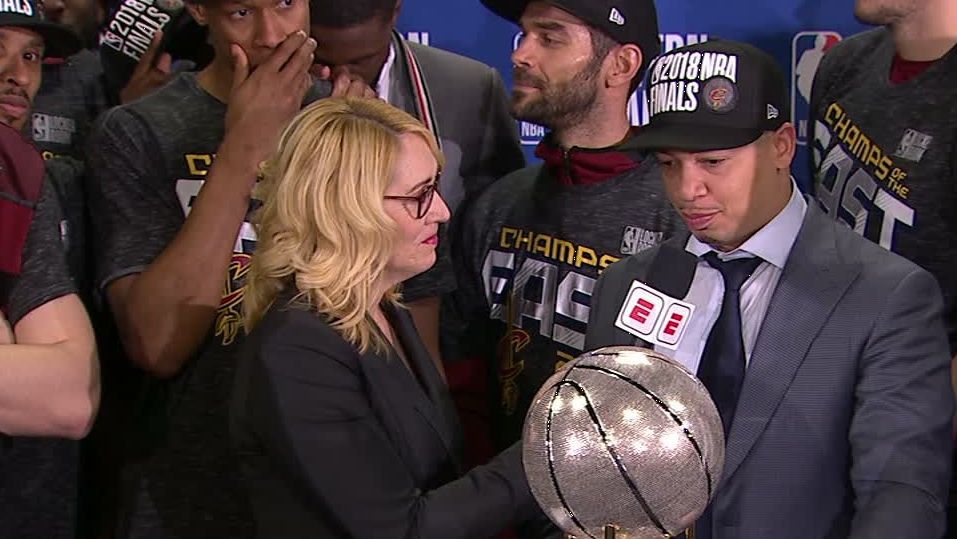 LeBron's season of single-handed dominance
As the King carries the Cavs to another NBA Finals, revisit the times he put the team on his back.
LeBron's history of Game 7s
A look back at every Game 7 that LeBron James has played in his illustrious career.
LeBron, Cavs finish Celtics on the road
Behind a monumental effort from LeBron James, the Cavaliers beat the Celtics 87-79 and punch a ticket to the NBA Finals.
Tatum on dunk on LeBron: 'Had to get him back'
Jayson Tatum reacts to his posterizing dunk on LeBron James and reflects on the moment he shared with James after the game.
Tatum says Celtics left it all on the floor
Jayson Tatum explains why the Celtics have nothing to hang their heads about after falling in Game 7 of the Eastern Conference finals.
Stephen A.: 'Some luck' was involved with Cavs' run
Stephen A. Smith breaks down the opponents the Cavaliers faced in the playoffs and praises LeBron James' ability to overcome adversity.
Jackson says Celtics went for "home run plays"
Mark Jackson talks about the Celtics' lack of experience and how they missed Kyrie Irving.
LeBron and Tatum share special moment after Game 7
LeBron James and Jayson Tatum share a few words after Game 7 of the Eastern Conference finals.
Sandoval hustles for RBI infield single
Pablo Sandoval hits a slow grounder to short and hustles to beat Addison Russell's throw to first, allowing a run to score.
Indians walk off on Allen's homer in 14th
Greg Allen puts an end to the game in the 14th inning as he slugs a solo homer to complete Cleveland's 10-9 comeback win over Houston.
Harper crushes his NL-leading 16th homer
Bryce Harper destroys a Jarlin Garcia fastball over the right-field fence for his 16th home run, best in the NL.
Albies makes terrific leaping grab
Ozzie Albies leaps to rob Xander Bogaerts of a potential extra base hit.
Tanaka strikes out Ohtani twice
Masahiro Tanaka fans Shohei Ohtani twice with off-speed pitches.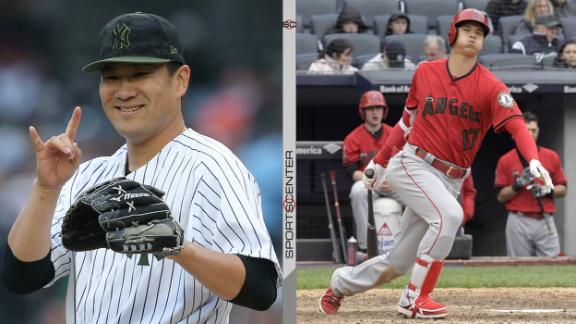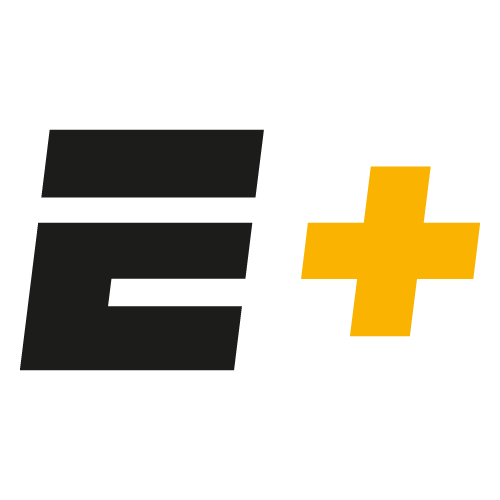 Monday's Featured E+ Game
Stephen A. marvels at Warriors' 3-point attack
Stephen A. Smith calls the Warriors' performance in Game 6 "an aerial assault the likes we have not seen in quite a while."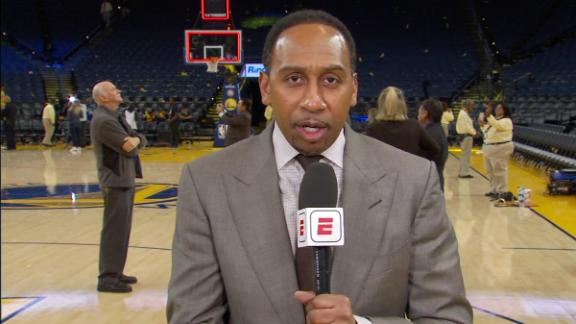 Customize ESPN
On This Date: May 28, 1986
On May 28, 1986, Larry Bird joined Wilt Chamberlain and Bill Russell as the third person to win three straight NBA MVP awards.
Jemele Hill on NFL anthem policy
John Leyba/The Denver Post via Getty Images

Rather than let things play out, the league created a new controversy, more animosity and negative headlines just to appease the wrong sensibilities.
Korver thriving after tragedy
Melissa Majchrzak/NBAE/Getty Images

Despite the sudden loss of his youngest brother, Cavs guard Kyle Korver has managed to play his best.
ESPN Illustration

To find the 100 most famous athletes in the world, we started with 600 of the biggest names in sports, drawn from 68 countries. ESPN's Sports Analytics Group then ranked them based on a proprietary formula that took into account three fame factors.
Wozniacki's unfulfilling rise
Erik Madigan Heck for ESPN

Caroline Wozniacki says she's never chased fame, only tennis excellence. But her search for fulfillment? That's been a longer, tougher journey.