"I'm on my way to Home Depot with the kids," says Kevin Robinson. I ask if there is a better time and the 38-year-old pro vert rider jokes, "No, I've always got at least one kid with me."
It's easy to forget that one of the premiere vert riders in BMX has to do everyday tasks just like the rest of us, but the East Providence, R.I. native does, in addition to holding the world record for highest air, playing country music on the side and starting a foundation that helps kids stay involved with sports.
I guess you could say that, despite an injured shoulder, Kevin Robinson's arms are more than a little full.
A staple in the New England BMX scene since the early '90s, Robinson started to make a bigger name for himself in 2000 when he made the move from Rhode Island to Camp Woodward in Pennsylvania. There, Robinson took advantage of some of the best, and biggest, ramp facilities in the world being outside his door. "I've always loved big ramps, always been drawn to big ramps. Going to skateparks, I gravitated to big ramps and I always advocated a bigger vert ramp," Robinson says, adding "I just feel like I'm more made to ride a bigger ramp. When I moved in 2000, Mega Ramps weren't even started yet, other than Mat Hoffman. I moved down to Woodward because I needed a vert ramp to ride and to push my own progression. I felt like I had plateaued living in Rhode Island. I had to do what I had to do to push the progression of myself, personally."
Kevin Robinson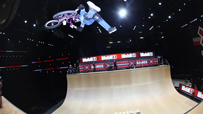 WIDTH="203" HEIGHT="114" BORDER="0" ALT="">
Kevin Robinson knows a thing or two about big ramps. Here's the proof. Gallery

And from there, Kevin did just that.
He consistently placed in the top ten at all of the big events, brought new tricks to the table like no-handed and switch-handed flairs. And showed the world that double flairs were somehow possible. In 2008, he even broke the world record air, which had been held by friend and sponsor Mat Hoffman, by floating a 26.5-foot air above Central Park in New York City. Like he wanted to, he had pushed the progression of himself.
Unfortunately, it came with some compromises.
In September of 2009, he tore his rotator cuff and in the time since, it's become a source of problems. "I got the rotator fixed in December and in January, I got my labrum in my shoulder fixed. I didn't let it heal long enough and I pushed it too quick. I thought everything was good and in May, I take Mixed Martial Arts classes for cross-training, and it popped out of place doing an army crawl. My brother-in-law put it back in place. Then I was doing demos and it dislocated on a no-handed 360. No crash or anything -- it just popped out. I worked with a trainer to get it fixed for the X Games two weeks later."
Even with the effort, Kevin's X Games 16 appearance was one that he would probably rather forget. Kevin's shoulder dislocated three times. "My first run, my shoulder popped out. I popped it back in, tried to take two more runs and I felt it flopping around, wanting to come out. On my fourth run, it came out. Mega ramp was the next day and I tried to ride. I knew it was gonna come out. First run and it came out and it went right back in again. My second run: switch-hand to no-handed flair and it came out. So that was a wrap."
Following the premature end of Robinson's season, he plunged headfirst into his newest venture, The K-Rob Foundation. When Kevin and wife Robin were still living in Pennsylvania, they brainstormed for an organization that could help people. Kevin goes on to explain how everything finally came together: "I'm working with the people of my hometown of East Providence, R.I. and it suddenly feels like this is what I'm supposed to be doing, Helping the underprivileged kids of East Providence stay involved in athletics, and not just action sports."
Skipping the middleman, Kevin hopes to help individual families personally. "If they need money to sign up, then we are there to sign them up. If they need money for cleats, then we will get them cleats. I'm not going to work with and athletic committees or any panels. I wanna do it all on my own so I know that every dollar is going to help a kid." To compliment the foundation, Kevin has been doing motivational speaking with former World Champion flatlander Chris Poulos for, but not limited to, high schools and middle schools. "With schools right now, there is a huge problem with bullying, it's not just a problem, it's an epidemic. And we're just spreading a message of anti-bullying, living a positive lifestyle and self-reliance."
Although Kevin was plagued by his shoulder injuries this past year, he's taking his own advice to live a positive lifestyle. "I am on a full blown mission to come back next year stronger. I've been working out and just trying to get ready. I've adopted a whole new philosophy and I feel better than ever." Kevin rode his bike for the first time in ten weeks on October 22, and hopes to be back on his bike and at 100% by the end of November, ready for tough competition from the likes of Jamie Bestwick and Chad Kagy.
But for now, he's got a motivational speech to make at Londonderry Middle School in New Hampshire, as soon as he gets back from Home Depot.