Every few years, a new rider will hit the flatland scene and cause a sea change in the tricks, style and approach to riding flatland. In the early '90s, it was Chad Degroot and Chase Gouin, and in the late '90s/early '00s, it was Finland's Martti Kuoppa. These days, a new influence has emerged, and he goes by the name of Matthias Dandois.
21-year-old Dandois hails from Paris, France, and he's not your average flatlander by a long shot. Matthias is a foot taller than the rest of the pro flatland scene, and even though he can hang with the best as far as technical front and back wheel links go, he rides more like a street rider than your average flatlander. And if that wasn't enough, Matthias rides a setup that would be just as comfortable on the streets or in a skatepark as it is on flatland.
Over the past two years, the BMX world has taken note of Matthias' riding, including interviews in Ride BMX and bios in Props. Since it's winter, and since Matthias is hunkered down in Paris learning new tricks at his private indoor riding spot, I decided to catch up with him and see what his motivations where in the wild world of flatland. This is Matthias Dandois, the new face of flatland.
ESPN.com: Can you give me the basics? Where are you from, how old are you, what got you into riding?
Dandois: I'm 21 years old, and from the best city in the world: Paris, France. I first saw BMX on a TV show and I got really psyched.
Matthias Dandois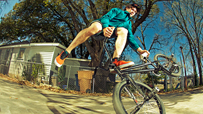 WIDTH="203" HEIGHT="114" BORDER="0" ALT="">
Paris, France's Matthias Dandois is the new face of BMX flatland, and he's only getting started. Check the photos. Gallery

And what got you into flatland?
When I got my first bike, there were no parks near my house. A few of my friends were riding street or flat in a parking lot down my street, so I did my first tricks there. Then I found out a pro BMX rider was giving tips to kids at an indoor spot so I went there and started riding flatland for real with this guy!
You recently signed on with Odyssey's Flatware brand. Is that a component-only sponsor? And can you tell me how you feel about Flatware?
Yeap I signed with Flatware as a component-only sponsor, since I have my own frame with A Bad Thing. I feel really good about it. It's always been a dream of mine to ride for Odyssey. They make the best components on the market and I'm teammates with one of my good friends, Terry Adams. Also Odyssey is an American-based company and I love America. I couldn't be happier with Odyssey.
Not many riders outside of flatland now about your bike sponsor. Can you explain to a wider audience what A Bad Thing is?
A Bad Thing is a friend project I developed three years ago with Alex Jumelin, Raphael Chiquet and Yohei Uchino, who are my best friends. We work in collaboration with France's Koxx Bicycles to make flatland parts. It's pretty big in Japan, where Yohei is the distributor. It's so good to design your own frame cause you get to ride the perfect bike.
I know you ride quite a larger frame than most flatlanders. Why is this?
There are many reasons why I ride with a larger frame (20.6" toptube.) First of all, I'm taller than most riders, and it kills my back to ride a short frame. I also ride street and I don't want to have two bikes, so my bike is set up for flat and street, which means a bigger frame. The last and the most important reason is that it feels good riding a bigger bike. Your motions are wider and you can put more energy into your riding, and I love that!
What does flatland mean to you?
Not much, I don't ride flatland anymore, I ride BMX. If you would ask me what does BMX means to me, I would say that it's a good way to have fun.
How would you describe your style of flatland?
As open-minded as possible. I get inspired by all the disciplines of BMX. I try to combine street and flat as much as It can be done, and this is fun to do! I hope it's fun to watch too.
How do you progress in the winter?
Winter is definitely the best period to progress. Usually I'm always on the road for contests, demos or to film, which is not good for learning new tricks. In winter, I have nothing to do but practice, and I'm lucky enough I have an indoor place.
You also MC amateur flatland contests and are doing your part to push the next generation. How important is that to you?
MC'ing is definitely funny. I did it at JoMoPro last year and at a few other contests. I organize some amateur jams and contests during the year, and in 2011, I will co-organize the Ninja Spin with Alex Jumelin which will be one of the biggest events of the year. I'm psyched on it. Contests are the best way to push the new generation, so I try my best to develop them. It's important to push the kids, since they're the future.
Where would you like to see flatland going over the next few years?
That's an easy answer: bigger contests, bigger media coverage, bigger sponsors, bigger level, bigger pros. Like park, I guess.
Is there anything you don't like about flatland?
Riders in jogging pants, scooter looking bikes, Internet bickering, tricks names.
Finally, am I missing anything here?
I would like to thanks my family, my friends, my girlfriend for all the love and of course my sponsors, so, shouts out to Red Bull, Vans, Odyssey, A Bad Thing, G-Shock, Pull-In, Eastpak and Orange! Check my Web site for daily news, and peace!